Visage Blog Archive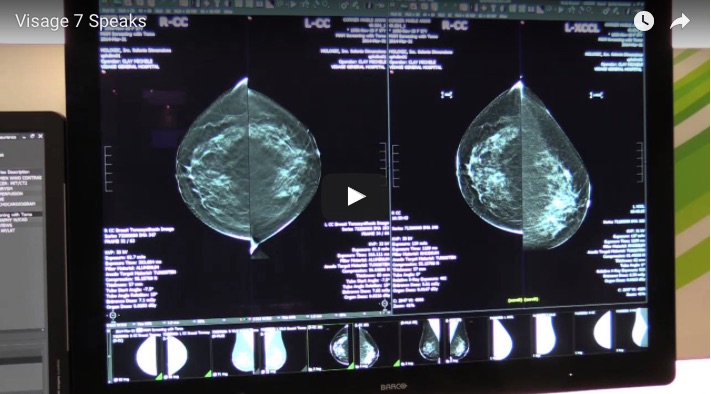 Visage 7 Speaks
July 22, 2016
The performance, feature and scalability gap between today's enterprise viewers cannot be understated. Nearly all viewers provide image access from the EHR, but can your viewer also provide diagnostic interpretation at massive scale, with sophisticated interoperability to replace your PACS? itnTV captured Visage 7 in action at SIIM 2016, and if you watch closely, you'll see Visage 7 explain: Fast. Powerful. Enterprise Imaging.
Visage and many vendors frequently conduct video interviews at trade shows with customers, sales executives, technical and other leaders. At the Society for Imaging Informatics in Medicine (SIIM) 2016 in Portland, Oregon, Visage changed the narrative and instead let Visage 7 do the talking. Please take a listen and we think you'll like what you see and be intrigued to learn more.
Radiology Still Has Work to Do
April 14, 2016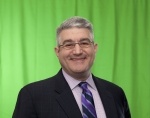 Nearly three years ago, SIIM and I partnered on a survey that spawned out of the idea from some leaders that "Radiology has Solved the Problems of Going Digital". Recently, Health Imaging wrote an article based on a Journal of the American College of Radiology (JACR) paper, "State of Integration Between PACS and Other IT Systems: A National Survey of Academic Radiology Departments", that detailed how widespread imaging integration with the EHR was at academic institutions.
Flip the Script: Delivering the Unexpected
September 3, 2015
An elderly patient frantically called into one of the nation's largest diagnostic imaging organizations. The receptionist answered the phone as they always did, while the patient repeatedly explained in an accelerated, pronounced tone, "I just know something is wrong. I just know something is wrong." The receptionist attempted to calm and reassure the patient, and asked them to explain the situation. The patient continued:
"I just know they found something this time. I have been getting my images taken here for years, and it's always days and days before I hear my results. I was scanned just yesterday, and there was already a message on my machine that my results were ready. I need to speak to the doctor right away, because there must be something wrong. There just has to be, there's no other explanation."
Wow. That's a drop the phone moment, as we all know the anxiety of being a patient and the nervous anticipation that accompanies the wait for results. Luckily for the patient nothing was wrong as their results were normal. But what had changed? The patient had usually waited days to hear back, as that was the expectation that had been set and they were ok with that. It was expected. The imaging organization had seemingly done the right thing. The patient was scheduled and scanned, the radiologist read the images and reported the results, and the patient was contacted to alert them that their results were available. All of this was the same as it always had been except for the seemingly improved service. The problem was the patient didn't immediately perceive the improved service. The imaging organization had provided the results quickly to the patient (e.g., fast service) but this was inconsistent with their prior experiences (e.g., delayed service) and thus caused a conflict between the patient's expectations and the end result. Hence, the frantic phone call.
One of the reasons why this organization historically was delayed in reporting their cases was because their legacy PACS couldn't keep up with their large study volume across their distributed healthcare enterprise. It took an extended period of time to process the incoming imaging studies, get the new studies (and related prior studies) to the appropriate reading radiologist(s) and for the radiologist(s) to interpret the studies, such that they operated with a daily backlog of 2,500 studies. That means every day this organization had 2,500 imaging studies, from the prior day, that needed to be read by their radiologists before they could tackle the current day's (new) studies. How were they able to get this elderly patient their results so quickly? Earlier this year, the organization transitioned from their legacy PACS to Visage Imaging's Visage 7 Enterprise Imaging Platform via a Deconstructed PACS strategy. Within weeks of being live on Visage 7, their backlog steadily reduced until it outright disappeared. No more backlog. Today, their radiologists are reading in 'real time', referring physicians and patients are receiving fast results, and fundamentally, new patient expectations are being created everyday. The imaging organization was able to "flip the script" through the use of state-of-the-art technology and refreshed workflow, to break from the past and now provide the best possible service to their customers.
Mission Accomplished
July 27, 2015
Article from Axis Imaging News, by Aine Cryts, "Mission Accomplished: How the VA Midwest Healthcare Network deconstructed their PACS and gained agility and flexibility for its radiologists."
Mike Ryan at the Veterans Affairs (VA) Midwest Healthcare Network—also known as VISN23—is proud of his team's work on deploying a "deconstructed PACS" across the network's 11 facilities. Still, Ryan, who is informatics coordinator of the imaging service line, would rather talk about the honor of working with his fellow VA employees to "serve those who have served."
Accelerating Enterprise Imaging
June 12, 2015
With the advent of enterprise imaging, the enterprise viewer is a pivotal component that enables a single point of access to all imaging – diagnostic, clinical, mobile, EHR-driven, and medical multimedia objects - across a healthcare enterprise. Visage Imaging's General Manager, North America, Brad Levin discusses trends in the industry and the transition away from traditional PACS during SIIM 2015.
RSNA 2014: Visage's Top Five
December 16, 2014
To all of our guests and global customers, thank you for making RSNA 2014 such a tremendous success for Visage Imaging! We enjoyed spending time with you in our newly enlarged RSNA booth, listening to your challenges, your aspirations and strategies for enterprise imaging for 2015. As has become a Visage tradition, we've crafted our "top five" observations coming out of the industry's largest, most anticipated trade show of the year. And if you didn't attend RSNA, we hope you find the observations insightful:
1. The Lines Have Been Drawn
At RSNA 2014, it's quite clear that there are two technology camps—you are either a legacy PACS or you aren't. The market now sees through PACS vendor 'marketecture' of vague jargon and creative massaging of buzzwords to fit their agenda du jour.
The terms "enterprise/universal viewer", "VNA", and "enterprise worklist" are not native to PACS and merely a marketing reaction to the concept of deconstructing a PACS. All of a sudden, systems that were developed as a silo'd PACS (many in fact, developed last century) are now being marketed as VNA, as universal viewers, and enterprise worklists. The fact is, these systems weren't designed as modular components, were never intended to be plug-n-play with third-party systems and never will be. Square peg, round hole.
PACS archives pitched as independent VNAs? PACS diagnostic workstations suddenly promoted as universal? PACS-driven workflow offered as enterprise capable? Also, layer after layer of image viewers on top of thick-client PACS, with dated architectures, are far from ideal. Layers are great when you live in Minnesota to keep you warm and cozy, but in PACS, too many viewing layers keeps way too many health systems out in the cold. Props to the market for seeing through the noise, and moving on.
Elevate Your Image at RSNA 2014
November 11, 2014
In just a few short weeks, the Radiological Society of North America 2014 (RSNA) will convene once again in Chicago, and Visage will be introducing our new booth (#4365) in the South Building, McCormick Place. The new Visage booth includes 2,500 square feet of innovation (50' x 50'), representing a 60% larger footprint than our RSNA 2013 booth. Visage will be demonstrating the latest release of the Visage 7 Enterprise Imaging Platform, Visage 7.1.6, Visage Ease for mobile access to images and imaging results, as well as Visage RIS (for international customers). Please review Visage's recent press release which details Visage's activities at RSNA 2014.
The Visage booth will include seven (7) diagnostic workstations, including Barco's latest 12MP color Coronis Uniti display. Additionally, the Visage booth has a technology sandbox, specifically designed for walk-up, self directed demos. The Visage sandbox will showcase Visage 7 and Visage Ease accessible on the gorgeous Apple iMac with Retina 5K Display, and the latest iOS mobile devices, respectively. Grab a mouse (or tablet), experience Visage 7 for yourself, and stay with us for a demonstration by one of our clinical experts. Accessible across two major cross aisles in the South Building, the Visage booth will also prominently feature a 7' HD video wall, showcasing the breadth and clinical adeptness of the Visage 7 Enterprise Imaging Platform.
Right Before Your Eyes
July 24, 2014
by Brad Levin, General Manager, North America
"To Err is Human" was published in 1999 by the Institute of Medicine (IOM), and since that time, healthcare has elevated the importance of quality and safety initiatives in an attempt to reduce the staggering impact of preventable medical errors. This topic has once again been elevated in the national consciousness as last Thursday (July 17, 2014) there was renewed Senate testimony on the latest efforts to quell medical errors. In 1999, the IOM estimated that medical errors resulted in 100,000 deaths annually. Based on the latest Senate expert testimony, the current estimate has swelled to 400,000 annual deaths, with a $1 trillion dollar impact to the economy. This annual death estimate ranks medical errors as the third highest cause of death in the US.
While the top 9 medical errors are not directly attributable to Imaging (See Senator Barbara Boxer's (D-CA) "Medical Errors Report Update"), Imaging has worked diligently as a specialty to improve quality and safety for more than a decade. Aside from the fundamentals of eliminating contrast reactions and extravasations, efforts in education, process improvements, government quality mandates and new imaging IT innovations have brought Imaging digital access to images via PACS; dose reduction and tracking technologies; revolutionary imaging modalities such as PET/CT and DBT; critical results, analytics, peer review, as well as many other technologies that have significantly raised the bar on quality and safety.
Despite the fact that most of those technologies are complementary solutions to interpretation, sometimes the most impactful solutions are literally right before our eyes: imaging viewers. I've written extensively over the past year about the challenges of radiology, many of which center on the limitations of legacy viewers that are used in daily practice. Let's face it, the viewer, like film years ago, is the essential medium of interpretation, and along with the radiology report, the communication of results to referring physicians. Going digital revolutionized Imaging, but we've also proliferated dozens of viewers (e.g., diagnostic, clinical, referring, advanced visualization, CD viewers, EMR viewers, universal, etc…). Simultaneously, a number of factors have influenced radiology organizations to push out upgrades and/or replacement of their current viewers, further exacerbating the use of viewers past their prime. And for image generating organizations that have consolidated their operations in recent years, this has created a real problem of too many poor performing viewers that are no longer satisfying the basic needs of radiologists or referring physicians.
NVIDIA Case Study
May 17, 2014
As a follow-up to Visage Imaging's NVIDIA video shoot, NVIDIA has recently completed a case study, Quadro K6000 Gives Visage Near Real-Time Access to Diagnostic Images. The detailed case study delves into the cutting-edge architecture of the Visage 7 Enterprise Imaging Platform, explaining the challenges currently impacting medical imaging, and how Visage 7 overcomes those challenges leveraging NVIDIA Quadro technology. To learn more about NVIDIA Quadro, please visit this link.
Note: NVIDIA, the NVIDIA logo, and NVIDIA GRID are trademarks and/or registered trademarks of NVIDIA Corporation.
The Time is Now for Deconstructed PACS
April 1, 2014
[Note: Article Originally Posted on AuntMinnie.com March 31, 2014 – Reposted Below]

By Brad Levin, AuntMinnie.com contributing writer
It was a simpler time just a few decades ago in Radiology: film, patient jackets, rolloscopes, lite boxes, armies of transcriptionists and ancillary staff. But that was all about to change. They said the future was digital, so radiologists slowly and methodically blazed a path leaving film behind, transforming the way they had always executed their craft, to make way, for a better way. PACS was nothing short of a revolution, dramatically improving productivity, quality and access. Fast-forward to today, and the PACS glow has vastly dimmed. What went wrong? PACS is a four-letter acronym, but lately many have been calling PACS four-letter words of their own. Increasingly, many believe that the next PACS renaissance is here, but it's not PACS at all. The latest strategy for imaging informatics is actually "Deconstructed PACS", where the core elements of PACS are best-of-breed or component-based solutions, integrated together using standards-based approaches. The end result is a state-of-the-art solution that yields dramatically greater benefits than traditional PACS, and simultaneously enables the institution to exert more control over their imaging informatics assets.
Once upon a time
The earliest PACS approaches cobbled together disparate systems that struggled to simply capture and move images across dual networks; one dedicated for images and one for demographics. Next, client/server PACS deployed thick-clients to do the work, which then gave way to web-based PACS delivering images in browser-based viewers. Each approach had its own set of limitations that required creative operational and technical workarounds. By the mid to late 2000s most institutions had gone digital for the first or second time, and analysts began to see on the horizon the next wave of replacement PACS. Except they were wrong.
Powerful Marriage
January 7, 2014
During one of the busiest times at RSNA 2013, Tuesday at Noon (to be exact), Visage Imaging and NVIDIA conducted an exciting video shoot in the Visage booth. Synergy between Visage 7 and NVIDIA® Quadro® technology was highlighted, (literally) putting the spotlight on the speed, scale, and impressive clinical capability of the Visage 7 Enterprise Imaging Platform.
For customers who have not had the opportunity to attend RSNA or to see Visage 7 in action, the video provides an excellent lens into the energy of RSNA, as well as the clinical and technical dexterity of Visage 7. In the video, the multi-dimensional thin-client capabilities of Visage 7 are on center stage, demonstrating use on a variety of client platforms (PC and Mac), on single and multiple displays, using a variety of multi-modality presentations, non-DICOM visualization, and also showcasing mobile access via Visage Ease. When cutting-edge hardware and software work in tandem, the results are simply magical.
Impressively at the 1:22 mark, be sure to take note of the visualization of digital breast tomosynthesis, better known as DBT or 3D mammography. Demonstrated at RSNA as a work-in-progress, the video highlights the 3D MIP for DBT, displayed side by side with CC and MLO views. These massive DBT studies dwarf even the largest imaging studies of the past, encompassing 1.5 gigabyte (GB) images per view, per breast, totaling 6 GB for each study. Due to patented Visage technology, server-side processing, and the powerful capabilities of NVIDIA Quadro, Visage 7 can display the massive DBT dataset for diagnostic interpretation over the LAN or WAN in approximately 2-3 seconds, down to high speed bandwidth connections (~6 Mbps).
RSNA 2013: Visage's Top Five
December 18, 2013
For all who attended, thank you for making RSNA 2013 such a success for Visage Imaging. It was great spending time with customers, demonstrating our latest innovations, and hearing about your plans for enterprise imaging initiatives in 2014. Similar to last year, we've developed our "top five" observations coming out of the conference. If you had similar or different observations, we'd love to hear about your views on any of our social media platforms. If you didn't attend RSNA, we hope you find the observations valuable:
1. Take the lead. There's a great dichotomy that has developed in medical imaging—while there's an undertone of uncertainty in the US due to a variety of environmental factors, leading imaging organizations are moving forward seizing the opportunity to differentiate and separate from competitors.
As legacy PACS have aged, no organization has coveted upgrading or replacing 'PACS with PACS' for negligible gain; however, times have changed. Whereas conventional solutions offer competitive parity, leading organizations have recognized that Visage 7, independently or in combination with other best of breed solutions, offers dramatic step-change improvements that leapfrog the status quo.
Of note, respected industry analyst Frost & Sullivan* explained in their "RSNA 2013 Review", Visage 7 "emphasized high performance [and] distinguished from other universal viewers as being an end-to-end viewer that can overlay existing PACS viewers and be used across several imaging specialties for primary diagnosis as well as for secondary viewing by clinicians."
While some lessor competitors are strategically comatose, top organizations have decided to break from the pack and move ahead. Michael Gray was arguably the first to write about this strategy following RSNA 2013, and Joe Marion followed it up this year. It was fantastic to see so many of the industry's largest and most prestigious institutions spend time with Visage at RSNA!
Opportunity Knocks
October 22, 2013
Earlier this year, Brad Levin, Visage Imaging's General Manager, North America wrote a commentary, Radiology Has Solved The Problems of Going Digital, published on the Society for Imaging Informatics in Medicine (SIIM) Blog. Shortly thereafter, Brad partnered with SIIM on a brief Internet survey about the challenges related to contemporary imaging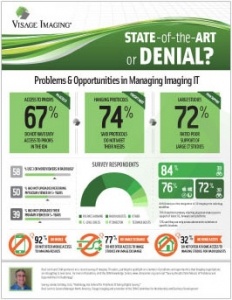 informatics. The results of the survey were presented at the annual SIIM conference, they spawned an infographic and a follow-up commentary published on the SIIM Blog, Survey Results Paint Mosaic of Problems and Opportunities for Radiology.
Technology has always played a pivotal role in imaging informatics since the earliest practices first converted from film to digital. Since that time, the adoption of state-of-the-art technology has resulted in tremendous productivity gains, improvements in access, enhanced quality and timeliness of interpretation, etc. The American College of Radiology (ACR) is now promoting Imaging 3.0, which is an impressive call to action to all radiologists. While not explicitly stated, there's an underlying assumption that the industry is satisfactorily operating at Imaging 2.0. Based on the previously mentioned research, there appears to be a gap between where imaging informatics actually is and where imaging informatics aspires to be. Visage Imaging can help to rapidly close that gap.
Whether a byproduct of organizational self-reflection, or an industry-wide call to action, it's clear we're at an exciting crossroads for imaging informatics. Forward-looking organizations are responding, seizing the opportunity to break from the status quo, strategically investing in innovative technologies, overcoming the problems of the past and leading into the future.

Download the 2013 SIIM Survey Results
Speed is Everything
November 23, 2012
Raising the Bar
July 3, 2012
Visage 7: Speed Thrills @ RSNA 2011
December 6, 2011