Can you? Visage can. Vol. 1 Speed | Chapter 7: Thin-Slice Reading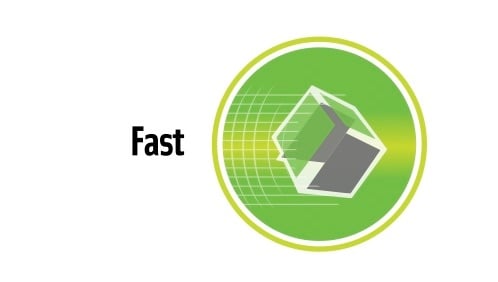 Thank you for your fantastic feedback about our "speed" series of blogs, "Can you? Visage can." I've received a number of e-mails complimenting Visage on the insights we're sharing, explaining that it's much easier to understand the value of speed with actual clinical and technical examples from other imaging organizations. We'll do our best to keep this blog fresh, and I think you'll equally appreciate today's update.
In our last chapter, we shared how regional enterprise imaging is redefining reading relationships. Consolidation is transforming the logo landscape, but behind the scenes the technology is more often a mismatched quilt of this and that. You'll get your images read, but not without a lot of moving parts, manual intervention, and sweating administrators. We elevate "mediocore" to "high-quality" across the imaging landscape and truly represent breakthrough, enterprise-class solutions. Everyone is trying their best to provide a consistent, quality product for referring physicians, but with variable underlying technologies that's easier said than done. With Visage, we've proven and delivered what others have said isn't possible. There's lots of vendors that do plenty of talking, Visage prefers getting things done....with differentiation.
And that brings us to our next topic in Chapter 7: Thin-Slice Reading.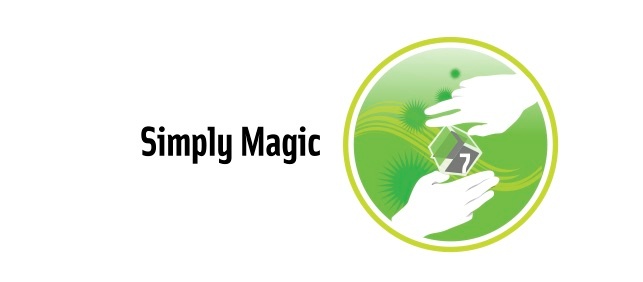 Thin-Slice Reading
The historical and current state of legacy PACS does not support thin-slice reading due to a number of factors, including performance and speed. This lack of capability has largely been industry-wide, despite massive improvements in slice count, speed and capability of thin-slice modalities, such as CT and MR. Yes, despite the slice wars in CT, legacy PACS has never caught up. As a workaround, technologists send thick-slices to PACS and secondary capture reconstructions from the console/workstations. This process is time consuming for technologists and if the radiologist doesn't like the view that was captured, new secondary captures are often requested. This delays the radiologist interpretation, delays the technologist from scanning patients, and negatively impacts patient care.
Other than Visage 7, Visage is unaware of any commercial PACS or enterprise viewing platform that supports thin-slice reading at scale.
In stark contrast, Visage 7 natively supports thin-slice diagnostic reading and clinical access at massive scale, without any performance degradation or client-side dependencies, for all users. Visage 7 customers explain that reading thin-slice image data allows them to read faster, with greater clinical accuracy. Why? Because they can dynamically see clinical abnormalities in the thin-slice data that are otherwise obscured in thick-slice and secondary capture reconstructions.
We've worked with a range of Visage 7 users around the globe that have tackled thin-slice reading with different approaches. Some have gone thin-slice right out of the gate for all cross-sectional imaging. Others have targeted thin-slice reading just for CT, or select studies. Another group of Visage 7 users have not gone thin-slice initially, but have moved to thin-slice reading shortly after go-live. These users often tell us that once they have settled in reading on Visage 7, their reading habits that were influenced by lessor performing viewers tend to shift for the better. Their days of only scrolling through axial stacks and secondary captures created by others rapidly come to an end.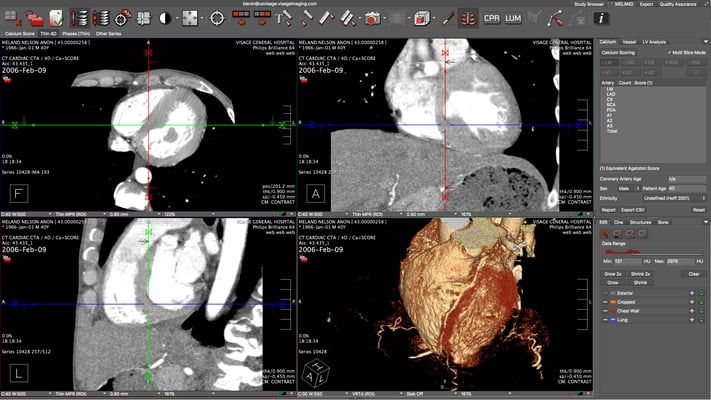 Visage 7 | 10-Phase 4,000 Slice Cardiac CTA | Thin 4D Layout
With dynamic reconstructions at their fingertips and the ability to change slice thickness on the fly from the original axial data, radiologists quickly realize the power of being in full control, with no waiting. There's no hoping that the technologist picked the right views. There's no delay while new reconstructions are being captured and resent. And fundamentally, there's newfound confidence that they are seeing everything that the scanner can provide. Radiologists tell us that patient care is significantly improved because reading off of the thin-slice data with Visage 7, they can identify lesions and abnormalities that they simply could not see previously. This begs repeating - Visage 7 customers explain that reading thin-slice image data allows them to read faster, with greater clinical accuracy.
Patient care is significantly improved. Visage 7 uniquely allows customers to take full advantage of the thin-slice images generated from today's most advanced thin-slice scanners, with incredible speed. This is irrefutable - all other PACS do not.
Stay tuned. Next up for "Can you? Visage can" is Chapter 8: Priors.