I Heard It Through the Go-Live: Episode II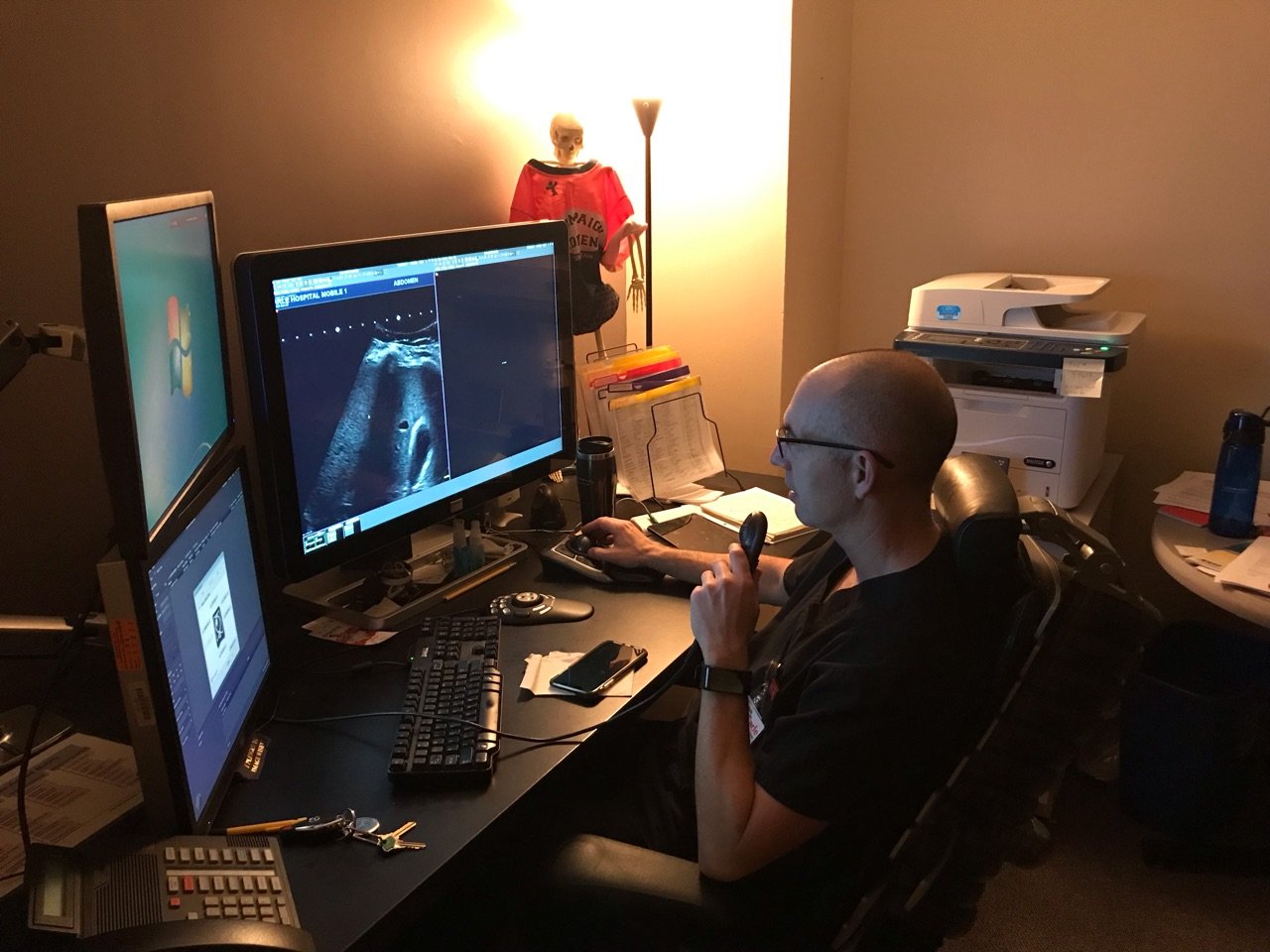 We have used the Visage Blog to share with you firsthand customer stories relayed to Visage during Go-Lives, during follow-up training and routine clinical use of Visage 7. In early January 2019, Visage went live with the Visage 7 Enterprise Imaging Platform at Carle Foundation Hospital ("Carle"), in Urbana, Illinois, replacing their legacy PACS.
In the latest episode of the Visage Blog, Carle's key radiologist stakeholder, Dr. Juan Jimenez, shares insightful perspective on the use of Visage 7.
Juan Jimenez, MD | Associate Medical Director of Radiology, Carle Foundation Hospital
MPR Layouts
Dr. Jimenez explains, "The MPR layouts have really been a game changer. I read a lot of chest CT and sometimes nodule evaluation can be difficult because of the orientation of the abnormality in relation to the typical orthogonal scan reconstruction planes.
The ability to adjust the visualization plane on the fly allows us to better characterize lesions and in some instances determine that they are benign findings such as intra-fissural lymph nodes or fibrosis and prevent further unnecessary workout. This adds value to our practice."
Speed
Dr. Jimenez continues, "The other real advantage is speed. Our practice utilizes remote reading via home-workstations, particularly for overnight emergency reads. These are higher acuity patients where turnaround time is critical. The image loading time is indistinguishable on our home workstations compared to the office.
The server-side rendering really improves the speed in which our radiologists are able to view images, even the most complex exams like CTA, and ultimately leads to quicker turnaround times for the emergency department and hospital inpatients that rely on our reports for clinical decision-making."
PET/CT Fusion and Lesion Tracking
Dr. Jimenez also comments on the value of using Visage 7 for multiple clinical workflows, in this case PET/CT.
"The PET/CT options have also been a big help. We no longer have to go into third-party systems to view fusion images and do basic measurements such as standardized uptake value or SUV. It is extremely helpful to have this available right on the desktop and integrated within our regular workflow."
Faster Interpretation with Greater Precision: Improved Patient Care
Dr. Jimenez also provides feedback on a pertinent STAT clinical case interpreted on Visage 7 that resulted in better patient care as compared to Carle's prior PACS.
"I was reading a STAT CT on a trauma victim in the ED. There was an abnormality in the chest that could have been caused by a fractured sternum or injury to the aorta. At first, I didn't see a sternal fracture, so I started to look very hard at the aorta. I started to question whether there was an injury to this vessel and that would have increased the severity of this patient's condition."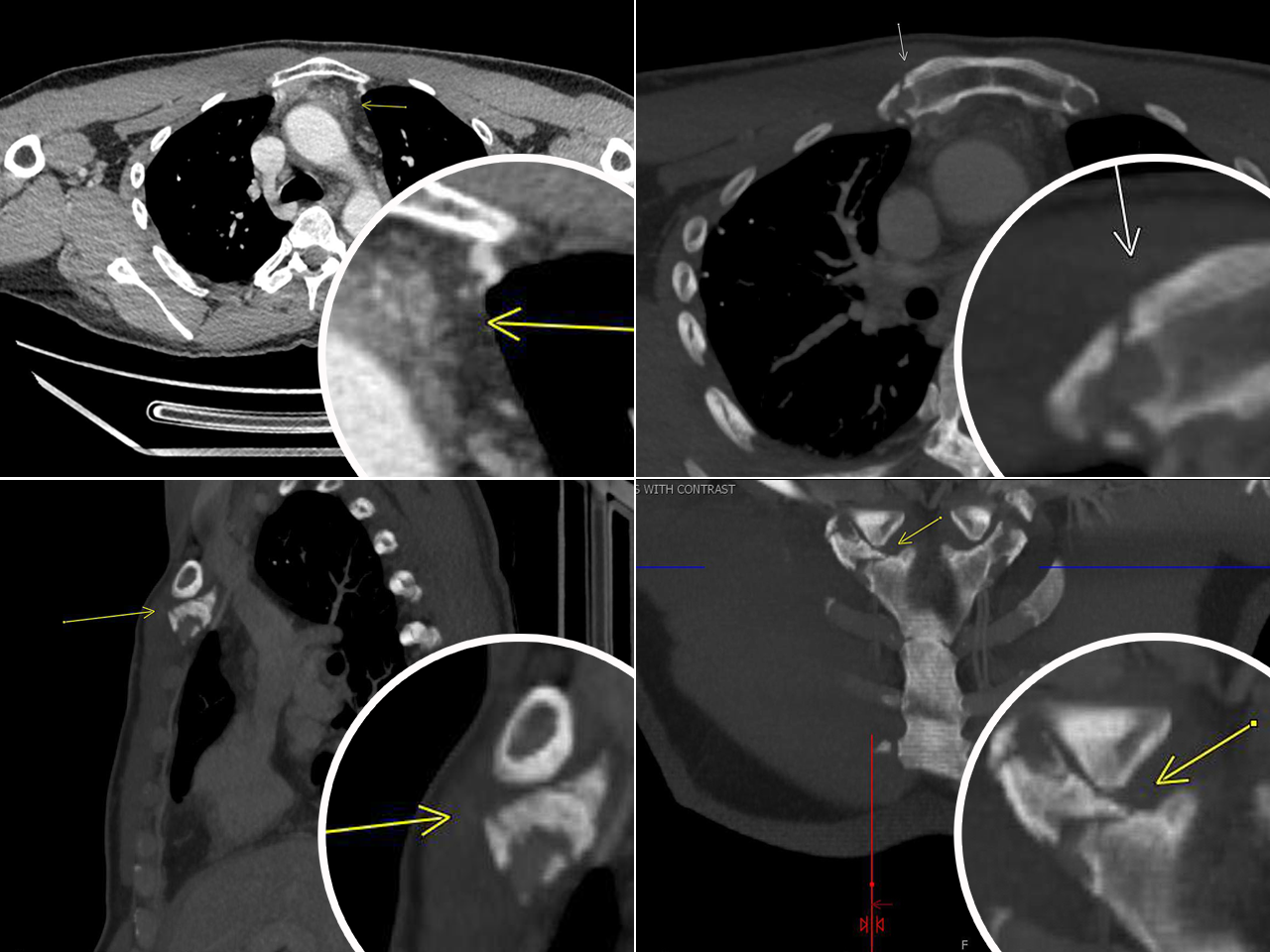 "The kicker was being able to adjust the viewing angle and make a MIP on the fly. Really popped the fracture out, " explained Dr. Jimenez.
Clockwise starting from Top Left: (1) Thin-slice original axial shows fluid behind sternum (Upper Left); (2) Axial MIP (Upper Right); (3) Coronal MIP reconstructed demonstrating fracture of the right side of the manubrium (Lower Right);
(4) Sagittal MIP, non-displaced sternal fracture (Lower Left)
"Thankfully, due to the ability to visualize images in multiple planes and adjust the viewing angle indefinitely right on my workstation, I was able to locate a small sternal fracture. This gave me the diagnostic confidence to account for the blood in the chest without raising unnecessary concern about injury to the aorta. Had I done that, we would have mobilized many resources unnecessarily, and potentially delayed the patient's care."
Visage is proud to support Dr. Jimenez as well as all of the physicians at Carle Foundation Hospital, providing world-class care for their patients!