I Heard It Through The Go-Live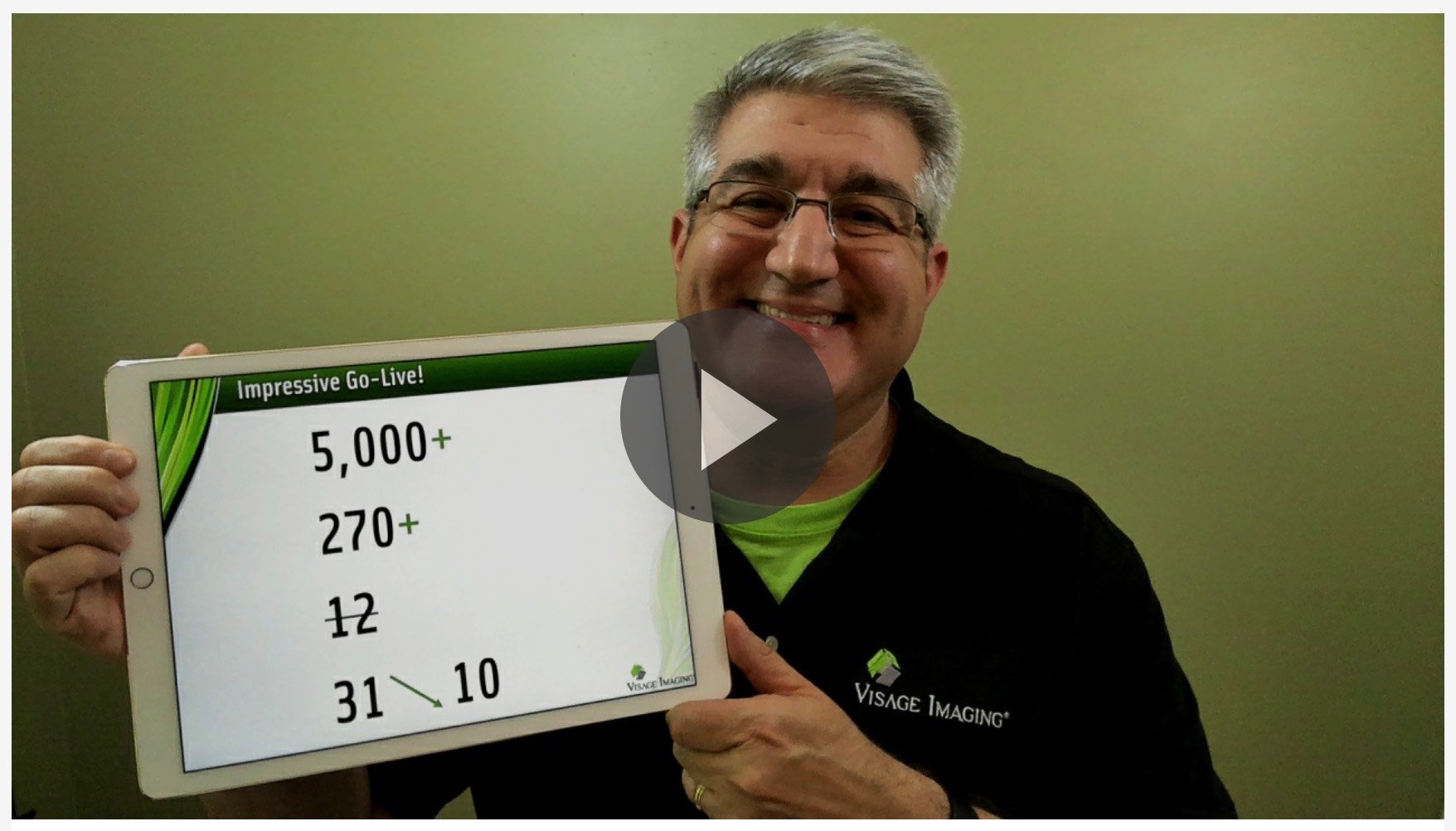 On May 5, 2018, Visage Imaging completed the third phase of Visage 7 implementation for one of the largest, most prestigious healthcare institutions in the world. Our latest Visage Blog explores details of their go-live that represents one of the most eagerly anticipated events in the history of medical imaging.
Their most recent "big bang" go-live was across their largest region, where they:
Perform more than 5,000+ imaging procedures daily
Provide interpretation by more than 270 Radiologists, across dozens of locations
Deliver reports via FHIR, arguably the largest production implementation of FHIR in medical imaging
Integrate Visage 7 to their VNA using industry-standard IOCM
Eliminated 12 dedicated breast imaging workstations
Eliminated the use of dedicated software for ultrasound interpretation
Eliminated dozens of workstations used previously for in-progress imaging
Reduced their reliance on dedicated advanced visualization/3D software
Reduced their regional server footprint by nearly 70%, from 31 servers (from their prior PACS vendor) to 10 Visage 7 servers, eliminating numerous single points of failure, while delivering a high-availability and zero downtime architecture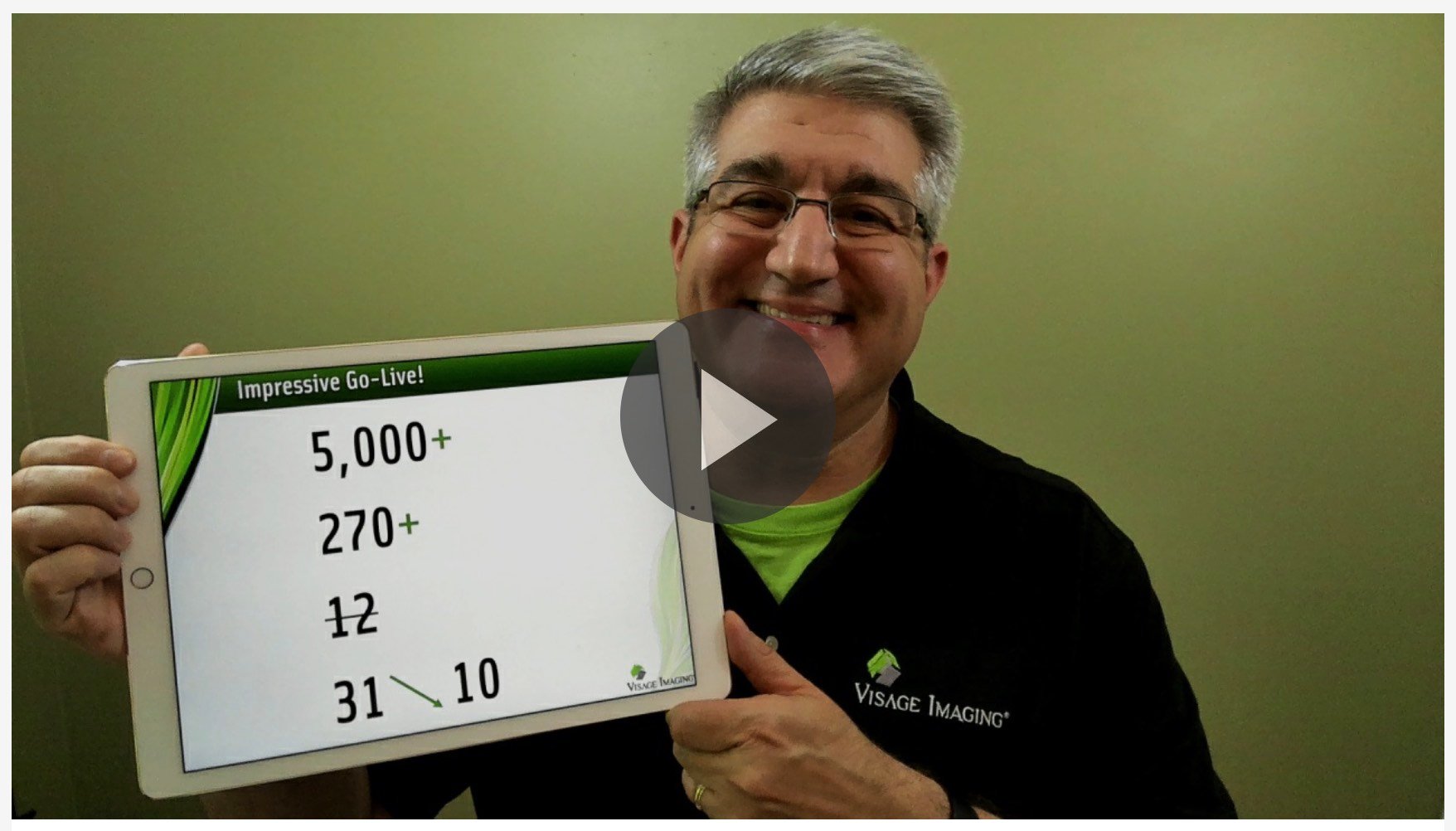 Video: Go-Live Overview | SIIM 2018
In addition to this being one of the largest go-lives in the history of medical imaging, this institution has some of largest cross-sectional studies and patient jackets we've ever experienced. And despite these challenges, Visage 7 continues to deliver amazingly fast performance.
Throughout the go-live, Visage documented four pages of positive feedback received from Radiologists, IT professionals and Administrators. Here's a few quotes that summarize quite well what we heard about Visage 7 and the Visage team:
This institution has Visage 7 with EHR-driven interpretation workflow, integrated to their VNA. This quote really says it all succinctly.
We are hyperspecialized and for the first time ever, we have a system that can do what we need it to do. I don't need to click on anything else [mentioned dedicated 3D tool] or get up from my chair, including seeing the whole patient chart. I can do what I need to do, from one seat with nearly everything I could ever need. Visage is outstanding. It's crazy cool.
These two quotes, from two different individuals, are indicative of the impressive change moving from a legacy PACS to a modern, server-side architecture.
It's just so much better. Everyone thinks so!
This is my 7th PACS. Previously, switching from PACS to PACS meant losing some of the functions - with Visage, you get them back and then some.
Lastly, it's never just about technology. The best technology, plus world class support creates unique differentiation that adds immediate and long term value that's instantly appreciated by end users. Even hours/days after go-live.
Thanks again for your entire team's great work and support. The entire Visage team gets a big 'thank you' from me and my colleagues. Can't say enough about your professionalism, agility and willingness to really listen and understand our workflow.
The fourth (and final) phase of this institution's go-lives will occur in October 2018, when their two remaining regions will go-live on Visage 7 (and their EHR) simultaneously. For the first time in this institution's history, every Radiologist will use the same diagnostic viewer, and have near immediate access to all patient priors, wherever their patients have been seen across their entire health system.
Interested in learning more about this institution's experience with Visage 7? Please schedule a demo at Visage Imaging Booth #400 at next week's SIIM 2018, National Harbor, MD, May 31-June 2, or drop me a note to learn more.