RSNA 2021 | Visage's Top Five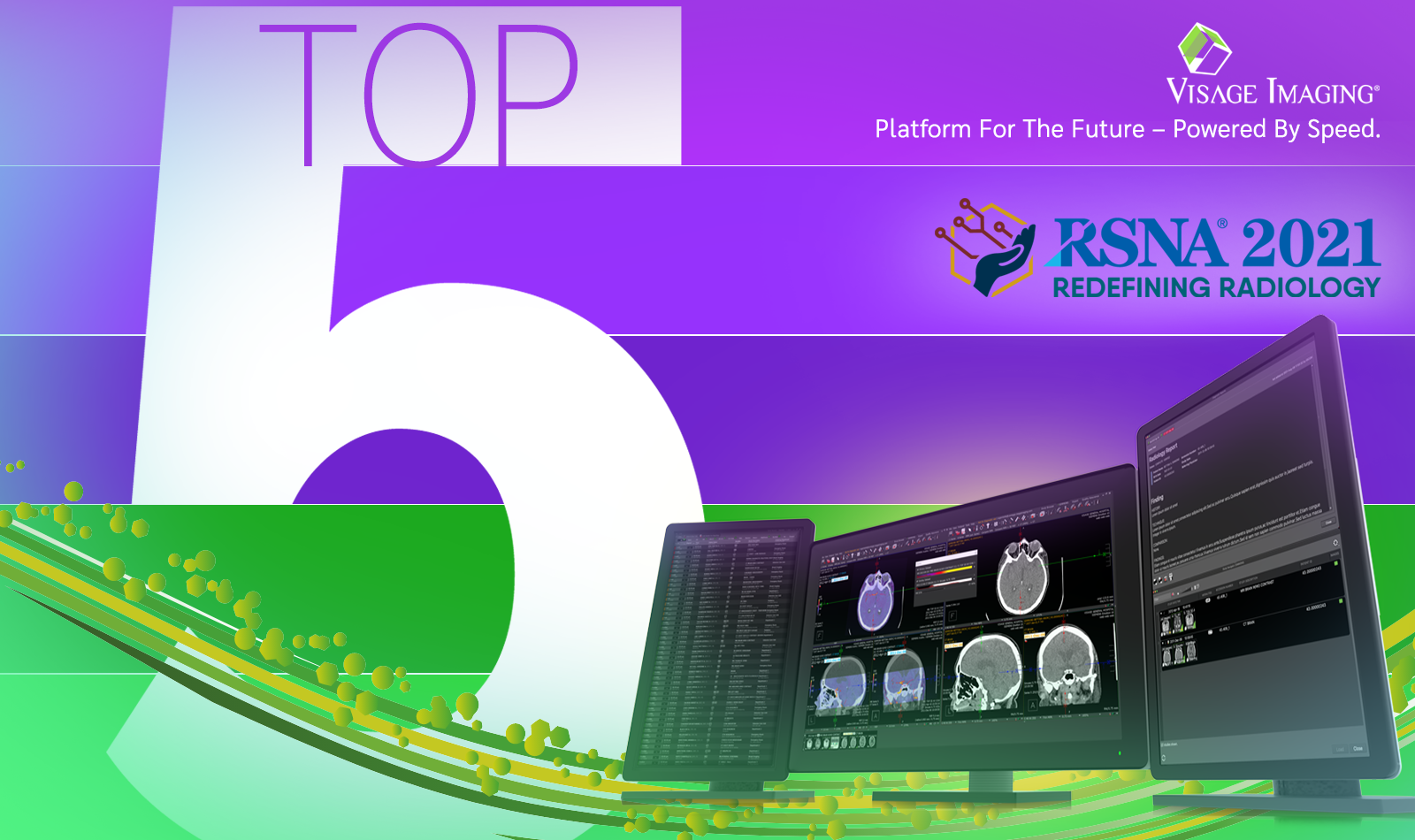 RSNA 2021 was a welcome change with a return to (somewhat) normalcy in post-Thanksgiving Chicago! Despite ~50% professional attendance (from RSNA 2019), Visage had a record number of pre-scheduled meetings, we were busy the entire exhibition and we were told repeatedly that we had the most gorgeous booth at RSNA 2021. Meeting with new and existing customers was exhilarating and there really is no replacement for face-to-face interactions. It never gets old to hear from customers, "Visage was the best thing that happened to me this year." At RSNA, we shared our latest innovations and learned even more how Visage is making a positive impact in healthcare around the globe.
If you were able to participate in RSNA21, we hope our insights resonate with your experience, and if you were unable to attend, we hope you find our top five helpful. Now, on with Visage's Top Five!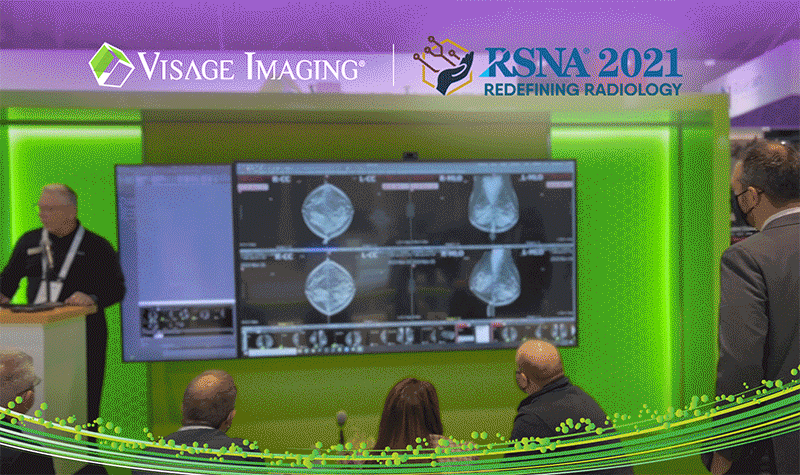 1 – CloudPACS: Even faster and in demand
This year customers were asking about CloudPACS unprompted, signaling to us that we have reached a new milestone in the transition to the cloud. No longer are organizations considering cloud as another option for hosting their (current or future) PACS, but they're recognizing that cloud is where they expect their PACS to be hosted. Some have theorized that the challenges due to the pandemic (e.g., remote reading, need for flexibility, security) drove this change, while others point to organizational mandates for cloud for mission-critical applications. There's clearly been a tectonic shift in CloudPACS capabilities and expectations, and Visage is leading the way.
Visage 7 | Platform For The Future - Powered By Speed [RSNA 2021 Video]
Visage continues to pioneer complete PACS replacement in the cloud, successfully bringing live CloudPACS implementations all across the US from the Mid-Atlantic, to the Intermountain West, to San Francisco and health systems near you. Visage's experience has been that cloud-based implementations of Visage 7 have the same great performance as on-premise Visage 7 implementations, or in many cases even faster. This is because Visage 7 in the cloud uses highly parallel I/O streams to object-based cloud storage; dynamic allocation of cloud resources for elasticity; and the maximum use of network connections streaming 100% on-demand while using less bandwidth than legacy PACS.
Additional CloudPACS resources:
For more information how Visage 7.1.17 powers CloudPACS, click here.
2 – AI draws a crowd and more
The Visage booth at RSNA21 was adjacent to the Imaging AI in Practice (IAIP) 2021 demonstration and the AI Showcase. For the second year in a row, Visage was a proud participant in the IAIP, showcasing emerging AI technologies and the data and interoperability standards needed to integrate them into the workflow of diagnostic radiology. This year's multi-vendor interoperability demonstration included 32 products from 22 different vendors, with Visage (one of only two vendors) that participated in two of the demonstrated workflows. There was a constant flow of professional attendees through the IAIP, and Visage received numerous accolades from industry insiders about our differentiated capabilities, in particular for robustly integrating AI results into PACS.
Repeatedly we heard reinforcement of our core belief that integration of AI algorithms must be non-disruptive and native to PACS interpretation workflow. To that end, we demonstrated our FDA-cleared Visage Breast Density algorithm developed in collaboration with Yale New Haven Health, as well as other work-in-progress algorithms in development using the Visage AI Accelerator platform, including:
Radiogenomics of brain tumors
Body composition
Aortic semantic annotations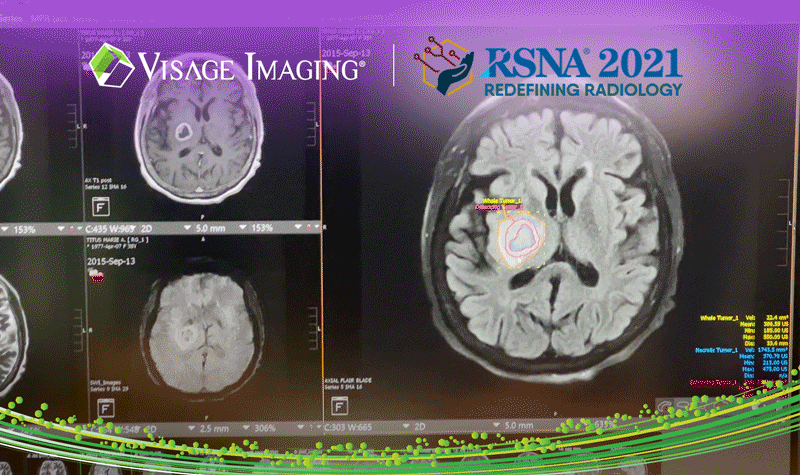 Additional Visage AI Accelerator resource:
3 – Video radiology reports: multimedia (audio/video) makes a world of difference
Traditional radiology reports are filled with complex language and medical jargon that is challenging for patients to understand. While multimedia radiology reports (e.g., reports with key images and embedded tables) may include additional useful information, images are still tough for patients to decipher in the context of radiology report findings.
Visage has collaborated with NYU Langone Health and the NYU Grossman School of Medicine to develop a video radiology report, providing a new and better way for radiologists to communicate with patients. The video report is approximately 1 minute in length and is neither a comprehensive report, nor a replacement for the traditional radiology report for referring physicians. Visage 7 Video Reports includes easy to use tools, enabling the interpreting radiologist to quickly create and edit video reports recording 2D and 3D image manipulations directly within Visage 7, while also using the same microphone used for voice recognition. Visage 7 Video Reports are conveniently and securely accessed by patients at home or on mobile devices via their electronic health record (EHR) portal.
Visage 7 Video Reports [Video]
Feedback at RSNA21 was almost universally positive, even from radiologists who were initially skeptical. Once they saw how easy the workflow was to create video radiology reports, they would think of use cases where video reports would be useful for their patients, referring physicians, as well as for training purposes (residents, techs, etc.). Visage 7 Video Reports are available now for all Visage customers, included in the latest release of Visage 7.1.17.
4 – Today's ROI | Efficiency. Efficiency. Efficiency.
This year's RSNA also represented a shift in the way radiologists discussed imaging informatics in the overall state of the practice. In the past, radiology leaders were interested in learning how informatics solutions could drive ROI by helping radiologists read more studies. There was continual pressure to increase radiologist productivity by all means necessary. However this year, the ROI message coming out of RSNA was efficiency, efficiency, efficiency.
With the systemic challenges of burnout, most radiologists are already maxed out. Their 'cup runneth over'. They've been pushed to the limit, and in all too many cases, beyond the limit. That said, imaging volumes are not going away and need to be effectively dealt with. Imaging informatics solutions like Visage 7 can help in a big way.
We've always said that everything in imaging begins and ends with speed. If a new feature is slow and drags the radiologist down, it won't be used. If you've got a great new AI algorithm but processing takes a long time, and reading workflow gets disrupted, it won't be used. And fundamentally, if you've got a slow PACS, it will become the bane of existence for radiologists and set a negative tone for the entire imaging organization.
In stark contrast, Visage 7 has a proven reputation for being the fastest imaging platform available, and it has gotten even faster when implemented in the cloud. Using Visage 7, speed drives efficiency, enabling radiologists to 'motor through' normal studies (as I heard from a customer just this week), while providing sophisticated native tools in the same viewer when additional time is required to interrogate complex cases. The result is efficient interpretation, with greater clinical precision. It's the perfect balance between speed, hanging protocol reliability and native tools that provide radiologists the optimal diagnostic cockpit.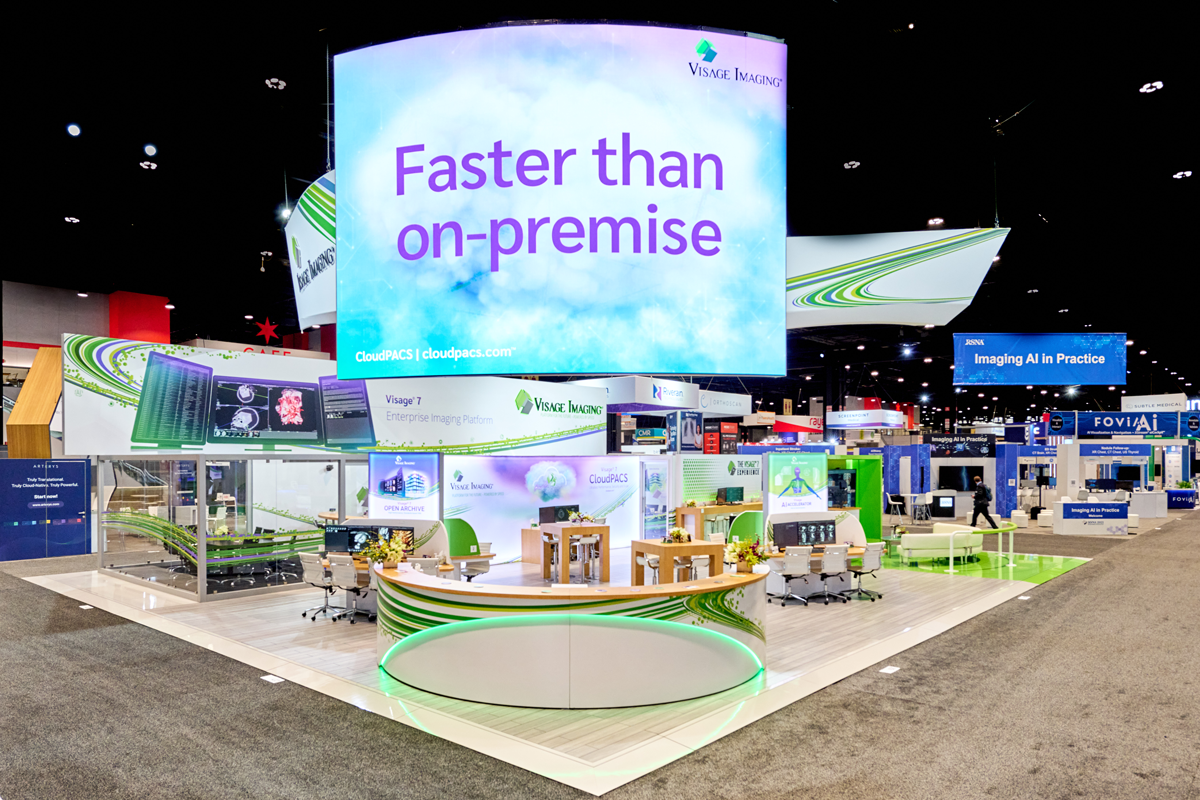 5 – Full stack optimizes ROI
Visage pioneered the modularization of PACS, enabling customers to optimally integrate the Visage 7 Viewer with other customer informatics investments in workflow orchestration and image archiving. What we have discovered hearing customers talk at RSNA, is that regardless of the combination of solutions customers have implemented, when they discuss their PACS, they mean "Visage".
Once Visage 7 is implemented, customer use of the word PACS becomes synonymous with Visage. Why? Because PACS is the visual manifestation of imaging. That's where speed and capability matter most to end users. It's not just where the inputs and outputs of imaging flow, but it's fundamentally where the work of imaging is done. Period. End of story.
In addition to the Visage 7 Viewer, over the last several years Visage has been delivering a native, full stack of capability for the Visage 7 Enterprise Imaging Platform to include Visage 7 Workflow and Visage 7 Open Archive. One infrastructure, one database, all native with the same administration tools. When customers move to implement the full stack of Visage 7 capabilities (viewer+workflow+archive), they're able to reap the greatest ROI from the same platform, while eliminating the non-value add overhead of independent systems. And when the full stack of Visage 7 is implemented in the cloud, ROI is truly maximized.

That's a wrap and thank you for a record breaking RSNA 2021! We'll see you next year at RSNA 2022, same exact location, in an even larger booth!
From all of us at Visage, we hope you enjoyed Visage's Top Five from RSNA21, and we would like to wish you and yours a happy, healthy holiday season.