RSNA 2022 | Visage's Top Five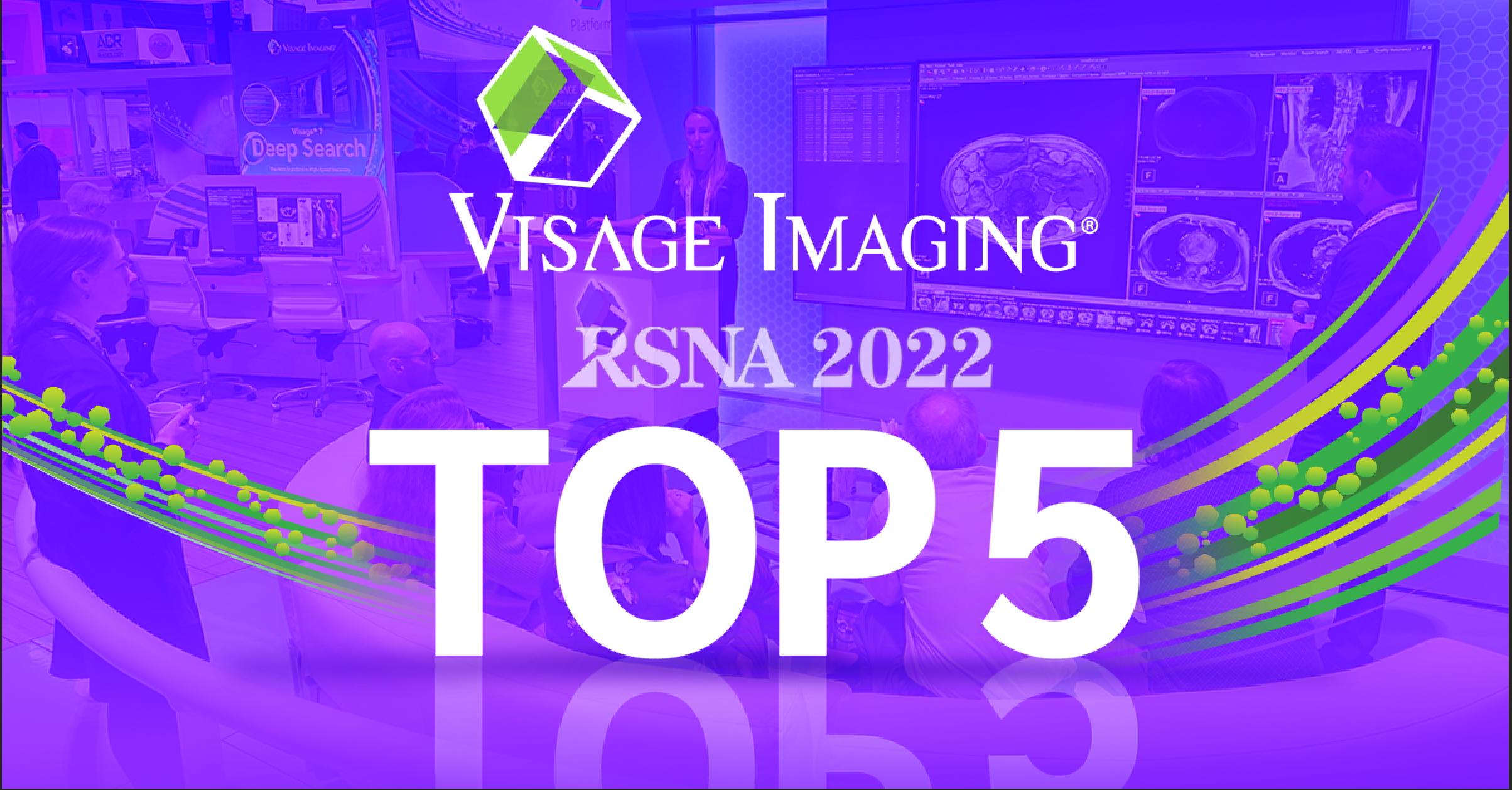 RSNA 2022 over delivered as AuntMinnie.com reported 45% higher in-person registrations as compared to 2021, with total registration of 38,000. The halls were busy and the level of engagement rivaled pre-COVID Chicago! Visage debuted the largest booth in our history, complete with a massive three-sided video wall, the most incredible demonstration theaters found anywhere at RSNA, and the return of the meeting's best gourmet coffee. Impressively, we experienced more than 35% growth in the number of professionals we spoke to at RSNA 2022 as compared to 2021! We work hard to improve your experience visiting with Visage at RSNA, and it never gets old hearing that our booth was 'best in show'. At RSNA, we demonstrated our latest innovations and learned how Visage is globally making healthcare better.
If you were able to join us at RSNA 2022, we hope our insights resonate with your experience, and if you were unable to attend, we hope you find our top five helpful. Now, on with Visage's Top Five!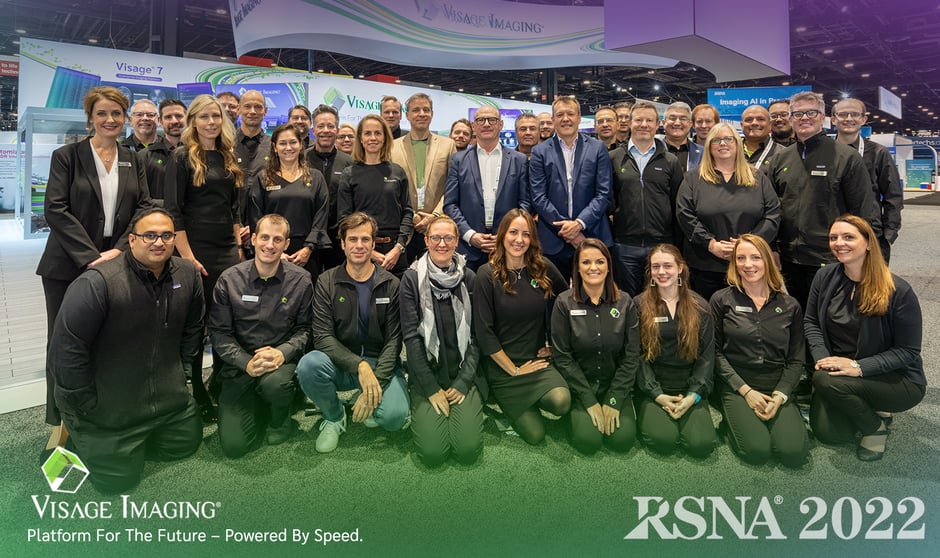 1 – Visage is the CloudPACS Leader
Visage continues to trailblaze PACS in the cloud. Prior to RSNA 2022, Visage announced our cloud experience and shared our latest innovations with "Visage Leads with CloudPACS at RSNA 2022". We explained, "For the past 24 months, 100% of Visage's new PACS customers have been implemented in the cloud, with the enterprise scale and sophistication required for academic institutions, integrated delivery networks, and outpatient imaging organizations."
We offered facts about Visage's multi-year, multi-cloud experience implementing Visage 7 in all major cloud platforms, at massive scale, with ultrafast performance for all imaging organizations. We also went further, distributing a second press release: "Visage Announces Support of Amazon HealthLake Imaging", sharing that "Visage 7 customers will have even more flexibility to manage and unleash the value of their enterprise imaging data assets, with some innovative new options, for example in managing research data collections."
So while some vendors repeatedly filled the halls of RSNA 2022 with broad, future-leaning statements about what might be possible with the cloud, Visage shared what we've successfully achieved in the cloud with our customers. Since the conclusion of RSNA 2022, you've also likely seen videos and articles from other vendors about the cloud. How can you differentiate bluster from facts? Ask for proof of capabilities and experience, including the ability to do a pilot in the cloud.
Fact: Visage is leading the way.
Visage RSNA 2022 | Platform For The Future - Powered By Speed [Video]
2 – The velocity of Visage innovation impresses
In addition to continuing to enhance the already ultrafast performance, features and supportability of the Visage 7 Enterprise Imaging Platform as implemented in all of the major cloud platforms, Visage demonstrated multiple new innovations that turned heads at RSNA 2022.
Here's a few of the latest product innovations from Visage:
New Rendering Mode. Visage has an outstanding reputation for automatically displaying multi-dimensional images ultrafast within the hanging protocol for cross-sectional imaging. This PACS-based capability has been a hallmark of Visage 7 and has enabled customers to reduce and eliminate the need for third-party advanced visualization solutions. At RSNA 2022, Visage went further and demonstrated a work-in-progress new native rendering mode for Visage 7, displaying even faster, and even more lifelike volume rendered multi-dimensional images. All with One Viewer™: Visage 7 for diagnostic interpretation, enterprise imaging access and more.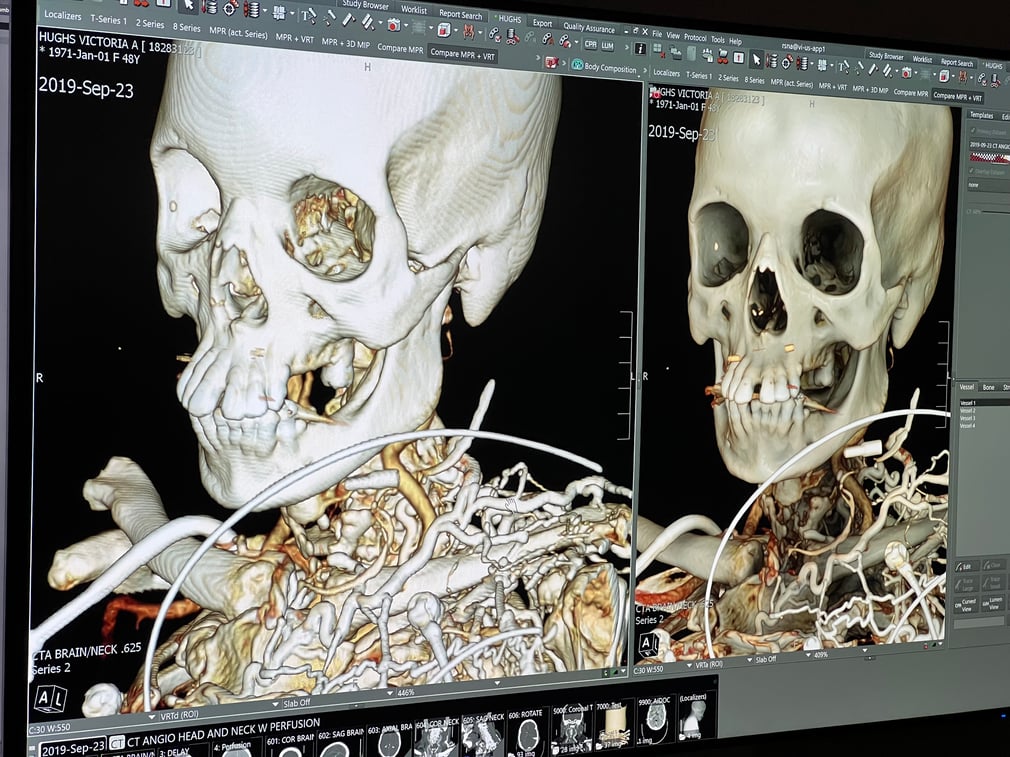 Visage 7: Current Rendering Mode (Left) vs New Rendering Mode (Right)
[Work-in-Progress]
Visage 7 Workflow | Load Balancer. Load Balancer enables institutions to create optimized workflows using a state-of-the-art user interface to define, manage and monitor workflow rules across the enterprise. Load Balancer supports the definition of editable patient list rules to create 'child' patient lists distributing work from 'parent' patient lists, based on a set of threshold values for specific RVU/REU metrics, definable over a specific time (day or multiple days of the week, over a specified time duration). Load Balancer is an optional product capability exclusively intended for use with Visage 7 Workflow for ultrafast enterprise workflow orchestration.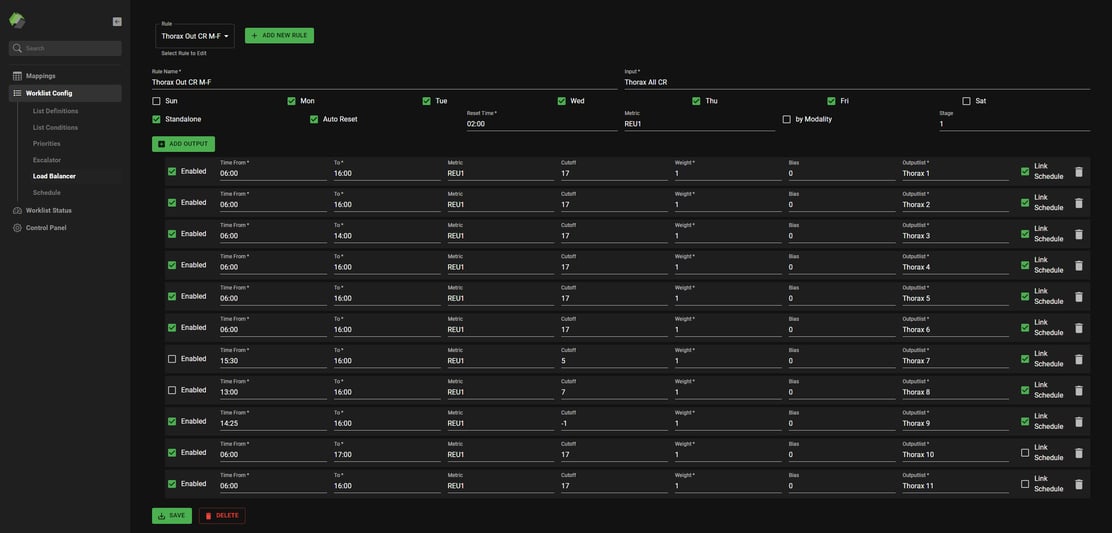 Visage 7 Workflow | Load Balancer
Visage 7 Deep Search. With ultrafast speed, Visage 7 Deep Search allows authorized users to search an institution's data asset of radiology reports to gain useful clinical insights. Deep Search can be used to build patient cohorts for research and AI projects based on natural language processing and complex heuristic-based queries. Deep Search is available now and supports near immediate queries interrogating tens of millions of reports. Also shown at RSNA 2022 as a work-in-progress, Visage demonstrated Deep Search's ability to search measurements, annotations and Visage's exclusive, Semantic Annotations, for the ultimate dataset curation.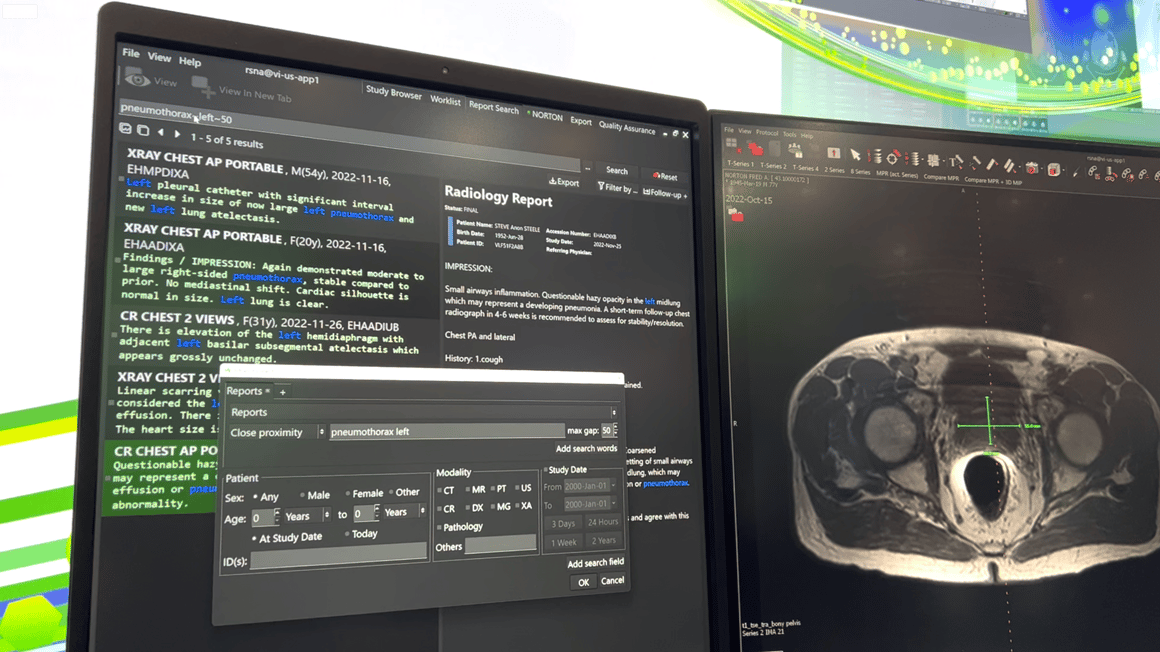 Visage 7 Deep Search
Interpretation work products into the diagnostic report. Visage 7 now enables radiologists to easily parse data from images into the radiology report, including measurements that are either automated or manually created, as well as Lesion Tracking Tool tables. Based on workflows, measurements are automatically translated into natural language/readable text for incorporation into the diagnostic report. This data can also be made available to authorized users in the EHR.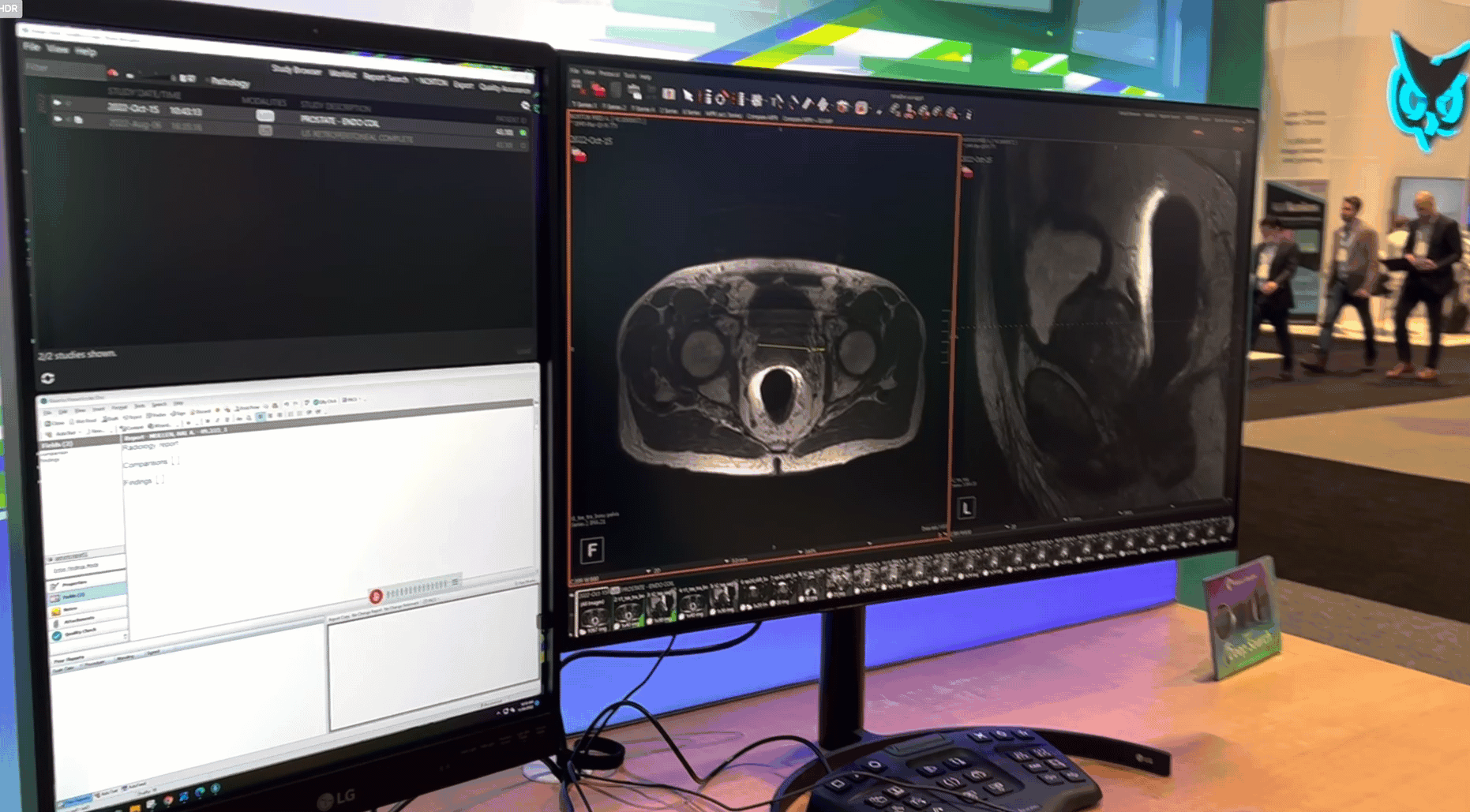 Getting Interpretation Work Products From Visage 7 Into The Diagnostic Report
Automated Breast Ultrasound (ABUS). Visage demonstrated a new native Visage 7 protocol for ABUS, complete with multiple layouts to immediately and automatically display ABUS multi-dimensionally for diagnostic interpretation.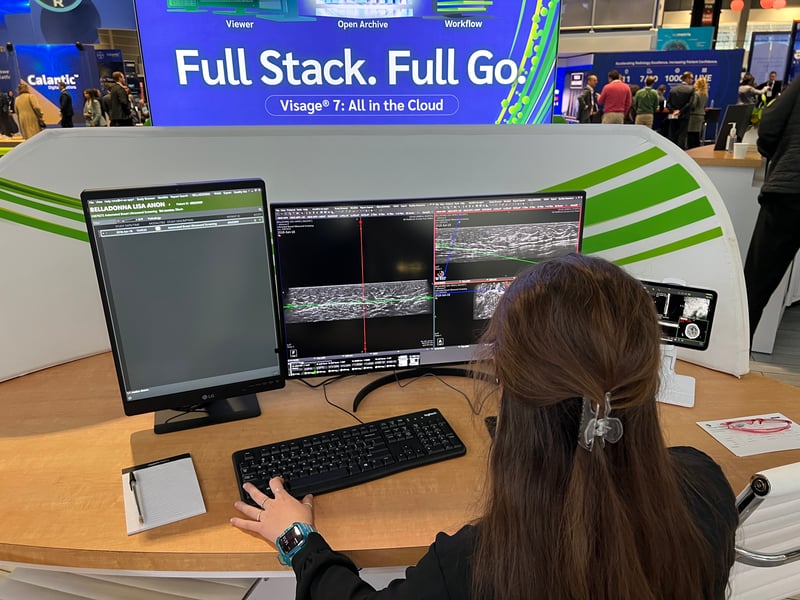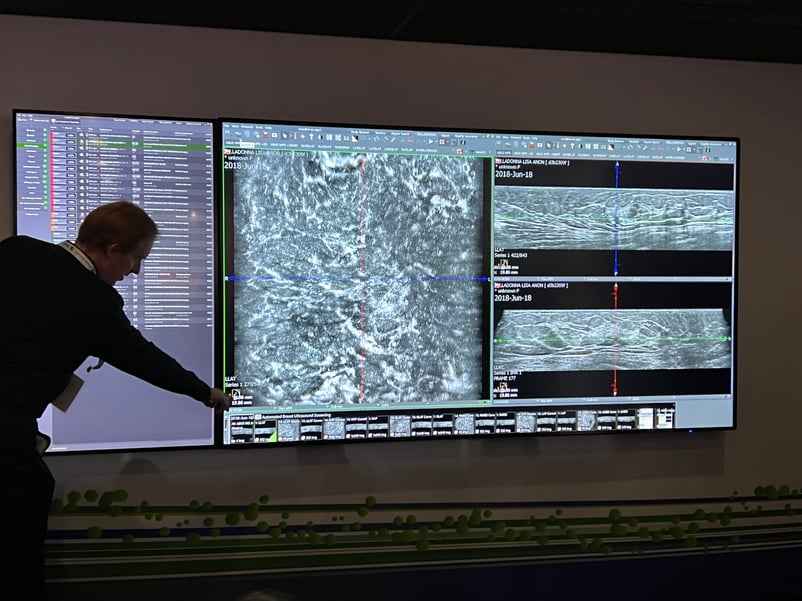 Visage 7: Protocol Support for Automated Breast Ultrasound (ABUS)
3 – Consolidation of imaging across the enterprise
While radiology remains the primary focus for many institutions who have embarked on their enterprise imaging journey, increasingly we have seen prospective and existing customers expand the scope of their Visage 7 initiatives. Here's a few interesting examples, with expansion into:
Cardiology for archiving, study access and interpretation
Ejection Fraction for Echocardiography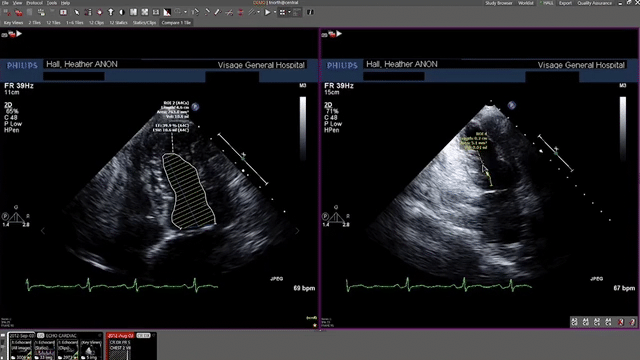 Visage 7 | Ejection Fraction for Echocardiography
Visible light imaging and multimedia
HD video (OR, Endoscopic, etc)
Ophthalmology
Mobile Imaging (Diagnostic/Clinical Review)
Barcode Scanning for bedside access to mobile imaging
POCUS
3D Lab
Remote Reading initiatives and in-group teleradiology
Remote Screening Programs for Breast Imaging
Technology is typically not the obstacle blocking institutions from getting started. Institutions with successful programs that expand beyond Radiology tend to have good Governance and Strategic Goals supported by engaged Executive Sponsorship. Not sure where to start? Visage can help.
4 – Outstanding Visage customer feedback
RSNA 2022 also marked the release of our latest customer video, The Essence of Visage, which highlights numerous Visage customers and their experiences with Visage 7. If you haven't had a chance to watch the video, it's eight (8) minutes that just might change your life.
In fact, that's what numerous Radiologists told us at RSNA 2022. Visage has fundamentally changed the way they practice radiology. How? Here's some of the feedback we heard at McCormick Place:
Thankful for Visage. "We've been live with Visage for 1 year. At our Friendsgiving last week, we went around the room and more than one of my Radiologist friends shared, I'm thankful for Visage."
Burnout Reduction. One of our academic customers performed a comprehensive, institution wide survey on physician burnout. Every clinical area reported increasing physician burnout, except for Radiology, which had implemented Visage 7 less than 1 year prior to the survey.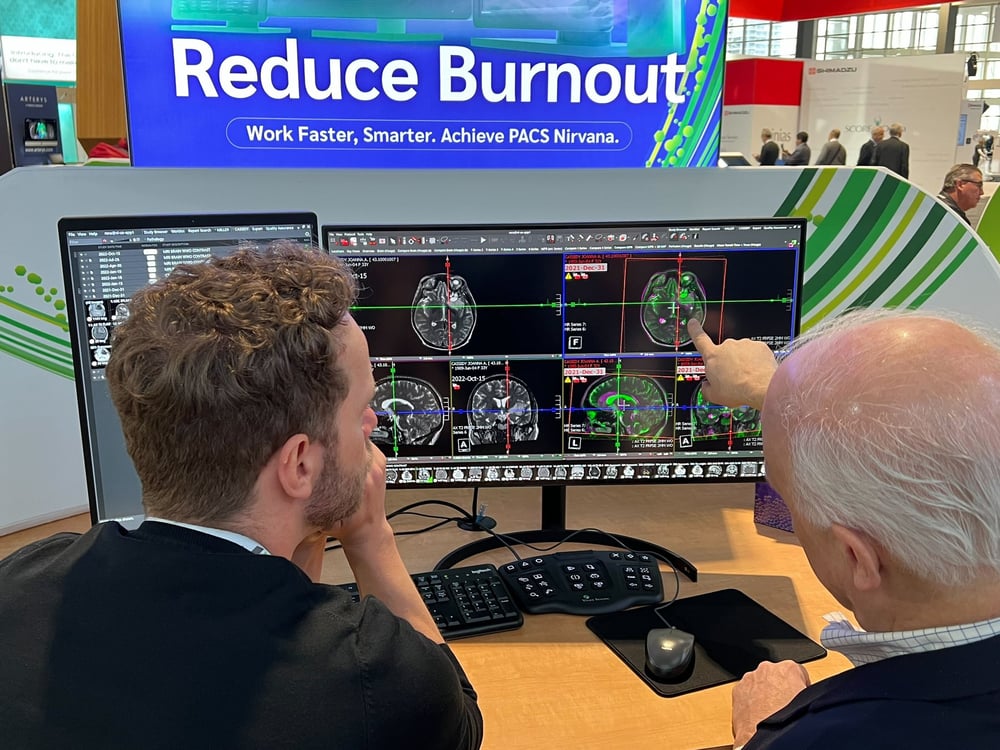 Visage 7 | Reduce Burnout
Recruitment: No Visage, Forgetaboutit. Multiple Radiologists told us they would not consider moving from their institution for new career opportunities unless Visage 7 was used at the new institution. One advised, "I was considering a promotion at a well regarded health system. Once I discovered they recently replaced their PACS with something other than Visage.....that ended that."
Visage Changes Everything. Numerous Radiologists from radiology groups, IDNs and academics told us Visage was in their immediate future and they were bubbling over with excitement. Repeatedly we heard they had used Visage 7 at a prior institution, or had trained on Visage 7, and were going to be moving to Visage 7 soon at their current organization. They told us how badly they missed Visage and their excitement to go-live was palpable.
Curiosity confirmation. After getting a demo of Visage 7 for the first time, this Chair of Radiology shared, "Now I understand why the Chief of [XYZ Health System] loves their Visage PACS so much."
We made the wrong choice. A few organizations came by to express disappointment that they did not move forward to purchase and implement Visage when they had the chance. Their organizations chose a different PACS who made promises that they did not keep, leading to limitations and continuing frustration. Another shared regretfully that they were a shocking 2 years into their implementation and they were still 6 months away from go-live! They all advised Visage will be at the top of their list come PACS replacement time.
The Essence of Visage [Video]
Visage debuted the largest booth (50' x 80') in our history, complete with a massive three-sided video wall, the most incredible demonstration theaters found anywhere at RSNA, and the return of the meeting's best gourmet coffee. We work hard to improve your experience visiting with Visage at RSNA, and it never gets old hearing that our booth was 'best in show'. We've already begun discussing ways we can improve your experience at RSNA 2023, where we will be in the same size booth, largely in the same location! Checkout some of the great photography we took at the meeting.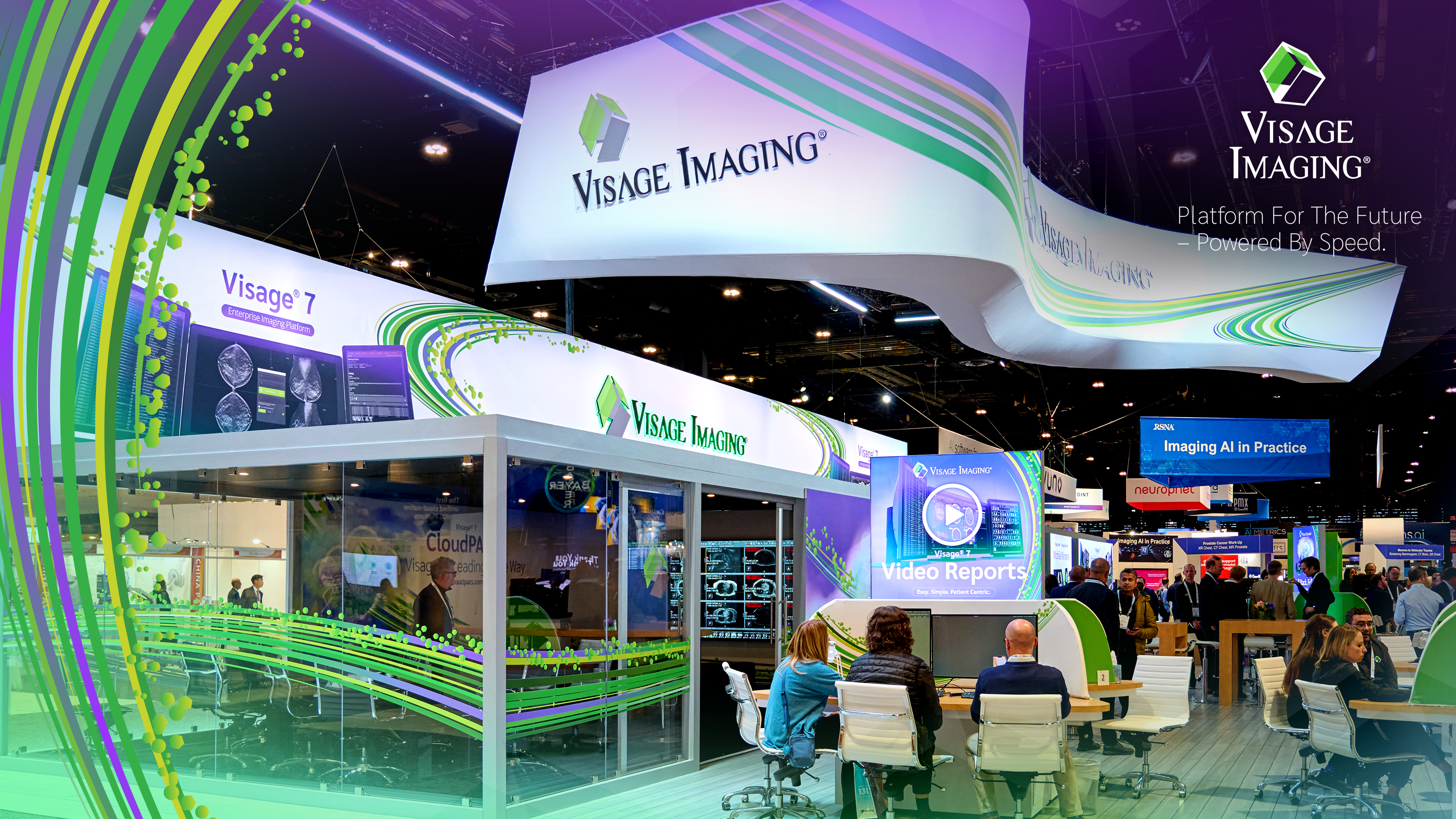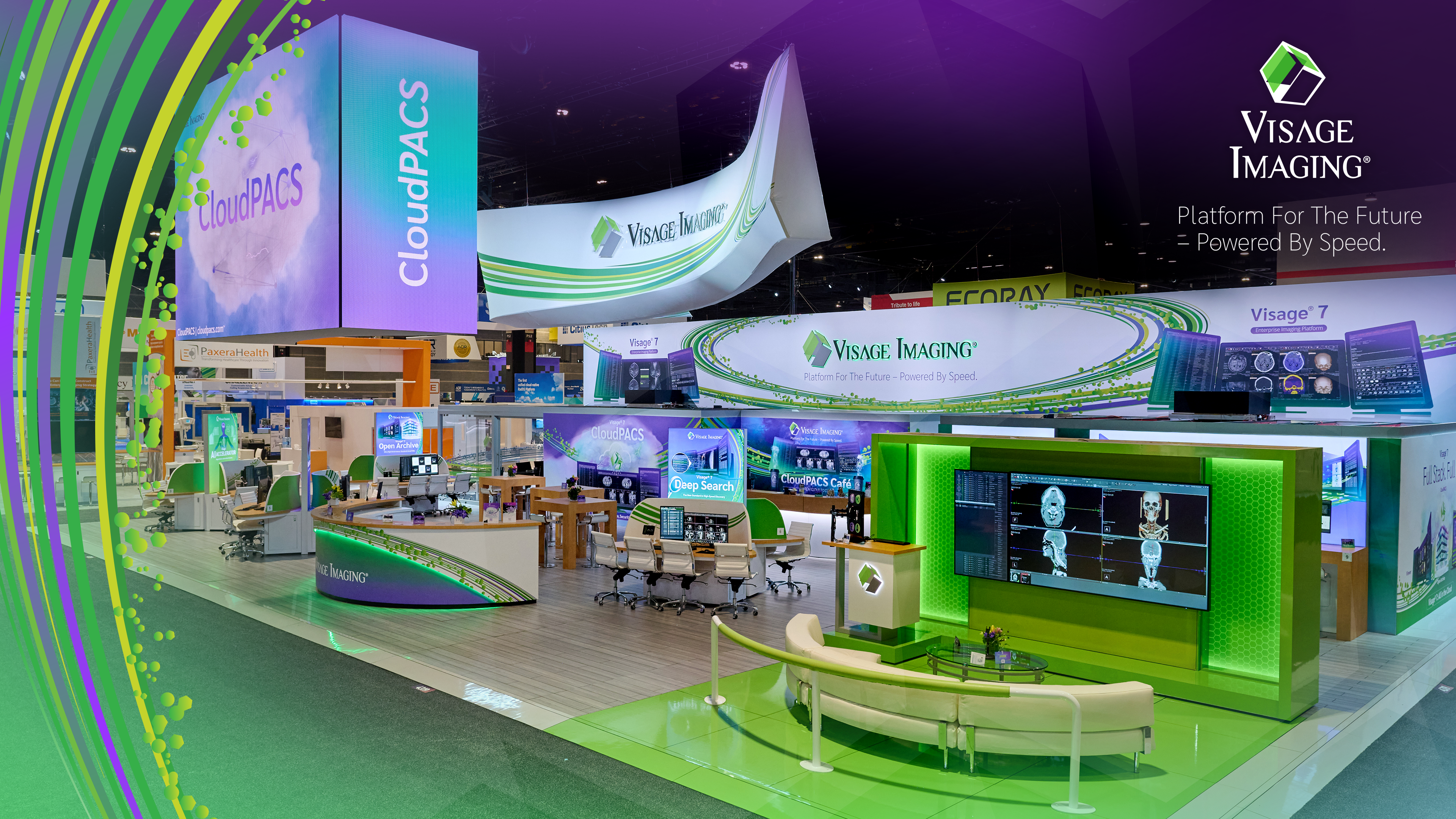 Visage Imaging Booth at RSNA 2022
5 – Visage Powers Research and AI
Similar to RSNA 2021, our booth at RSNA 2022 was adjacent to the 2022 Imaging AI in Practice (IAIP) Demonstration [Video]. For the third year in a row, Visage was a proud participant in the IAIP, showcasing emerging AI technologies and the data and interoperability standards needed to integrate them into the workflow of diagnostic radiology. This year's multi-vendor interoperability demonstration included numerous products from many different vendors, and of note, Visage was the only PACS participating in the demonstration. Moreover, Visage demonstrated all of our capabilities as currently released product, instead of the work-in-progress that is typically the case with other demonstrated solutions. There was great traffic from the professional attendees through the IAIP, and Visage received numerous compliments from industry insiders about Visage 7, in particular for robustly integrating AI results into PACS.
Visage demonstrated our FDA-cleared Visage Breast Density algorithm developed in collaboration with Yale New Haven Health, as well as other work-in-progress algorithms in development using the Visage AI Accelerator platform, including:
Brain tumor segmentation and radiogenomics
Aortic semantic annotations
Body composition
Multi-organ segmentation
[Note: The Visage AI Accelerator program is by invitation only.]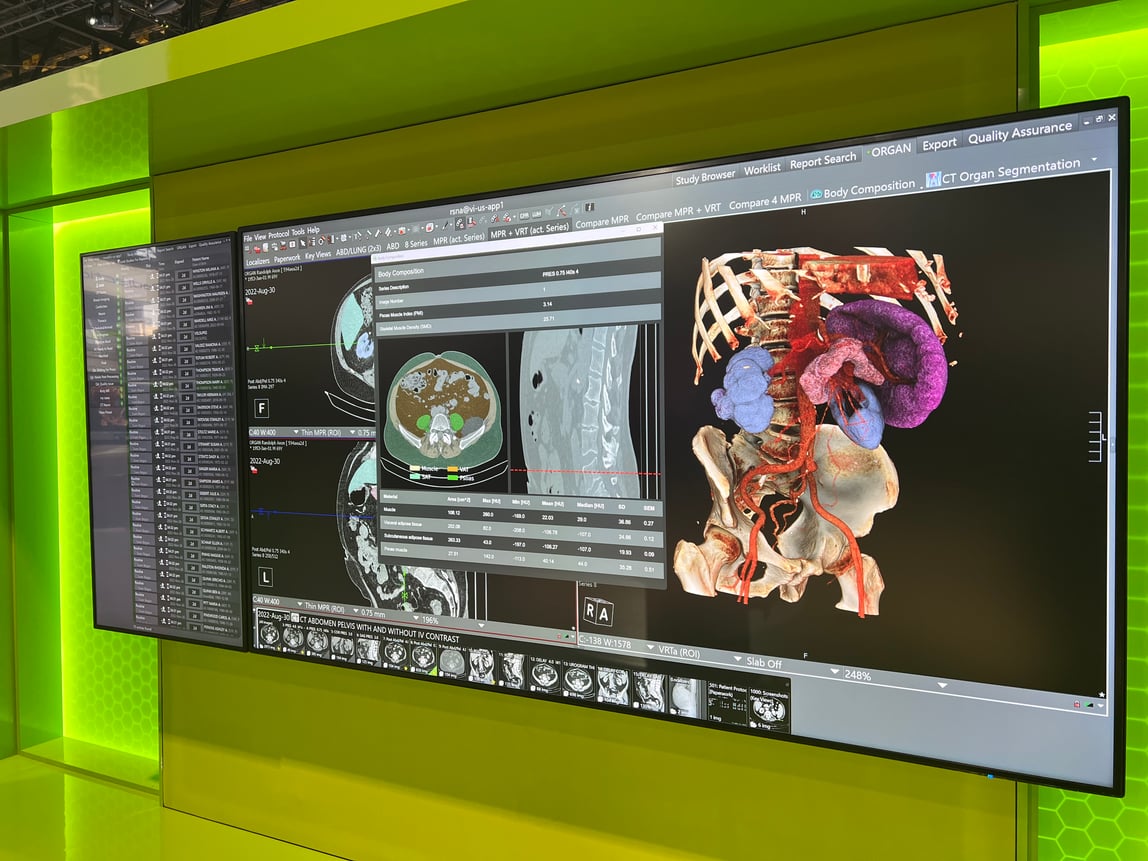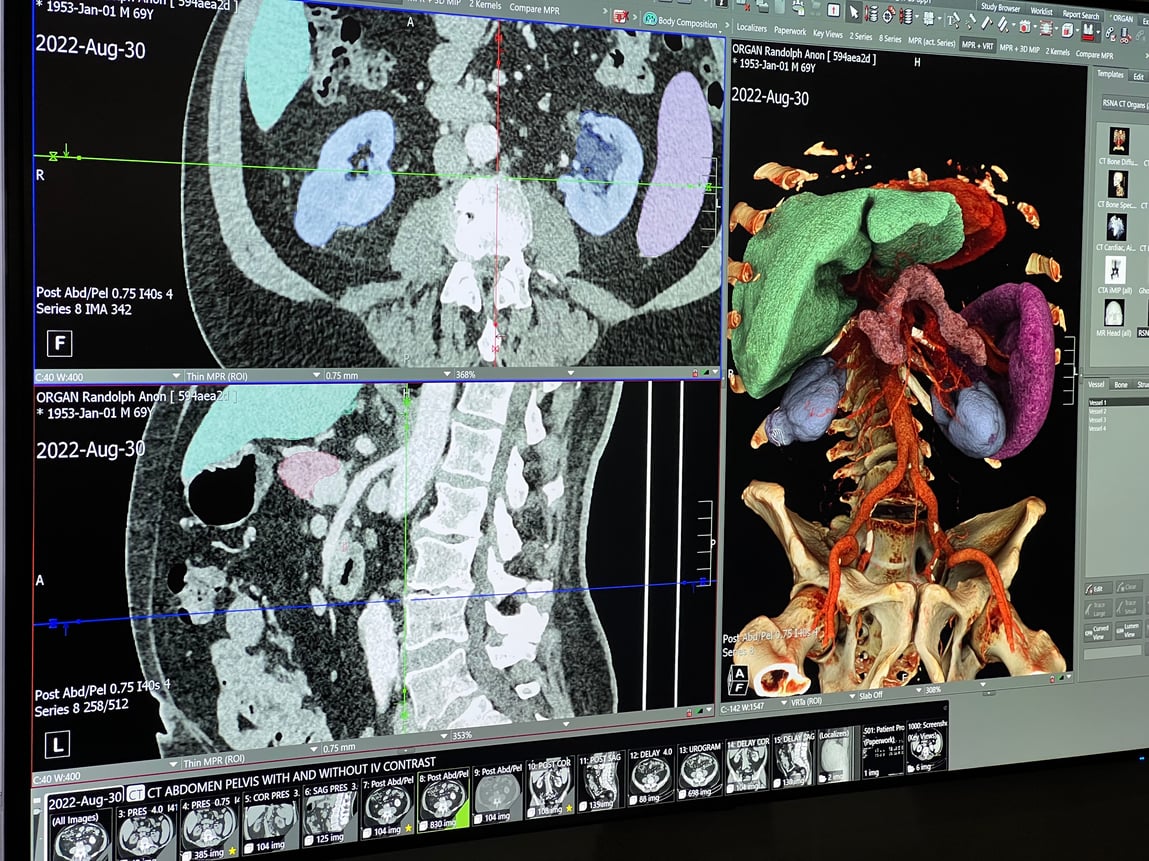 Visage 7: Body Composition and Multi-Organ AI Segmentation (Work-in-Progress)
That's a wrap and thank you for a record-breaking RSNA 2022! We'll see you next year at RSNA 2023, in nearly the same location, in exactly the same size booth, but with even more enhancements!
From all of us at Visage, we hope you enjoyed Visage's Top Five from RSNA 2022, and we would like to wish you and yours a happy, healthy holiday season.