SIIM 2021 | Visage's Top Five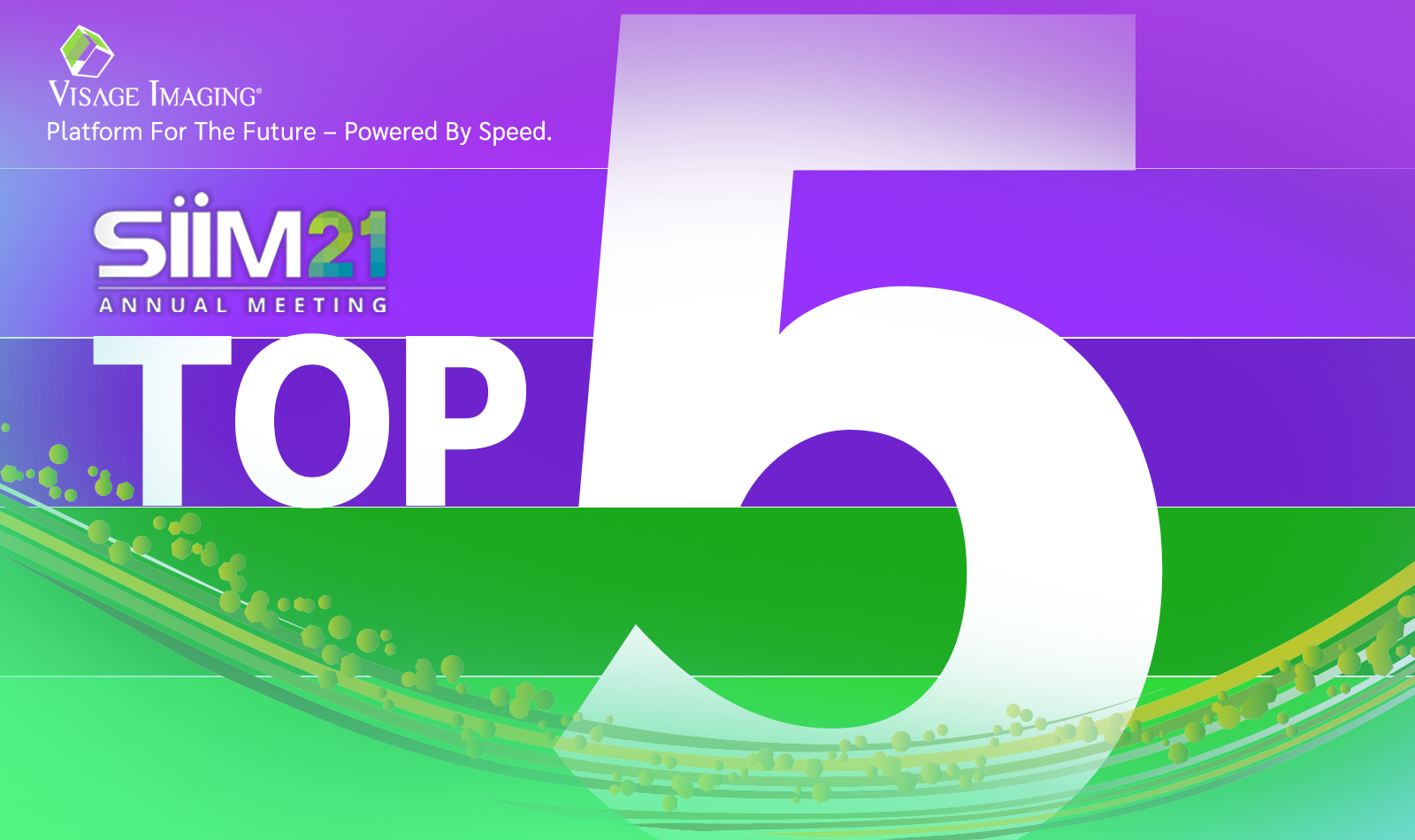 We knew early on due to the pandemic that the SIIM21 Annual Meeting would be virtual. This year's virtual meeting included, for example, a global focus, daily keynotes, a dedicated day for industry, more enterprise imaging, plenty of AI research and a new end-to-end user-friendly virtual meeting platform with live chat, and much more. Even though everyone was virtual, there truly is no better imaging informatics meeting, bar none. So much content, best practice sharing and community!

[Note: SIIM has announced that on-demand SIIM21 content will be available for registrants until September 7, 2021.]
If you were able to participate in SIIM21, we hope our insights resonate with your experience, and if you were unable to attend, we hope you find our top five helpful. Now, on with Visage's Top Five!
1 – Inspiring SIIM21 Keynotes
Kudos to Christopher J. Roth, MD, CIIP, Richard H. Wiggins III, MD, CIIP, FSIIM and the SIIM Annual Meeting Program Committee for an excellent SIIM21 educational program, with a fantastic slate of keynote speakers, helping us all to grow and push imaging informatics farther.
SIIM21 included a great Opening General Session Keynote by Kimberly Dylan Manning, MD, FACP, FAAP, Associate Vice Chair of Diversity, Equity & Inclusion, Emory University School of Medicine. Dr. Manning's outstanding talk, "Broadening Your Life Lens: Understanding the Narrative of Racism and Its Impact" was about diversity and inclusion, and taught us that we have so much to learn, with unconscious bias all around. Day 2, dedicated to users and industry innovating together, included an inspirational keynote by serial entrepreneur, Jonathan M. Rothberg, PhD. He's an innovation machine, dreams big and his companies have disrupted multiple areas of healthcare. The Day 3 keynote from HIMSS President & CEO, Harold F. Wolf II was also quite good, with a spotlight on the growth in the HIMSS-SIIM Enterprise Imaging Workgroup (to over 500 members), and the fact that 90% of medical data is from imaging, which has gotten the attention of the public cloud providers. The terrific closing 2021 Samuel Dwyer Lecture Keynote, "Serendipity and Unintended Consequences" by Adam E. Flanders, MD, FSIM, taught us to avoid unintended consequences, be skeptical, and strive to obtain larger, higher-quality datasets for AI research. Be sure not to miss these keynotes, available via SIIM21 on-demand.
2 – CloudPACS is here and now
The cloud was one of the hottest topics at SIIM21 (with 4 different cloud presentations throughout the meeting) and Visage's CloudPACS presentation did not disappoint. In fact, it was one of the most well attended SIIM21 sessions, generating 2X as many participants as other presentations. Clearly there's tremendous interest in the public-cloud for PACS!
The best case studies at SIIM always give you a map. Experts tell you 'why', they explain 'how', and share insightful 'lessons learned'. This is done so similarly minded institutions like yours can successfully follow in their footsteps.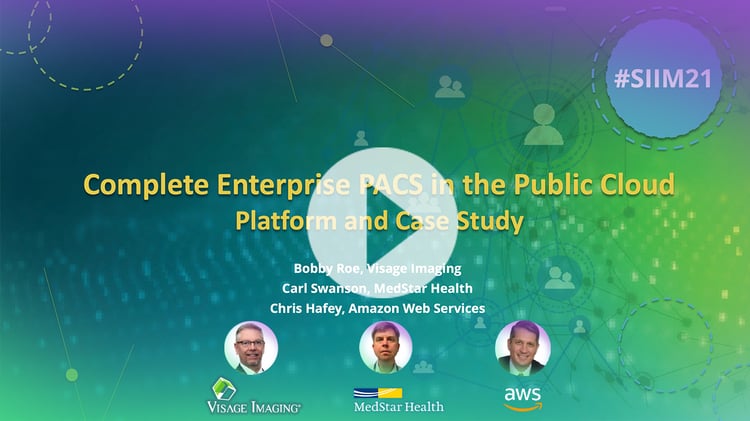 While other SIIM21 cloud presentations focused on business case and ancillary cloud applications, Visage customers are implementing PACS in the public cloud today at scale. Visage presented Complete Enterprise PACS in the Public Cloud: Platform and Case Study, with Carl Swanson, MedStar Health, Chris Hafey, Amazon Web Services and Bobby Roe, Visage Imaging.
If you are considering a PACS replacement initiative and you are curious how to get to the cloud, or you're a current Visage customer planning for the transition to the cloud, be sure not to miss this presentation [Note: The video replay is available on YouTube and does not require a SIIM21 registration]. A big Visage thank you to Carl, Chris, and Bobby for an excellent presentation, and resource for everyone in imaging IT.
3 – AI research leveraging the Visage AI Accelerator platform takes center stage
Visage was fortunate to have customers presenting over 25 different talks at SIIM21!
Here are four (4) presentations, on a variety of exciting AI and applied informatics research areas, given at SIIM21 by Visage customers who all use the Visage AI Accelerator platform as the foundation for their research.
[Note: In addition to viewing the poster presentations via SIIM21 on-demand, you can easily view the Abstracts and Posters via the below links (no SIIM21 registration is required)]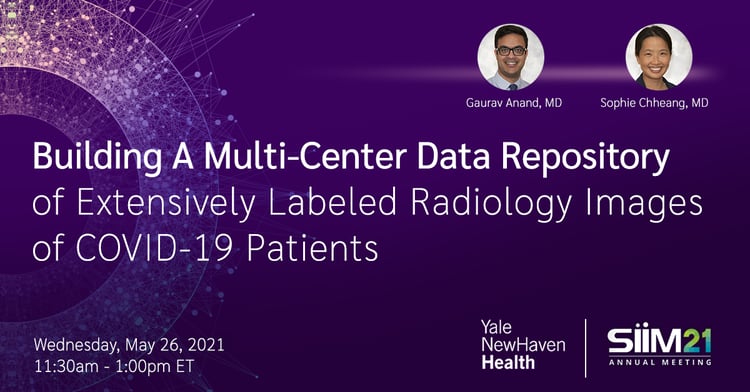 Building A Multi-Center Data Repository of Extensively Labeled Radiology Images of Covid-19 Patients.
Gaurav Anand, MD, Yale New Haven Hospital and Sophie Chheang, MD, Yale New Haven Hospital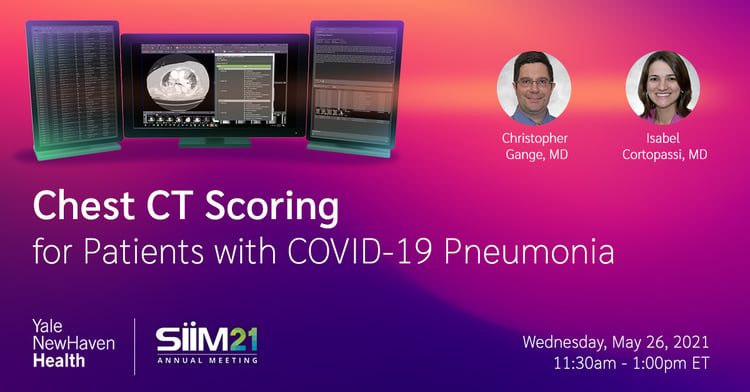 Chest CT Scoring for Patients with Covid-19 Pneumonia.
Christopher Gange, MD, Yale University and Isabel Cortopassi, MD, Yale University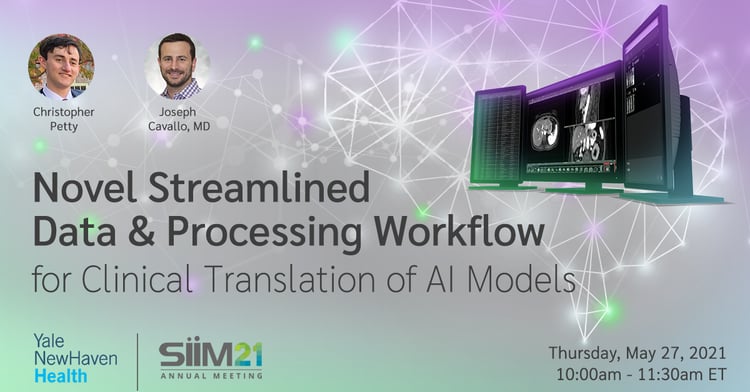 Novel Streamlined Data and Processing Workflow for Clinical Translation of AI Models.
Christopher Petty, Yale University and Joseph Cavallo, MD, Yale University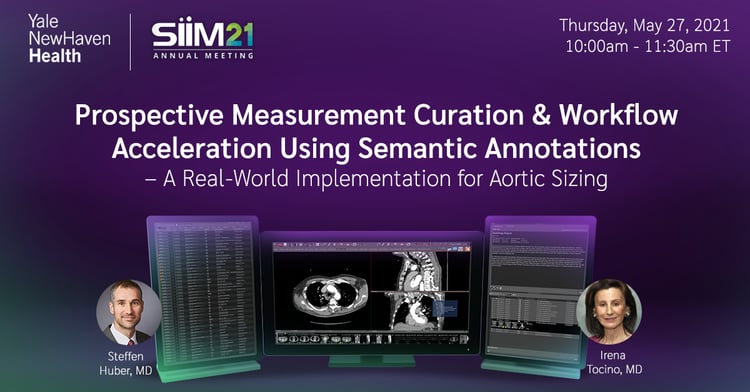 Prospective Measurement Curation and Workflow Acceleration Using Semantic Annotations – A Real-World Implementation for Aortic Sizing.
Steffen Huber, MD, Yale School of Medicine Department of Radiology
4 – Optimal hanging protocols lead to significant improvement in turn around time
Eric Pepin, MD, PhD and Ibrahim Tuna, MD presented their outstanding research at SIIM21, Assessment of Hanging Protocol Impact on Turn Around Time, which demonstrated the impact of optimized hanging protocols on a large academic practice (UF Health, Gainesville, FL) which uses the Visage 7 Enterprise Imaging Platform ("Visage 7"). The premise of the investigation was that there is limited research showing the benefit of hanging protocols.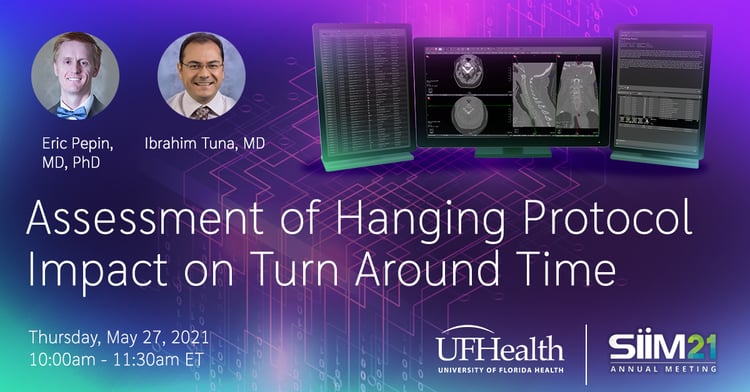 "Hanging protocols in Visage 7 have the potential to save radiologists even more time by continually building on their 'in progress' interpretation."
Drs. Pepin and Tuna presented their findings and concluded, "Optimized hanging protocols can significantly decrease the duration of image interpretation across a variety of image study types." The most impactful finding was in CT, where they found turn around time improved up to 37% following the adoption of optimized protocols. Their Lessons Learned were "Hanging protocol creation and maintenance is a dynamic process that benefits from radiologist involvement to incorporate clinically relevant interpretation patterns and image manipulation tasks. Consolidated protocols that accommodate end-user preferences can facilitate long-term maintenance across a practice."
In addition to the accuracy and precision of Visage 7 protocols, Dr. Pepin expanded on the unique differentiation of Visage 7 protocols by explaining, "Hanging protocols in Visage 7 have the potential to save radiologists even more time by continually building on their 'in progress' interpretation. Radiologists can move seamlessly through current and prior studies carrying forward attributes and adjustments from the current state rather than starting from scratch. This decreases mechanical interactions and reduces cognitive interruptions, leading to a faster interpretation."
Here's some of the interesting Q&A exchanges with Dr. Pepin:
Q: Are the user-adjustable preferences within the system hanging protocols something which came native with your PACS or was it customized? Thanks.
A: It is a native feature of the PACS. When we made the mammography protocols to convert from a different PACS, we were able to pre-encode the user preferences to give each mammographer the same ordering they had in the prior system.
Q: Can you comment on what you most passionate about?
A: As a radiologist, my fingers are tired. I don't want to click. I just want to look. Leveraging systems to work for clinicians rather than against is my main interest and I think one of the main goals of SIIM. It reduces burnout and in turn improves quality.
Q: Can you expand a bit on the method you used to find the preferred hanging protocols for the clinical users at UFH? For example, was there a survey, or was this derived through direct Q&A, or something else? In other words, how did you ensure the preferences of each radiologist were accounted for?
A: Trainees were an invaluable source of awareness about preferences throughout the department having experience working through each section and faculty member. We did survey users about the existing protocols and made sure to incorporate the existing layouts people used (with enhanced design elements and pre-performed manipulations). There was also an element of education in that many users didn't know how someone else did something or what was possible, so some quickly abandoned their old habits. In the end, the ability for each user to modify aspects of the protocol while maintaining a link to the system maintained logic and enhancements was what facilitated adoption.
Q: Do you have any thoughts as to why the turn around time improvement for MR was not as great as compared to CT? Do you have any thoughts about improved hanging protocols for other modalities, and how they would compare to CT?
A: Complexity of MR is definitely one component and the decreased amount of image manipulation that occurs during MR interpretation (minimal W/L, generally fixed slice thicknesses, less MPR use, etc.), so there were fewer steps that could be eliminated. We focused on optimizing screen real estate, linking groups, and improved prior study incorporation, including cross-modality (including CT-MR fusion registration). For other modalities, like radiography or ultrasound, the possibilities I think are primarily in more complete prior study and mix-modality integration to allow the radiologist to get the most out of these images. Now if US would move beyond secondary capture someday....
5 – Security anxiety, the threat of ransomware cyber attack, and risk mitigation with the cloud
There were multiple talks at SIIM21 that focused exclusively on security. These excellent presentations provided foundational information about awareness and documentation of devices, networks and dataflows; others presented lessons learned from organizations that have been attacked and have since recovered, and still others shared insights from other industry leaders about security readiness planning "ahead" of potential attacks.
Beyond these dedicated talks, we also noted that security discussions made their way into other presentations, especially in the Q&A. Institutions are working hard to learn from each other, and do what they can to bolster their own security posture to protect themselves from potential attacks. Institutions must look introspectively to set security priorities, level set their appetite for risk tolerance, and have a good understanding of their own capabilities and limitations when considering security planning.
At the same time, many are also looking to solutions in the cloud that offer access to multi-level, state-of-the-art technologies and advanced security expertise, as compared to bringing those solutions in house. The security offered by public cloud platform providers have levels of sophistication and resources (FTEs, technologies, physical security) that far exceed what is available to the average healthcare institution. These are all important considerations as institutions make new enterprise imaging purchase decisions or are at a lifecycle milestone with existing systems, and are comparing the costs and benefits of public cloud, on premise (on customer provided infrastructure) and hybrid implementation decisions.
That's a wrap and thank you for an interesting virtual SIIM 2021!
Our next virtual meeting will be CMIMI 2021 (Sept 19-20, 2021). We look forward to seeing you in person at HIMSS 2021 (Las Vegas, Nevada | Aug 10-12, 2021), ACR Imaging Informatics Summit 2021 (Washington, D.C. | Oct 16-17, 2021), and RSNA 2021 (Chicago, IL | Nov 28 - Dec 1, 2021).
From all of us at Visage, we hope you enjoyed Visage's Top Five from SIIM21.