SIIM 2023 | Visage's Top Five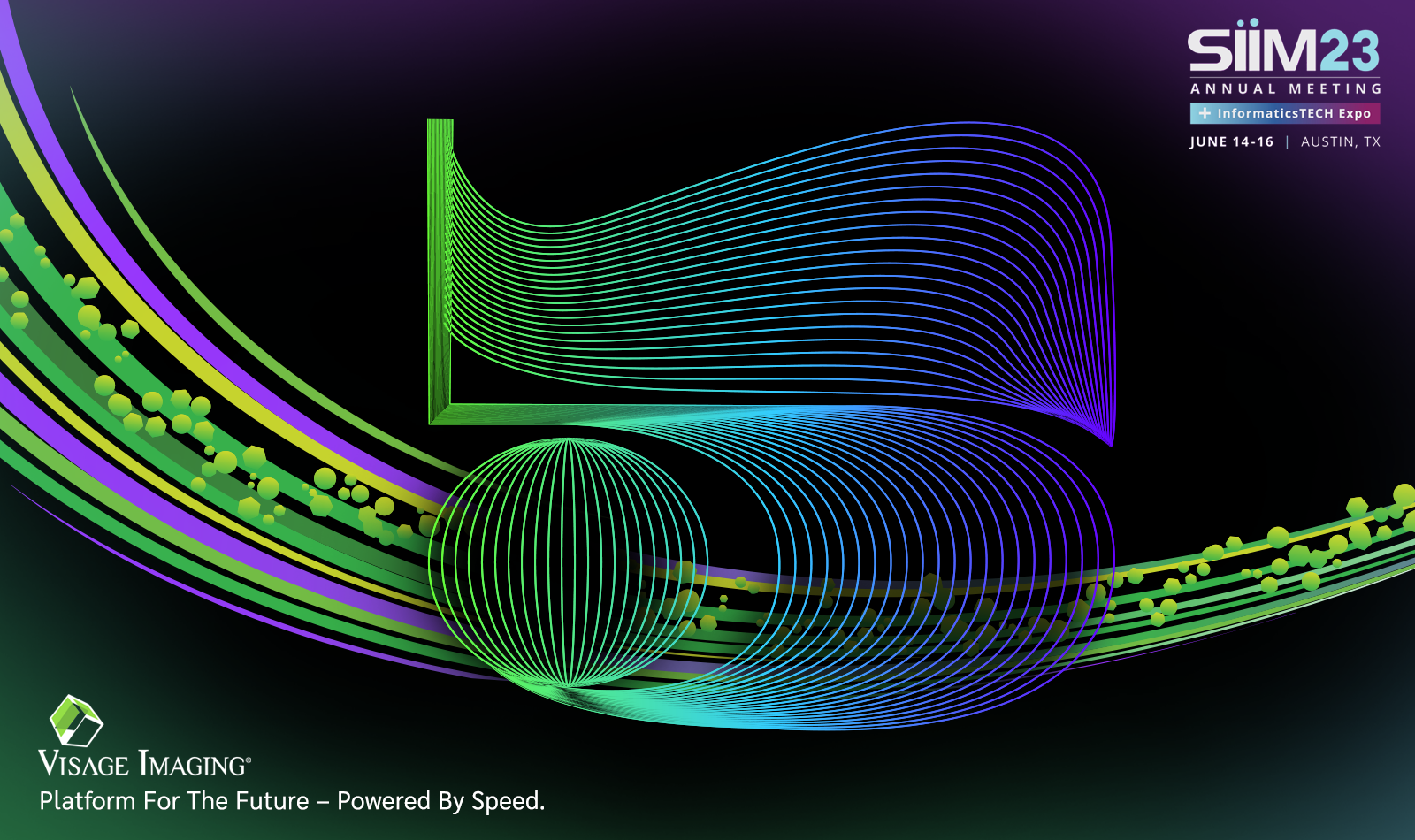 SIIM 2023 delivered in a big way confirming that in-person industry meetings continue to come back strong. We love interacting with new and existing Visage 7 customers at SIIM, where demonstrations and conversations are so insightful and often eye opening. That's why we love putting together our Top Five, so we can share our insights with you!
If you were able to join us at SIIM 2023, we hope our insights match your experience, and if you were unable to attend, we hope you find our top five helpful. Now, on with Visage's Top Five!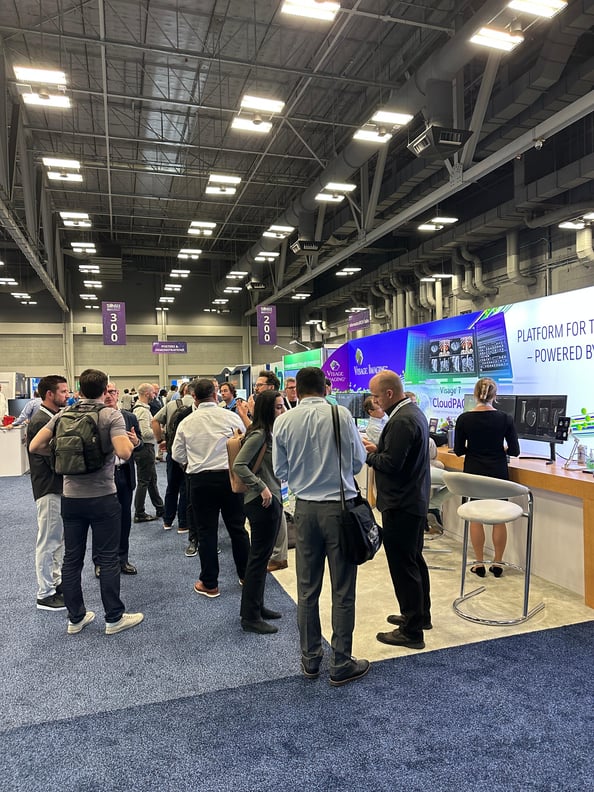 Visage Imaging at SIIM 2023 - Standing room only
Our discussions at SIIM 2023 reinforced our view that Visage has the most experience and success leading institutions to thrive with PACS in the cloud, aka CloudPACS. For more than 3 years, Visage has been implementing new Visage 7 installations exclusively in the cloud (with the top three cloud platform providers - AWS, Microsoft Azure and Google Cloud Platform), across imaging organizations of all sizes and clinical missions, and we have not looked back. Full go, no hesitation, no restrictions, no limitations, no gotchas, and no "ifs, ands or buts".
Over that period and continuing today, Imaging has been filled with mixed messaging about the cloud:
'Hybrid cloud' can mean almost anything depending upon who you talk to, which is sketchy and should throw up concerning red flags.
'Private cloud' isn't new and is not the cloud transformation revolutionizing healthcare and other IT verticals. It's a third-party managed data center.
You'll also hear narratives about "PACS" in the cloud, but upon further scrutiny you learn it's legacy doublespeak - secondary storage in the cloud, long-term archiving in the cloud (but you need short term storage onsite), (limited use case) teleradiology in the cloud, or image sharing/image exchange in the cloud. What's astounding is none of those use cases are PACS. They are attributes of an Imaging strategy, but they're not PACS. Literally, baby steps for Imaging in the cloud.
'Cloud confusion' has

resulted from jargon or invented terms being thrown into the discourse. Here are a few we've run into: Cloud-native - software runs in the microservices hypervisor unique to one cloud provider (i.e., the variant of Kubernetes unique to AWS, which is different from Kubernetes in Azure, and different from Kubernetes in GCP) or is engineered to support object-based cloud storage (e.g., S3 (AWS, GCP) and BLOB (Azure)); Multi-cloud - software designed to work with multiple cloud providers (as compared to other software designed for a single cloud provider); Cloud-ready / Cloud-enabled - not sure what those might possibly mean.
That's why we were intrigued to participate in this year's AskIndustry Panel, "The Imaging Cloud is Hot and Sometimes Hazy - Gain Clarity with Vision and Results". Visage's Bobby Roe, Director, Solutions Architecture & Cloud Computing, was our panelist, and he was joined by three leaders from several Imaging vendors, as well as a leader from one of the major cloud platform vendors. This was the fourth consecutive year SIIM had included cloud as a major topic for AskIndustry. What was shocking was many of the talking points shared by the panelists were as if cloud was brand new. Lots of troubling statements, like "You need to worry about XYZ"; "Be concerned about XYZ"; "Make sure you start planning for XYZ now"; "Remember when Imaging moved from film to digital?". Yikes, no need to go there, that's so last century.
In stark contrast to Visage's discussion points, other panelists focused on warning the audience about this and that, rather than sharing their positive experiences moving customers to the cloud. Instead of sharing a pathway for success, in many ways, they were fear mongering.
That couldn't be any further from our experience. The tone of the conversation was polar opposite to Visage's capabilities and actual experience implementing CloudPACS. Our platform, Visage 7, is ultrafast, mature and proven, engineered to natively support object-based cloud storage from all major cloud providers. Our cloud expertise is backed by thriving Visage 7 customers, system after system, completely implemented in the cloud. Our team is exceptionally talented and our cloud methodology is refined and evidence-based. For those institutions who want further proof beyond sales demos and traditional RFPs, Visage will support a pilot in the cloud - your images, your network, your systems.
Pilot Visage 7 in the cloud and you'll immediately experience the difference. In a word, Visage is fearless and leading the way. Download our new CloudPACS whitepaper to learn more.
Visage 7 | CloudPACS [Video]
2 – AI, ChatGPT and LLMs
In addition to the AI conversation we've been having at SIIM for the last several years, there was a significant amount of new discussion this year about the emergence of generative AI, ChatGPT and Large Language Models (LLMs). Industry luminaries throughout the SIIM community dove into the discussion, providing invaluable context and education for imaging informatics professionals. The amount of information shared was extensive and eye opening, to include novel interactive experiences such as the SIIM AI Playground. The rapid pace of technological advancement that was presented was staggering.
That said, model hallucinations should give us all pause. It's a reminder that the promises of the AI revolution have yet to be fully realized despite years of hype and bluster. No doubt there are numerous AI success stories and there remains tremendous promise; however, in healthcare the perception of value and barriers to entry are intensely localized, plus there's the guiding principle of 'do no harm' (e.g., risk aversion). One institution's magic bullet and motivations may not carry the same weight and priority for another institution.
Every new piece of software, widget, modality, integration or AI algorithm is also viewed as a net new "project" by imaging organizations. Once extensive pre-sales evaluations are completed and the green light is given, sometimes imaging organizations struggle to support their side of new implementation responsibilities. Taking on new projects has to be managed, resourced, scoped, scheduled and prioritized, and given that many organizations are already over committed, adding onto the current list is challenging unless it's SaaS or an institutional mandate. For example, if an organization's PACS is 15+ years old and badly needing replacement, implementing a new AI algorithm may not be technologically or organizationally feasible despite being on the wish list. It may have to take a back seat to other pressing initiatives higher on the list.
Visage continues to collaborate with customers on cutting edge research, do good science, and leverage the strengths of the Visage 7 Enterprise Imaging Platform. At SIIM, Visage's MingDe Lin, PhD, Clinical Research Director North America, presented a talk co-authored by Visage and the Yale School of Medicine, "'Building a Relational Database in Clinical PACS That Leverages FHIR Questionnaire Webforms for Rapid Curation of Clinical Features of Patients with Meningiomas". Dr. Lin presented how Visage leverages FHIR-based webforms in Visage 7 (PACS) to build ground truth datasets containing clinical information and image annotations. This approach streamlines the data curation workflow and centralizes enriched data storage. Below is an example meningioma study utilizing a FHIR webform for clinical data collection alongside image labeling that can be stored to Visage 7.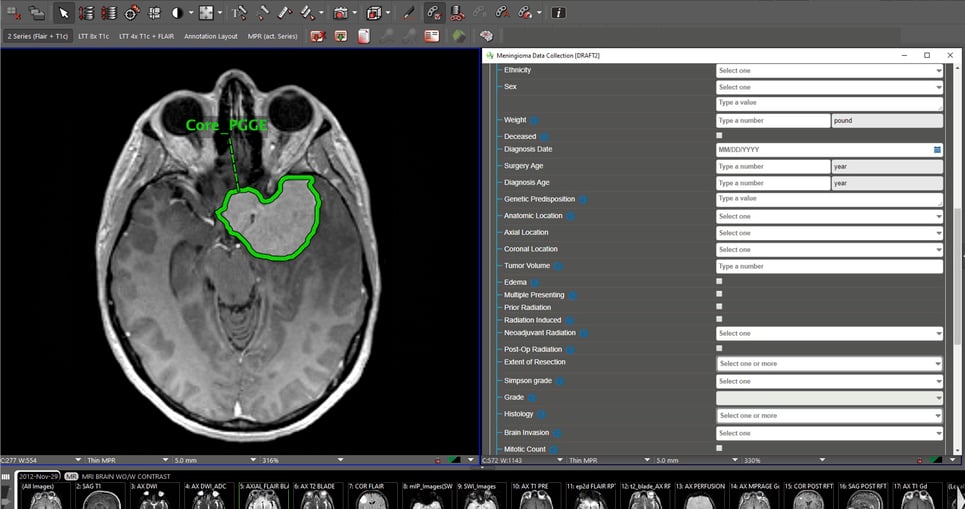 Visage 7 | FHIR-based Webforms for Rapid Data Curation
3 – Interpretation Orchestration: Work needs to flow
There was a significant amount of discussion in the Visage booth about workflow. Nearly all of the workflow questions we fielded included comments about speed and performance, as well as integration to popular radiology scheduling systems such as QGenda and Amion, which Visage 7 Workflow supports. Many current customers and prospective customers were interested in learning more about the capabilities of Visage 7 Workflow, as well as Visage 7 Workflow | Load Balancer. Load Balancer enables institutions to create optimized workflows using a state-of-the-art user interface to define, manage and monitor workflow rules across the enterprise. Load Balancer supports the definition of editable patient list rules to create 'child' patient lists distributing work from 'parent' patient lists, based on a set of threshold values for specific RVU/REU metrics, definable over a specific time (day or multiple days of the week, over a specified time duration). Load Balancer is a product capability exclusively intended for use with Visage 7 Workflow for ultrafast enterprise workflow orchestration.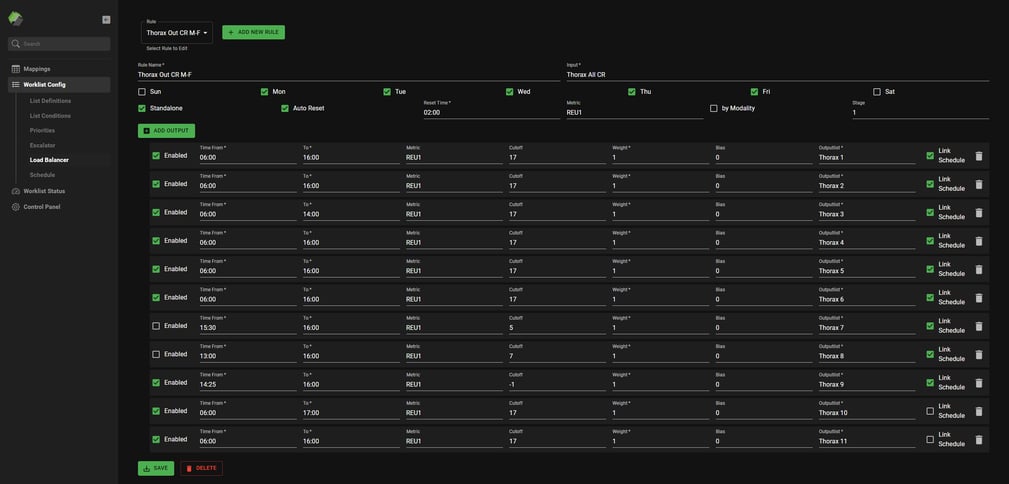 Visage 7 Workflow | Load Balancer
Visage 7 Workflow | Load Balancer sets up distributed workload based on a variety of criteria that is not a one-size-fits-all, with the algorithm distributing workload proportional to radiologists/shifts based on SLAs, RVUs, REUs, and other custom criteria. Given the configurability of the Visage 7 Workflow worklists, escalation rules, and load balancer - Visage 7 easily supports various local environments with different requirements and the ability to keep things balanced at an enterprise level. Our customers currently work in environments that have a mix of educational sites and non-educational sites - with different target RVUs. The flexibility of the Load Balancer makes it easy to balance work in a "fair" way, where fair does not mean equal, but takes into consideration other factors defined by the customer.
NYU Langone Health and Visage presented a poster at SIIM 2023 that profiled their experience transitioning from a dedicated workflow platform to Visage 7 Workflow with Load Balancer. Their workflow is incredibly challenging given 250+ Radiologists and 2M+ new annual exams, across their large, multi-specialty academic system with 6 inpatient hospitals and 50 imaging centers. Checkout the below poster for more information regarding the goals of the initiative and radiologist feedback, all intended to facilitate timely interpretation that maintained equality and prevented burnout across the healthcare enterprise.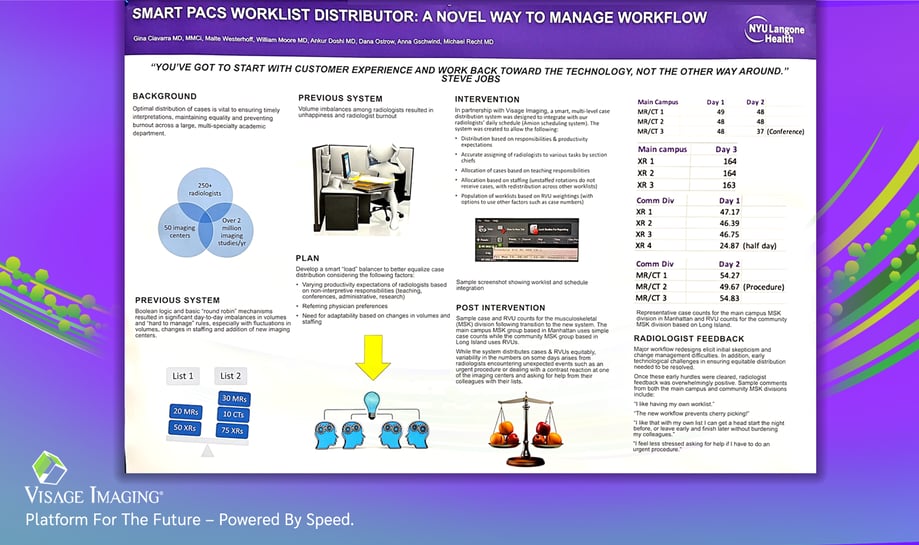 NYU Langone Health & Visage Poster Presentation | Smart PACS Worklist Distributor: A Novel Way to Manage Workflow
4 – PACS matters
Austin proved to be an outstanding venue to discuss the latest in imaging informatics. Our conversations in the exhibit hall are always eye opening on so many levels. You won't read these comments in the Imaging media, but they're 100% true, and we hope they stimulate conversation among your colleagues to get the wheels turning for making imaging better.
Most PACS are like cars. A senior Neuroradiologist with Visage 7 experience and several other PACS stopped by and told us they were on the move soon to another practice. They shared the following insight:

"[ABC Vendor] is a Toyota Corolla. Visage is a Ferrari. [XYZ Vendor]? [XYZ Vendor] is a golf cart."

Opening lines are everything. SIIM 2023 started off with a bang when one of the first large groups approached our booth. We asked, "How can we help?" They quickly replied, "We're looking for a new PACS that is fast and fun." They came to the right place and had done their homework in advance...
Netflix is calling. One of the most respected Radiologists on the planet chose to spend their valuable time with Visage at SIIM 2023. He came to share that Visage's ultrafast speed is "as advertised". They explained their specialized workflow in detail, explaining how complex and lengthy their patient exams typically are. On their old PACS, they would regularly finish their patient exams very late in the day, and this Radiologist would continuing working up and completing the reports at home in the evening. Now that they have gone live with Visage 7 everything has changed and accelerated. They now are able to leave the clinic at 3 pm, and instead of wrapping up the reports at home, they're able to "....watch Netflix" instead.
Straightforward feedback is often the best feedback. One Radiologist and Imaging Informatics academic leader with 3+ years of Visage 7 experience came by to catch up on the latest with Visage 7 with our applications specialists. Before jumping into "what's new" with the latest release, they shared: "Visage is extremely easy to use, is almost never unavailable, super reliable and fast wherever I need it."
Forgettaboutit. A prospective Radiologist and Imaging Informatics leader representing one of the largest, busiest health systems in the US stopped by for a lengthy discussion with Visage. He shared some insights about their decades old, existing legacy PACS. "We don't save key images on our XYZ [legacy] PACS." Shocked, we asked why. "It takes 45 seconds each time, so we don't do it." That comment is indicative of the pain legacy PACS users constantly feel. The hurdles they must overcome daily. The restrictions that block Radiologists from being the best they can be in support of referring physicians and their patients. This is 2023 and they're not saving key images. Wow, that message stuck.
PACS decisions. One of Radiology's best, rising superstar Imaging Informatics leaders spent time with Visage. They explained their academic institution was multiple years into the implementation of their replacement PACS, were still not live, and were not going live anytime soon. They were stuck with their legacy PACS and it held everyone back. They shared, "I'm applying for Fellowship now. The PACS [they use] is one of the most important parts of my decision." This was a great reminder that PACS matters in so many ways. Patient care. Patient engagement. Scalability. Mobility. Staff and physician burnout. Recruitment. Retention. Research. Education. Even candidates for Residency and Fellowship recognize the impact that PACS will have on their education and growth potential. If a subpar or legacy PACS is in place, candidates are going to need to make difficult choices. Even if the institution has a great reputation, if their PACS is a door stopper, they are increasingly taking a pass and looking at the next opportunity.
The Essence of Visage [Video]
5 – In person is where it's at
SIIM's "By The Numbers" email reported that they had 1,400 attendees, including a 24% increase in in-person attendance compared to SIIM 2022. Furthermore, they reported a nearly 20% increase in multiple areas, including total exhibitors (84 | 22% increase), new exhibitors (24 | 20% increase) and institutions represented (543 | 19% increase).
Visage's booth was buzzing with activity throughout the meeting, reflected in a 25% increase in badge scans as compared to SIIM 2022. Be sure to visit Visage next year at SIIM 2024 in National Harbor, MD, where we'll have a bigger booth. We can't wait to experience what's coming next for SIIM!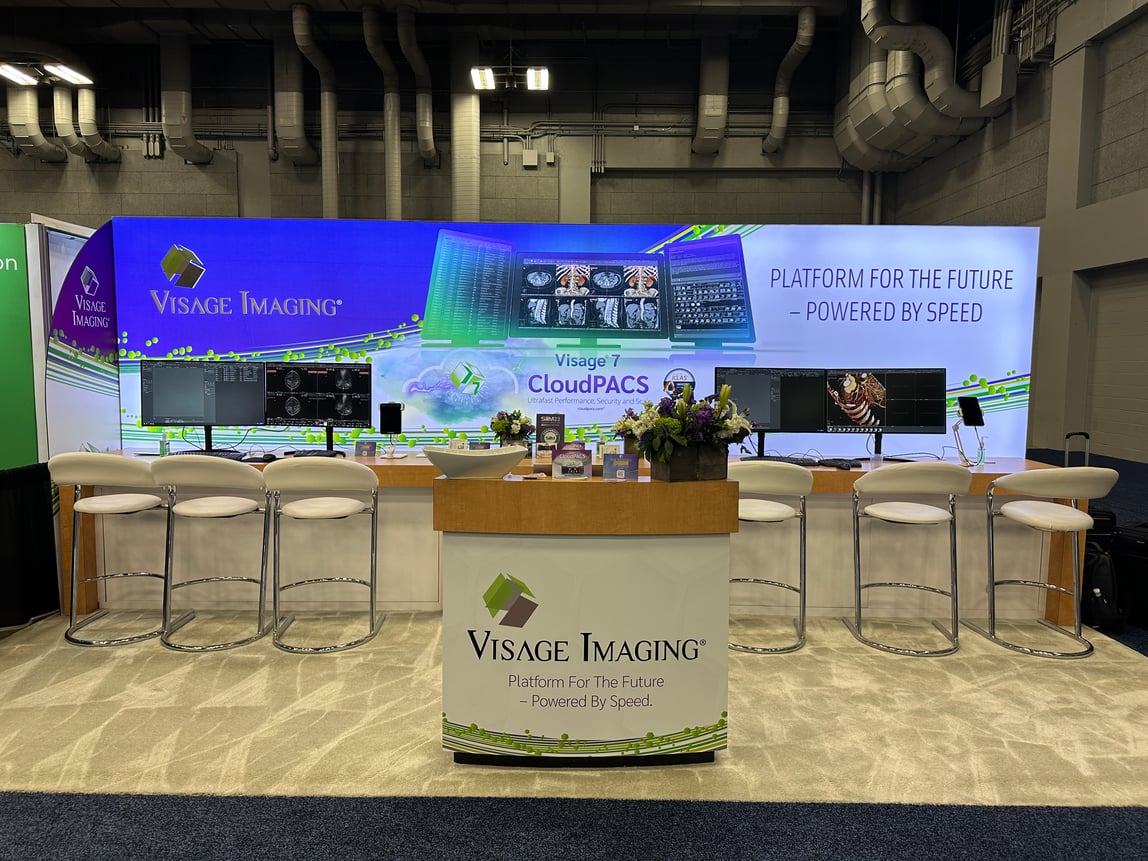 Visage at SIIM 2023 | Austin, TX
That's a wrap and thank you for a record-breaking SIIM 2023. From all of us at Visage, we hope you enjoyed Visage's Top Five!