RSNA 2017 | Visage's Top Five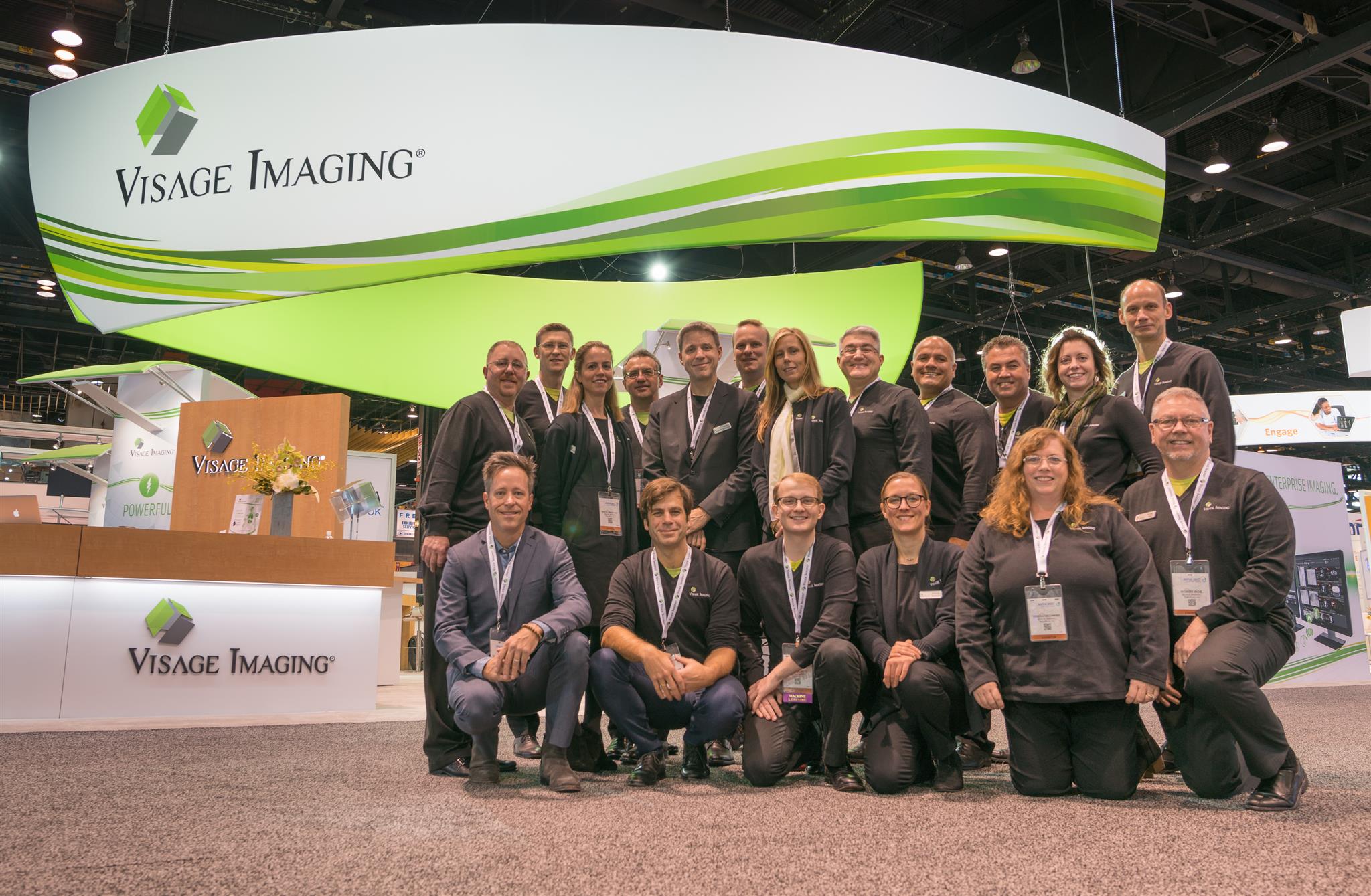 It's time to close the book on another outstanding RSNA! For the 50,000+ of you who attended, thank you for making RSNA 2017 a record year for Visage Imaging! While we need to wait until January 2018 for the RSNA to report the official 2017 attendance figures, we're not waiting to share our 7th Annual Visage's Top Five. But first, if you haven't read Visage's RSNA 2017 announcements, I encourage you to review our pre-show press releases ["Enterprise Imaging Excellence with Visage at RSNA 2017", "Visage Signs Yale New Haven Health", and "Visage Speeds Ahead with AI"] and blog post, "Sneak Preview | RSNA 2017". Now, on with Visage's Top Five!
1 - The Buzz of Artificial Intelligence Took Over McCormick Place
The hype around machine learning, deep learning, convolutional neural networks and artificial intelligence (AI) was everywhere at RSNA 2017. So much so, we joked that everyone in the hall seemed to add a new two letter acronym to their credentials ("John/Jane Doe, AI").
Vendors big and small, as well as first-time and long-time exhibitors, were all talking about the impact of AI on Imaging. For the first time, RSNA had a dedicated area for AI in the North Hall, under the banner of the RSNA 2017 Machine Learning Showcase. Thankfully, it seems that pre-RSNA fear mongering was largely replaced by discussion and demonstration of actual technical developments in AI by new startups and other established vendors. While some vendors had little to demonstrate and relied on futuristic AI video/graphics and PowerPoint Presentations, other farther along vendors were also prepared to demonstrate new AI algorithms against actual imaging datasets.
Many vendors chose to show desktop integration to AI apps, while others demonstrated AI apps independently. Either way, RSNA 2017 showed significantly more AI activity as compared to RSNA 2016, some vendors met expectations, others exceeded expectations and a few missed the mark. You could feel it and experience it with your own eyes, because AI was hyped throughout the show. One of the related topics discussed was infrastructure, and the concern many have expressed that in a broad sense, most institutions are ill prepared to support the needs of AI. With legacy PACS aging an average of 10-20 years, those system were never designed with AI in mind. In stark contrast, Visage customers have an enterprise imaging platform built for AI, powered by GPUs. They're ready to go.
What will another 12 months bring? If it's any indication, RSNA 2018 includes an even larger Machine Learning Showcase and most of the booths have already been 'gobbled up' by eager AI vendors. Think about it, Thanksgiving 2018 is just around the corner.
2 -Visage and AI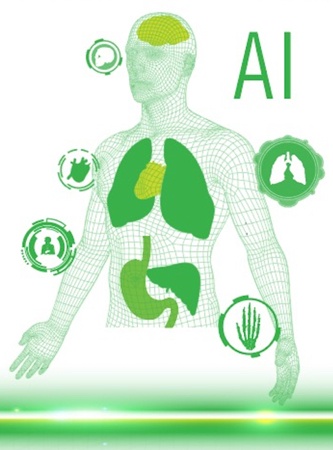 We led our 'Top Five' by sharing broad observations about AI at RSNA 2017. With our second RSNA observation, we're excited to
share Visage's novel vision, differentiation and demonstrations that were focused on AI. An industry first, Visage is uniquely converging data science research and diagnostic imaging in the same enterprise imaging platform. Visage made a significant statement by being one of the first vendors to exhibit in the RSNA 2017 Machine Learning Showcase. Our enterprise imaging platform has always used server-side NVIDIA GPUs at the core of our architecture, and we believe Visage is optimally poised to best take advantage of the AI revolution that is likely to transform Imaging. At RSNA 2017, Visage underlined that by demonstrating as works-in-progress artificial intelligence (AI) algorithms developed by Visage, including algorithms developed by Visage working with the RSNA Bone Age Challenge data models for anatomy detection, as well as integration of third-party tools and platforms.
Visage demonstrated multiple native AI features as works-in-progress that will rapidly be made available to customers in mid 2018. These features will be seamlessly integrated into the In-Viewer Workflow, making the current excellent user experience even better. Additionally, Visage shared our unifying vision where data science researchers and radiologists share the same platform. We envision radiologists curating imaging studies based on segmentations, measurements, annotations and results that are created in Visage 7, as well as researchers who can test their own algorithms and other algorithms in development by others, against their own imaging data in secure, sandboxed areas of Visage 7. These same data science researchers can also use the Visage Python API to discover and best leverage the imaging studies within their Visage 7 Enterprise Imaging Platform.
This is all made possible through the core architecture of our enterprise imaging platform that has been natively server-side from the beginning and is designed to be scalable not just for data volume, but also for high-end compute workloads. . Visage had the foresight of adopting GPUs for all imaging workflows back in 2009 when Visage was born, and only Visage has the vision of convergence for research and diagnostic imaging in the same enterprise imaging platform.
3 - Visage's In-Viewer Workflow Gets Even Better
Visage is never satisfied with the status quo. Through the convergence of increased automation, end user flexibility and interactivity, Visage has refined the user experience with even more optimized hanging protocols, Auto-Prior Rules and convenient tools. Providing automation while still giving the user full flexibility when required has been one of Visage's guiding design principles. Visage introduced Mini Drop Zone as the latest tool introduced with Visage 7.1.11 as a works-in-progress to help users work smarter, faster, with greater accuracy. Available from the Study Navigator, Image Thumbnail Section, and Image Viewports, Mini Drop Zone enables users to drag additional image thumbnails into a small, graphical representation of the current display layout, quickly reorienting the displayed image viewports with new image series. Through the use of this tool, mouse fatigue associated with traditional drag-and-drop of images is minimized. Over and over again, we observed existing Visage users and non-users impressed with the flexibility gained through the use of the new tools. And as with many of Visage's In-Viewer Workflow features, it's not that users have to use a specific tool, but the fact that it is easily available when you want to use it. That's the big difference.
In addition to Mini Drop Zone, Visage was excited to demonstrate several new AI algorithms as works-in-progress that significantly enhance In-Viewer Workflow. These new algorithms are intended to work transparently, dramatically improving user experience.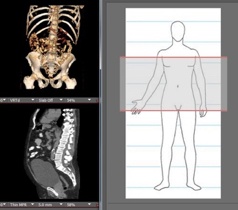 Here's how. First, Visage demonstrated an anatomical classification algorithm to accurately identify the region of the body represented by imaging studies. Up until now, hanging protocols and Auto-Priors have been reliant on Study Description and other DICOM parameters generated at the modality console. But in practice, these parameters can be at worst wrong or blank, or at best highly variable, particularly across large health systems that have grown through merger and acquisition. With AI, we have demonstrated we can tell the difference between dogs and cats, so we should be able to tell the difference between a chest and an ankle study. At RSNA 2017, Visage used this classification algorithm to automatically link current and prior studies by anatomy, even though the current and priors were different (e.g., Chest/Abdomen/Pelvis and Chest studies) and irrespective of DICOM parameters. This speeds interpretation because the radiologist does not need to manually link the current and prior studies, align the image sets, etc.
Second, Visage demonstrated AI algorithms for the segmentation of spinal vertebrae, and automated spine labeling of vertebrae even in multiple planes, as well as across current and priors. This capability was turning heads left and right in the Visage booth, as radiologists recognized how much of a time saver this could mean to their routine workflow. And for cases with challenging anatomy that may require modification of label placement, Visage easily allows radiologists to modify the spine labels with simple tools. Visage intends to implement these algorithms automatically within the hanging protocol, so users who prefer to have their lumbar spine cases labeled, can do so immediately upon the launch of current studies.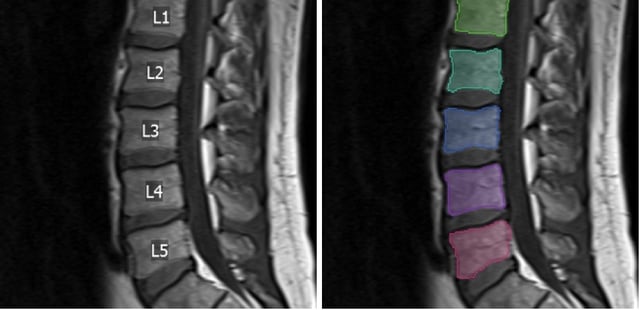 In terms of availability, there's also good news. Visage's new Mini Drop Zone will be available in Visage 7.1.11, targeted for release in Q1 2018. And the new AI algorithm powered capabilities? Those are also planned for availability in mid 2018.
4 - Good News Travels Fast, Visage Has Gone Viral
At RSNA 2017, it was a pleasure to interact with radiologists and imaging professionals who were previously unfamiliar with Visage. We continually were told:
"We heard Visage signed [blank]."
"Is it true Visage went live at [blank]?"
"We were in a session earlier today and Visage was mentioned. We heard good things from [blank], and want to learn more."
"We were at the [Insert Barco, Nuance, Medicalis and/or Clario] booth, and saw Visage demonstrated. We were impressed and would like to get a demonstration."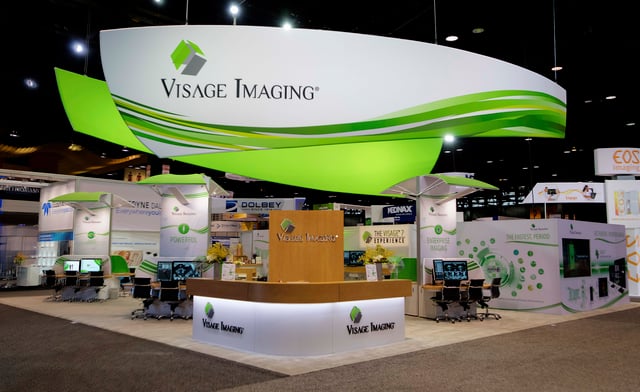 Visage Imaging | RSNA 2017
Visage was top of mind at RSNA, and that was reflected in the Visage booth traffic. Our badge scans were up 36% year over year, and the crowds were active and consistently kept coming. What did you hear about Visage while at the show, we'd love to hear from you.
We also have news to share, as Visage has selected a 20% larger booth (50' x 60') for RSNA 2018 near the front of the South Hall (See below)!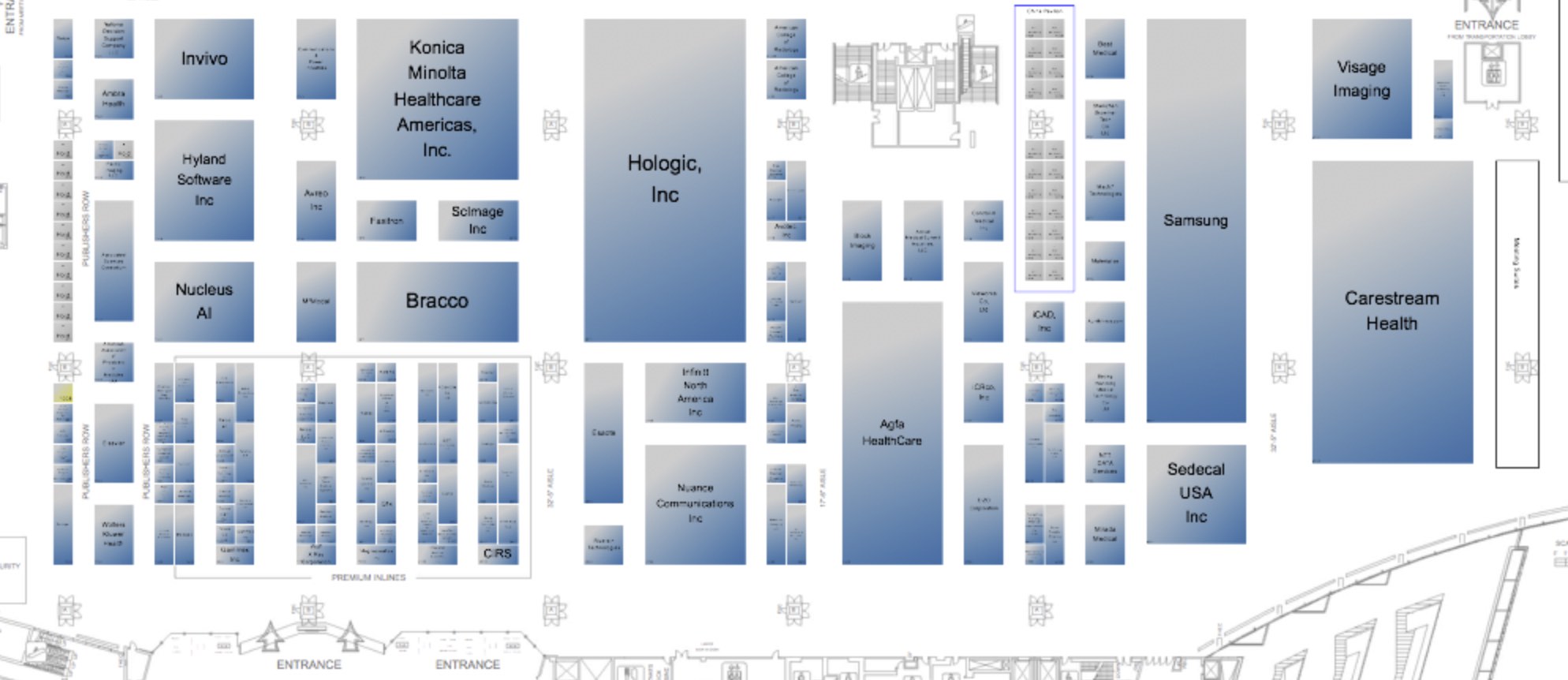 Visage Imaging Booth #4721 | RSNA 2018
5 - Enterprise Imaging Selections Based on the Source of Truth
In addition to the many new organizations that came to see Visage, we also met with many existing customers. Instead of focusing on issues or limitations with Visage 7, they focused on how to gain even more value from Visage 7, whether it be expansion into cardiology, archiving, non-DICOM, or the aforementioned Visage AI strategy — amongst other areas. That said, none of this would have been possible if Visage did not achieve (and exceed) the results that were expected. Most of these groups can point back to the Proof of Concept (POC) as the pivotal event of their evaluation and ultimate selection of Visage.
Requirements vary from organization to organization. For example, some of our newest prospects consider a server-side architecture to be an absolute must have. Other organizations seek to find ways to enable radiologists and other clinicians with the tools they need to most efficiently read the ever-increasing amount of imaging data presented to them, all while being more accurate, with a reduction in clinical variability. Information technology professionals want a system that is easier to support, by way of a more streamlined architecture, with fewer disparate applications to administer.
Working closely with prospective customers, we've identified that by moving through a POC as the first step in an evaluation process, most of these value-based topics and the risk of not achieving them, is both straightforward and can be easily mitigated. In fact, coming out of RSNA we have a large number of institutions currently moving through a POC, or actively planning to do so, with the intended goals of streamlining and shortening the length of time to conduct a thorough analysis.
Happy Holidays, and we hope you enjoyed Visage's top five from RSNA 2017!