RSNA 2018 | Visage's Top Five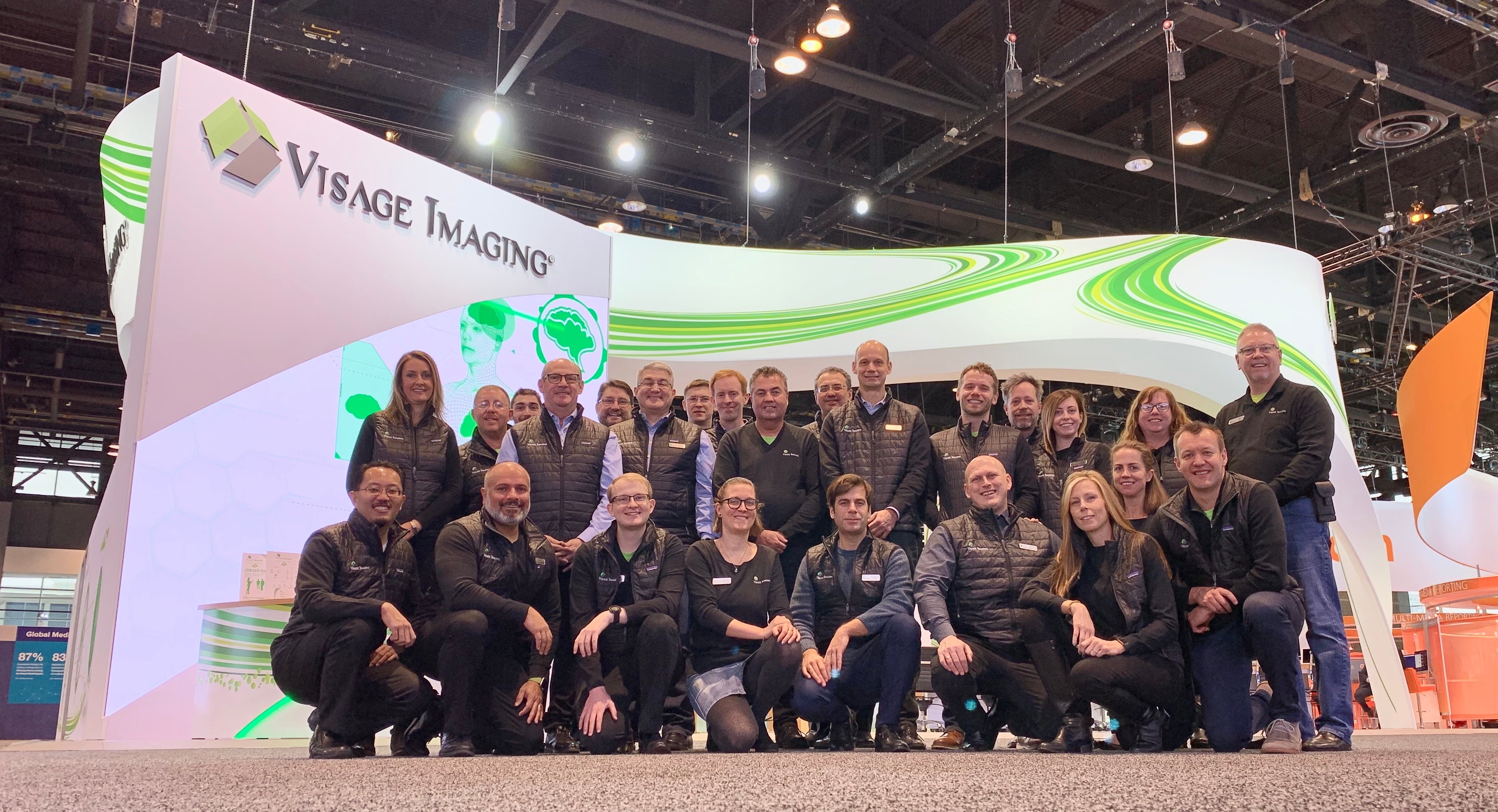 It's that time again, as we wrap up another great RSNA! Thank you for making RSNA 2018 another record year for Visage Imaging! We're pleased to share our 8th Annual Visage's Top Five. If you haven't read Visage's RSNA 2018 announcements, I encourage you to review our pre-show press release "Proven Enterprise Imaging with Visage at RSNA 2018" and blog post, "Sneak Preview | RSNA 2018". Now, on with Visage's Top Five!
Visage Imaging | RSNA 2018
1 - Heads Were Turning to Visage
The halls of McCormick Place were buzzing as word quickly spread that Visage had contracted with one of the largest and most respected health systems in North America for Visage 7, replacing multiple legacy PACS. Information about the signing went viral throughout the meeting and continues to grow. We're eager to share more details soon, as we are putting the finishing touches on an announcement that describes this transformational initiative. Watch for an official press release in early January.
Radiology chairs, imaging informatics leaders, and numerous radiologist attendees came to visit Visage telling us they were chatting with peers about our latest signings, sharing impressive customer stories, discussing the success of our recent go-lives or were in sessions where Visage was prominently mentioned. In fact, Dr. Amy Kotsenas, Chair, Enterprise Radiology IT Committee and Associate Professor, Mayo Clinic, and Dr. Melissa Davis, Chief of Emergency Radiology, Assistant Professor of Yale Radiology and Biomedical Imaging, presented "Clinical Optimization: Current and Future State" where both featured Visage 7 as one of the key catalysts for imaging consolidation, simplification and transformation. Checkout this video of Dr. Davis discussing their exciting presentation.
Over the course of RSNA 2018, Visage met with dozens of academic, community health and outpatient health systems looking to eliminate their legacy PACS with proven modular approaches. Based on the institutions we spoke with and demo'd to at RSNA, the level of replacement interest is incredibly active. Visage has the proven ability to work with a wide cross section of institutions, with the dexterity to support even the most challenging informatics requirements.
2 - Enterprise Imaging: Thriving
In 2011, Visage was rather unique promoting the message of "Fast. Powerful. Enterprise Imaging." PACS had dominated Imaging messaging for decades, but even way back in 2011 those times were changing. Interestingly, one prominent industry analyst commented about the almost non-existence of RIS and PACS messaging at RSNA 2018, replaced instead with Enterprise Imaging, with the majority of those vendors promoting little more than multi-site PACS with additional features or centralized archiving.
In stark contrast, for the past 7 years Visage has delivered, fulfilling the promise of Enterprise Imaging arguably more than any other vendor. Proven, Visage 7 offers one powerful diagnostic viewer for all users, with the speed, clinical depth and scale to enable institutions to consolidate and simplify Imaging operations, eliminating the need for multiple legacy PACS and image viewers. Visage has eliminated the need for hundreds of legacy and specialty PACS, including traditional legacy PACS, breast imaging PACS/breast imaging workstations, ultrasound viewers, PET/CT viewers, advanced visualization viewers, HD OR Video PACS, teleradiology systems, clinical web viewers, at-home/remote viewers, multimedia/visible light viewers, QC viewers, etc.
Impressively at RSNA 2018, Visage presented efforts to further extend Visage 7's capabilities. Demonstrated as a works-in-progress, Visage 7 has been enhanced with 7.1.14* to further support visible light photographs and videos, clinical documentation (such as examination reports, or other documents in PDF or other formats), or other types of image data, making it a truly universal image viewing and communication platform that consistently supports radiology images, as well as other clinical image data, whether for ophthalmology, OR documentation, or other photographic use cases.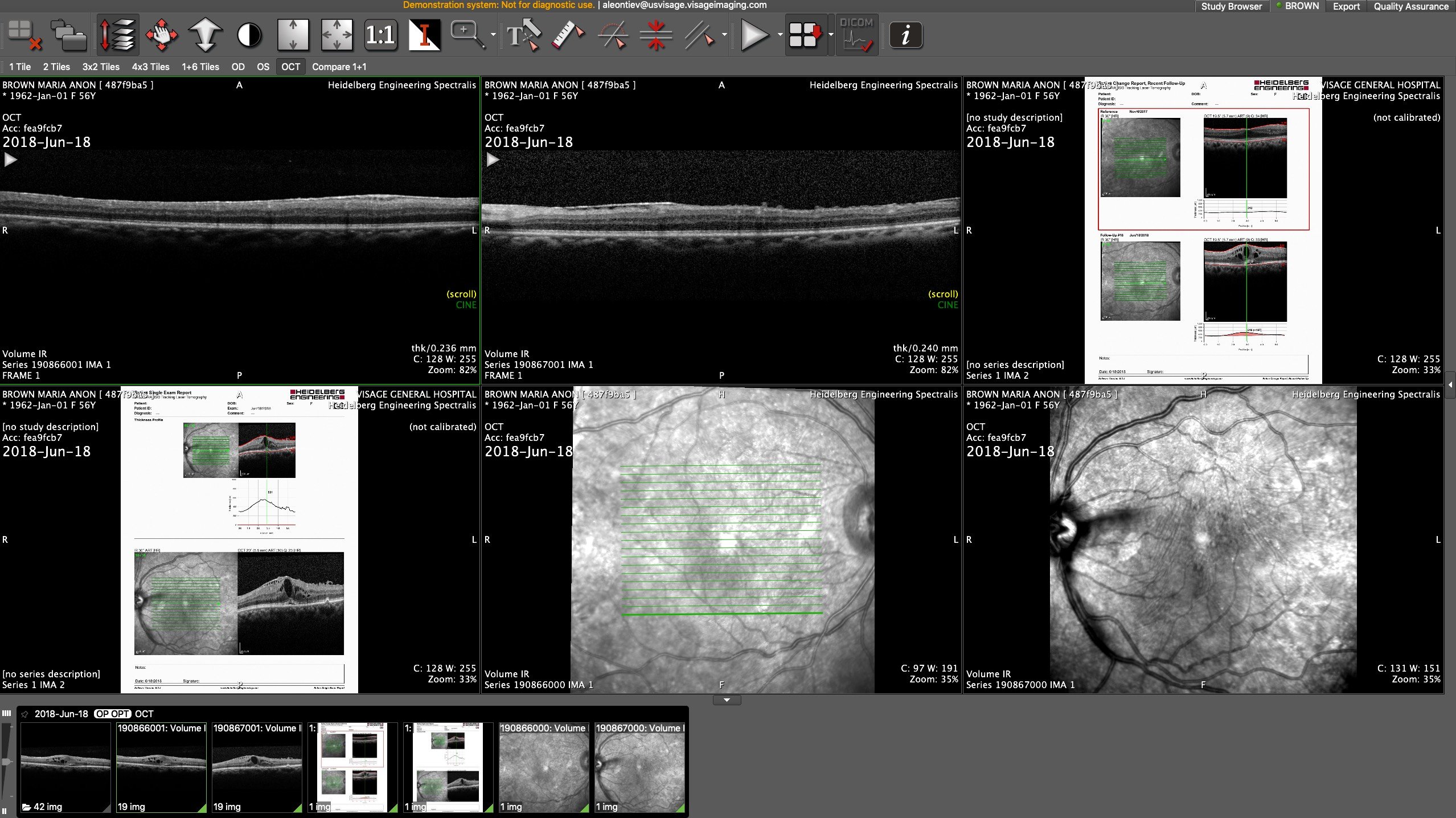 [Above] Optical Coherence Tomography (OCT) exam containing retinal cross-sectional images. As the user scrolls through the retinal cross-sectional images, the location of each slice is indicated on the 2D retinal view. The exam also includes scanner-generated PDF reports that are also natively displayed within Visage 7 without the need to invoke an external PDF reader.
3 - Imaging AI Gets Real
The continuing drumbeat of Imaging AI is incredibly exciting. There were 70+ vendors exhibiting in the RSNA Machine Learning Showcase, and increasingly, more of these vendors are announcing FDA clearance and promoting the clinical impact of their solutions. Imaging media and insiders have noted these trends and also have mentioned that in general the concerns around AI eliminating the need for radiologists have waned. What was different for Visage this RSNA was that multiple customers communicated specific requests for the integration of Visage 7 to multiple AI applications. Why is this development important? This step reflects an emerging group of institutions that have done their due diligence, have determined the cost/clinical value equation is worthwhile, and have consciously decided to implement specific AI applications in their clinical workflow.
At RSNA 2018, Visage announced Visage 7 AI*, our concept of AI that bridges the needs of diagnostic imaging and data science research in the same enterprise imaging platform enabled by the core design of Visage 7 and our unique understanding of market needs. Unlike other solutions that require separate, dedicated viewer(s) to incorporate AI algorithms into diagnostic workflows, Visage 7 AI is an integral part of the Visage 7 platform enabling optimal, fast integration of AI algorithms into existing interpretation workflow without additional viewing applications. Dr. William W. Boonn, Radiologist, Penn Medicine, featured Visage 7's unique approach to AI interpretation workflow during his talk, "Radiologist Workflow and AI: Challenges and Opportunities," which was one of the most well attended and discussed AI sessions at RSNA 2018.
Visage 7 AI is an open platform that offers a flexible, open API for AI, uniquely supporting NIFTI, as well as other research formats. At RSNA 2018, Visage demonstrated a variety of internally developed algorithms, algorithms from academic institutions and other third-party vendor developed algorithms optimally integrated with smooth In-Viewer Workflow to Visage 7.
4 - Prove It
Visage decided to change the conversation at this year's RSNA.
Yes, as most vendors do, we demonstrated our latest works-in-progress (Visage 7.1.14), filled with many new and exciting enhancements. And yes, while most vendors take years to (or never) release new enhancements shown at RSNA, our customers know the availability of the 7.1.14 is just over the horizon, planned for early 2019. Our Agile development philosophy and release history validates that Visage product development velocity has no comparison. While this is Visage's calling card, none of this was new at RSNA 2018.
So how did Visage change the narrative? Rather than focusing exclusively on product demonstration, Visage articulated the Operational, Clinical and Technical value the Visage 7 Enterprise Imaging Platform has provided customers. The proven impact Visage 7 has had on customers provided the foundation for the conversation, reinforced by selected product demonstration and a discussion how Visage customers have transformed Imaging.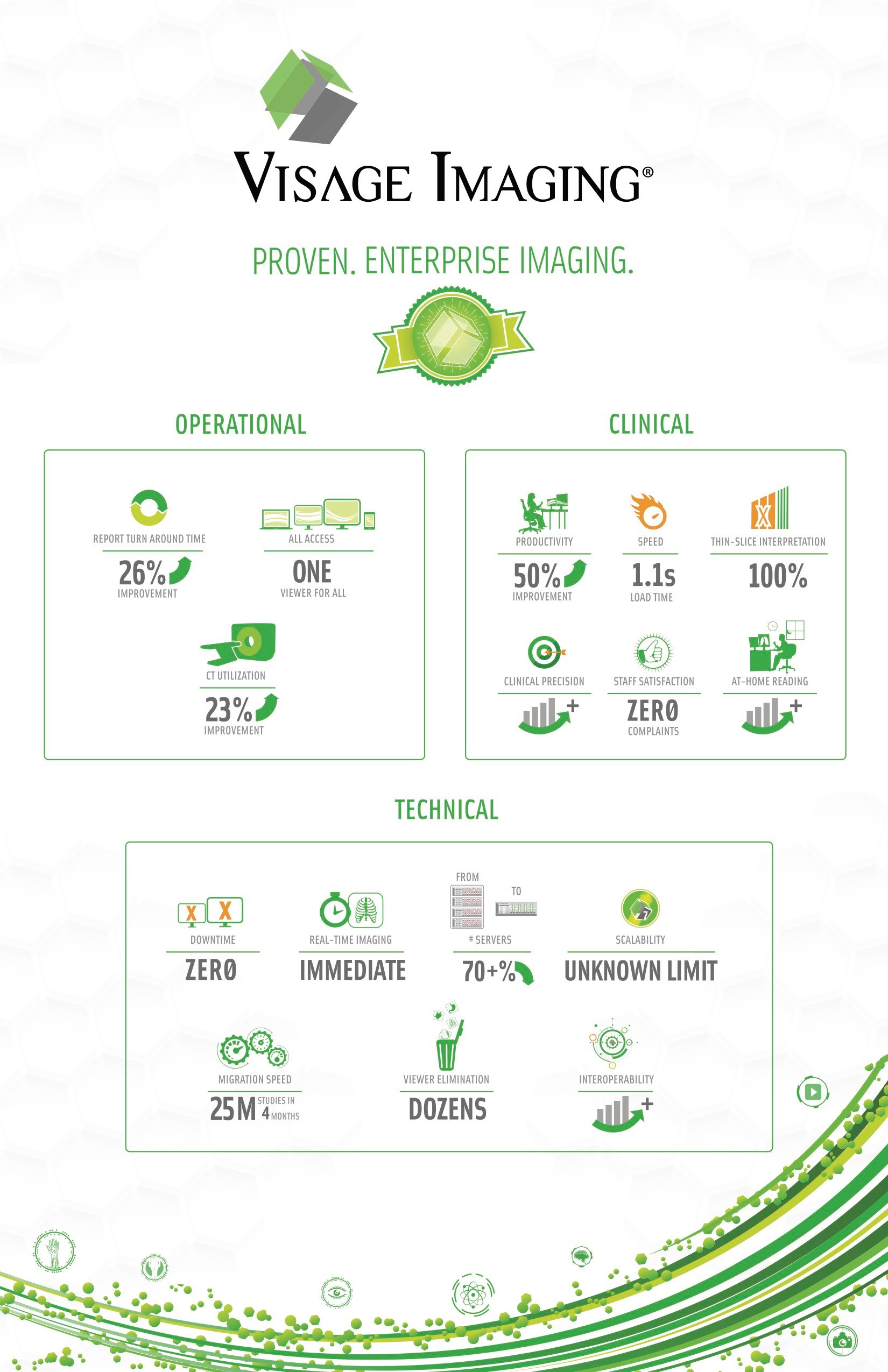 This synchronized message was dynamic and well received by attendees, both customers and non-customers alike, as well as consultants who told Visage that our message was a welcome change to the typical 'demo-demo-demo' approach of most vendors at RSNA. Non-customers appreciated learning about the value Visage brings, and customers got inspired to roll up their sleeves and quantify the value Visage has brought their organizations. We look forward to sharing their efforts with you in 2019!
5 - FHIRcast a Spell: Coming to Imaging Near You
Our fifth and final takeaway from RSNA is FHIRcast.
What's FHIRcast you might ask? From the FHIRcast website, "FHIRcast is an HL7 specification designed to provide a lightweight, inexpensive and http-based application context synchronization standard." An extended description with a pertinent Radiology example discusses, "FHIRcast synchronizes healthcare applications in real time to show the same clinical content to a common user. For example, a radiologist often works in three disparate applications at the same time (a radiology information system, a PACS and a dictation system), she wants each of these three systems to display the same study or patient at the same time. FHIRcast isn't limited to radiology use-cases. Modeled after the common webhook design pattern and specifically the W3C WebSub RFC, FHIRcast naturally extends the SMART on FHIR launch protocol to achieve tight integration between disparate, full-featured applications."
FHIRcast was top of mind for many of the institutions Visage met with at RSNA 2018, as we fielded numerous questions from groups of all different sizes and missions (e.g., academic, community, etc), from all across the country. Importantly, it's well known that the largest EHR provider intends to switch exclusively to FHIRcast as the primary means of integration by 2020. SIIM also seized on the topic earlier this year at SIIM 2018, during their roundtable session titled, "Understanding the FHIRcast API for Context Sharing and Single Sign-On Across Applications."
This change represents an exciting opportunity to improve user experience, and simplify the process, execution and maintainability of context synchronization. Visage has arguably the largest implementation of FHIR in the U.S. at Mayo Clinic and is a leader in proven modular interoperability. As FHIRcast evolves, we look forward to working with customers and likeminded vendors on FHIRcast initiatives in the months and years to come.
Thank you for an outstanding RSNA 2018. Next year for RSNA 2019, Visage will be moving to an even larger booth (Visage Booth #7524), this time in the North Building, McCormick Place.
Happy Holidays, and we hope you enjoyed Visage's Top Five from RSNA 2018!
*Works-in-progress