RSNA 2020 | Visage's Top Five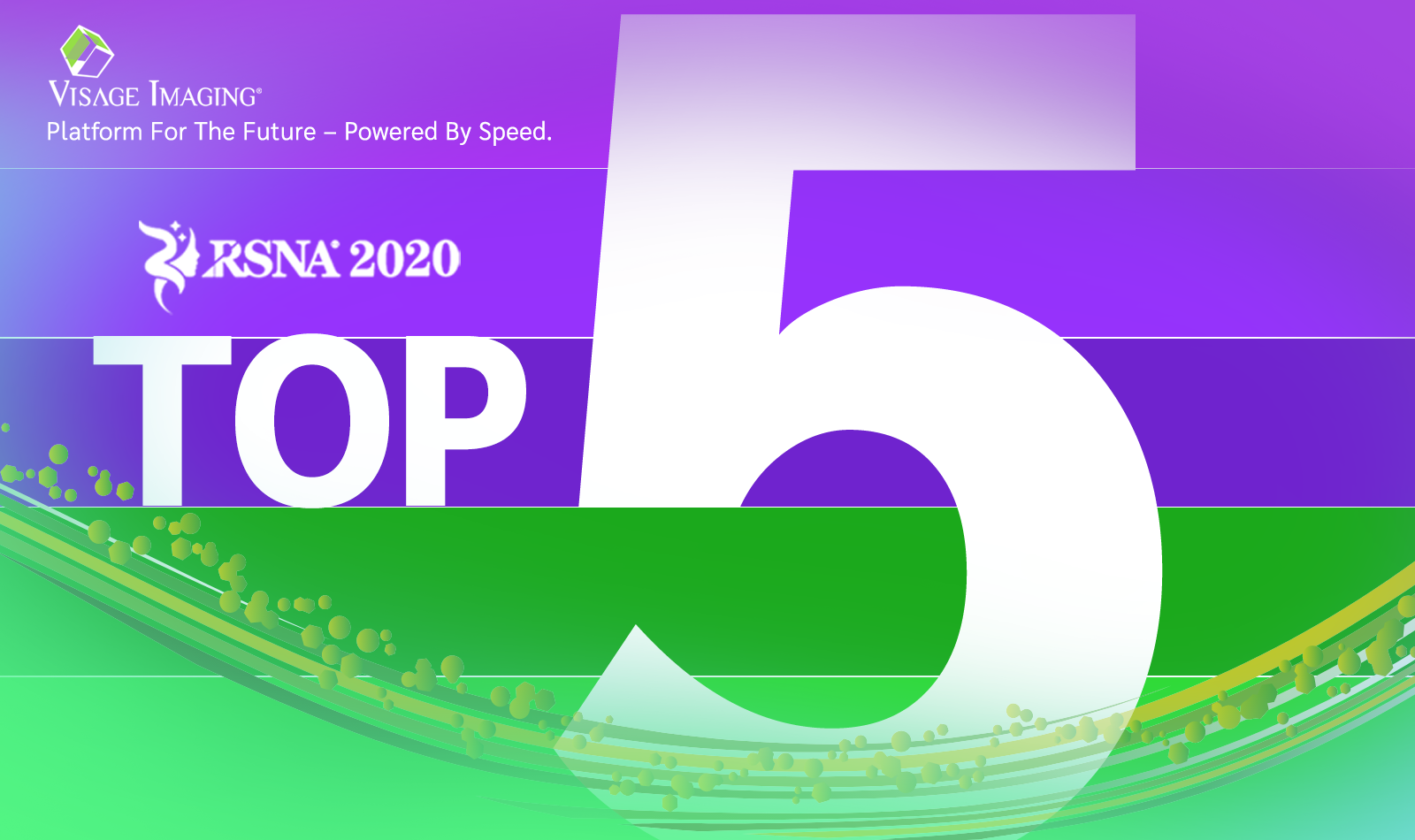 Concluding a difficult year beset by the global pandemic, RSNA 2020 has recently come to an end. It's once again time to share Visage's decathlon (of sorts): the 10th Annual Visage's Top Five. Not being face to face in Chicago and the shift to a fully virtual meeting experience pushed RSNA and industry to try new things. Virtual RSNA 2020 provided everyone with a set of new challenges, opportunities, and frankly, unknowns. Simultaneously, Visage went live with a brand-new website and RSNA 2020 virtual booth under the theme of "Platform For The Future — Powered By Speed". If you haven't had a chance to read Visage's RSNA 2020 announcement, please be sure review our pre-meeting press release, Momentum Continues for Visage at RSNA 2020. Now, on with Visage's Top Five!
1 – Virtual RSNA: A Simple Equation Tells The Tale
Elmar Kotter, MD, Consultant, Department of Radiology, University Hospital Freiburg, and Vice President of EuSoMII, posted a tweet after RSNA that encapsulated the overall experience for radiologists all over the world: "Virtual RSNA conference was great, but difficult to follow, because of the time difference and not being out of office. I missed some great lectures that I will need to watch in the weeks to come!" We heard a similar message from other radiologists, perhaps using different words, but the takeaway was the same: [Great Virtual Platform + Lots of Outstanding Educational Content] – Scarce Time (Due to Being on Clinical Service) = Limited/No Time for Technical Exhibits.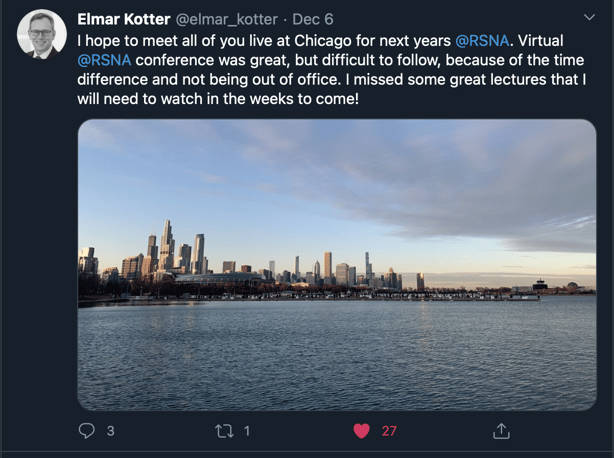 It's totally understandable, we get it. The spectacle of the RSNA Technical Exhibition likely cannot be replicated without being together, in the same physical space, where everyone is entirely focused on All-Things-Radiology for a few grand days in Chicago. For those that were able to join us in Virtual RSNA 2020, we hope you enjoyed the Visage Imaging Virtual Booth [Note: The virtual booths are still "open" through April 2021 for the 26,000+ professional registrants of RSNA 2020].
Our main goals were to share our new video, "Visage 7 | Platform For The Future - Powered By Speed", as well as three key topics: Visage 7.1.16 (Works-In-Progress), Visage AI Accelerator, and Visage In The Cloud. We also offered one-click access to on-demand Zoom demonstrations of Visage 7.
Online demonstrations are commonplace all-year-long for Visage, and no you did not have to cram in your demonstration during RSNA-week. If you would like to see the latest with Visage 7 in a personal presentation or with a dozen of your colleagues, please just let us know when it's convenient, and we'll do the rest. If time is at a premium, we also recorded an on-demand, 8-minute video, Visage 7 | Overview Presentation, that you can watch at your convenience with no forms to fill out whatsoever, we promise.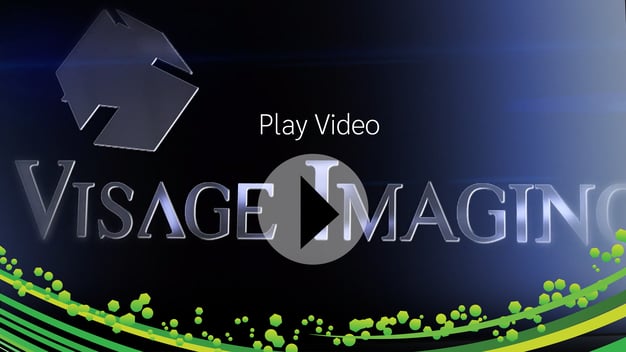 Visage 7 | Overview Presentation [Video]
2 – Visage 7 Live Connect: Real-time, Simple Collaboration (Works-in-progress)
We heard that some vendors withheld new product introductions at RSNA 2020, waiting instead to make a big splash at future face-to-face meetings. In contrast, Visage did not hold back our latest innovation: Visage 7 Live Connect. Malte Westerhoff, PhD, Visage Imaging Co-founder and Chief Technology Officer said it best, "With Visage 7 Live Connect, we're enabling radiologists to easily share images with referring physicians during interpretation, without disruption to diagnostic reading workflow. The simplicity of collaboration will encourage radiologists to utilize imaging communications in ways that were previously not thought possible, to include the potential for collaboration with patients and their imaging."
Inspired by a customer enhancement request, Visage 7 Live Connect empowers collaboration, making real-time communications easy, and of course, super fast. Radiologists will be able to immediately and securely collaborate, sharing images with referrers directly from Visage 7 during interpretation workflow. The radiologist will simply pass a secure link and session code to all intended recipients for real-time viewing from any HTML browser using any of their preferred devices (e.g., desktop, mobile, tablet). Even though radiologists typically use multiple high-resolution diagnostic displays, and referring physicians may use a single display or a mobile device, Visage 7 Live Connect is not restricted due to any potential display or device type mismatch. Instead, collaborative image viewing is optimally focused on the radiologist's active viewer, does not require recipient users have any installed software or account(s) on Visage 7, and all recipients are able to view shared cursor movements from one or multiple screen share participants.
Interested in a demonstration of Visage 7 Live Connect? Click here to learn more.
3 – Visage In The Cloud: CloudPACS Is Here
Highly optimized for cloud deployment, Visage 7 is the industry's first cloud-engineered server-side platform for complete PACS operations. Visage 7 in the cloud can offer the same ultrafast speed and functionality of private-cloud (on-premise) implementations, but with the added security and scale of the cloud.
Whether you're new to Visage, or an existing Visage 7 customer looking to transition from private to public-cloud, interest in cloud solutions has never been higher. In addition to our exciting discussions at RSNA 2020, shortly after the virtual meeting Visage's Bobby Roe, Director, Solutions Architecture and Cloud Computing, was a panelist on SIIM's (December 10, 2020) #Ask Industry Webinar: "Image Exchange, Viewing and Archiving in the Cloud". The discussion and moderation was outstanding. Registration was off-the-charts, as 500+ people signed up for the webinar: the most ever for SIIM. If you'd like to watch the video webinar replay, click here.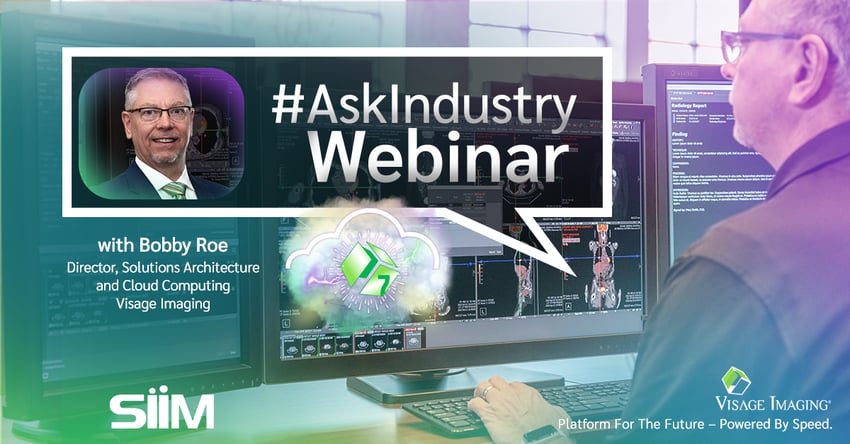 We also have breaking news, as Visage signed MedStar Health this week for complete PACS in the public-cloud. MedStar Health will be replacing legacy PACS across their 10-hospital system, the largest in the MD/DC region, with the complete Visage 7 Enterprise Imaging Platform, including native modular components, Visage 7 Open Archive and Visage 7 Workflow. A complete solution, all from Visage, to be fully implemented in GCP (Google Cloud Platform).
4 – AI, Interoperability and RSNA's Imaging AI in Practice Demonstration
During the virtual RSNA 2020 meeting, Visage highlighted The Visage AI Accelerator: an end-to-end AI solution that bridges both research and diagnostic imaging with the same, unified platform. Visage demonstrated and discussed interesting customer research examples how Visage 7 plays a central, integrated role in the AI pipeline, accelerating iterative learning and ground truth development with innovative native tools, fostering an optimized train/validate/enhance cycle.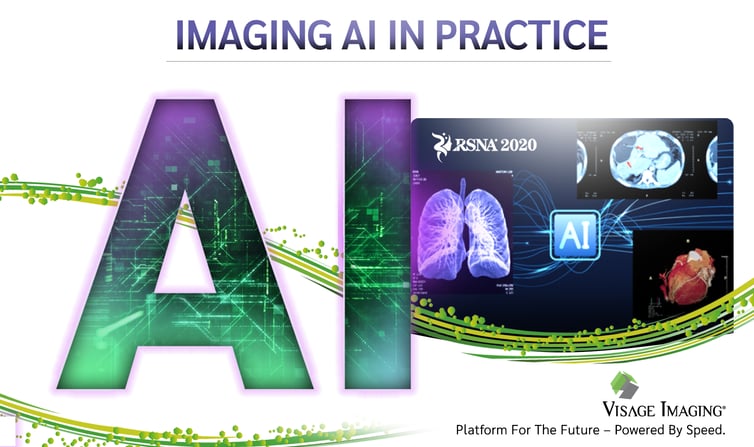 This year's meeting also included one of the most ambitious AI interoperability initiatives to date: the Imaging AI in Practice (IAIP) video demonstrations shown in the AI Showcase at RSNA 2020. Working with dozens of luminaries, the demonstration spotlighted how AI could be integrated into daily clinical radiology practice. Visage was a proud participant in the IAIP, a multi-vendor interoperability demonstration showcasing new technologies and communications standards needed to integrate AI into the diagnostic radiology workflow.
Using real-world clinical scenarios, 16 vendors demonstrated more than 26 systems, such as PACS, reporting and AI applications, to show how AI can be used to support improvements in patient care. Be sure to watch IAIP's "Evolve with AI" video demonstration, where the Visage 7 diagnostic viewer and Visage 7 Workflow were used to highlight interoperability to multiple AI algorithms in a real-world clinical scenario. The video is incredibly impressive and keep in mind that while many of the third-party products are shown as works-in-progress, every Visage 7 interoperability capability demonstrated in the video is available today from Visage.
For more details and inside perspective about Visage's role in the IAIP, please read Andrei Leontiev's recent Visage Blog post, "Imaging AI in Practice | Is It Real Yet?"
Interested in a discussion about the Visage AI Accelerator program, or our participation in the IAIP? Click here to learn more.
5 – COVID-19: Visage's Response
Visage has been working hard this year with clinical partners on COVISAR (an acronym of COVID, Visage and Archive), a multisite collaboration led by Yale and Visage, intended to expand the technical template and approach to multiple institutional research for COVID and other disease domains. The immediate intent is to create a highly curated multi-center data repository of COVID-19 positive cases using FHIR, including pertinent clinical EHR information and annotated images to serve as the basis for multi-center, multi-organ research initiatives. The program has participation from a number of clinical partners.
While the pandemic has created numerous challenges, it has not held Visage back. As mentioned previously, Visage leverages various tools for virtual Visage 7 product demonstrations that happen routinely, multiple times every day. These tools are also used for virtual implementations and go-lives, to include professional services and end-user training, so our global team can efficiently do what needs to be done, even if we cannot be onsite with customers. Visage continues to successfully support pre-sales activities, pilots, implementations and go-lives......all virtually and with scale. One example is our experience taking The Ohio State University Wexner Medical Center fully live earlier this year. Undoubtedly, this is due to the expertise of the global Visage team, the differentiated capabilities of the Visage 7 Enterprise Imaging Platform, and our effective use of multimedia collaboration tools.
Visage 7 has also proven to be an essential tool for ultrafast remote reading without any clinical compromise during the pandemic. In fact, just days before the pandemic exploded in March 2020, Duke Health went fully live with Visage 7 in February 2020. Even though Duke Health did not plan for remote reading as part of their initial Visage 7 diagnostic workflow, they quickly pivoted to remote reading without having to worry about it. Remote reading with Visage 7 was an unanticipated "bonus" capability that met Christopher J. Roth's, M.D., M.M.C.I, Vice Chair of Radiology for Clinical Informatics and Information Technology, Director of Imaging Informatics Strategy, Duke Health, urgent need to support his radiologist colleagues in time of crisis.
We also found that most Visage customers who were already reading remotely with Visage 7, expanded their remote reading programs significantly over the past year. Another pertinent example was from Jason Wiesner, MD, MBA, Radiologist and Medical Director of Sutter Health's Diagnostic Imaging Service Line and Executive Director of Imaging Informatics, where he led Sutter Health's remote reading initiative, and chronicled their experience responding to the COVID crisis. You can read Dr. Wiesner's article, "Remote Reading Prepares Group for COVID-19 Response" on AuntMinnie.com here.
That's a wrap and thank you for an interesting virtual RSNA 2020!
Next year we hopefully will be back in person in Chicago for RSNA 2021, where we'll all be in McCormick Place.
From all of us at Visage, be well! Happy Holidays and we hope you enjoyed Visage's Top Five from RSNA 2020.