SIIM22 | Visage's Top Five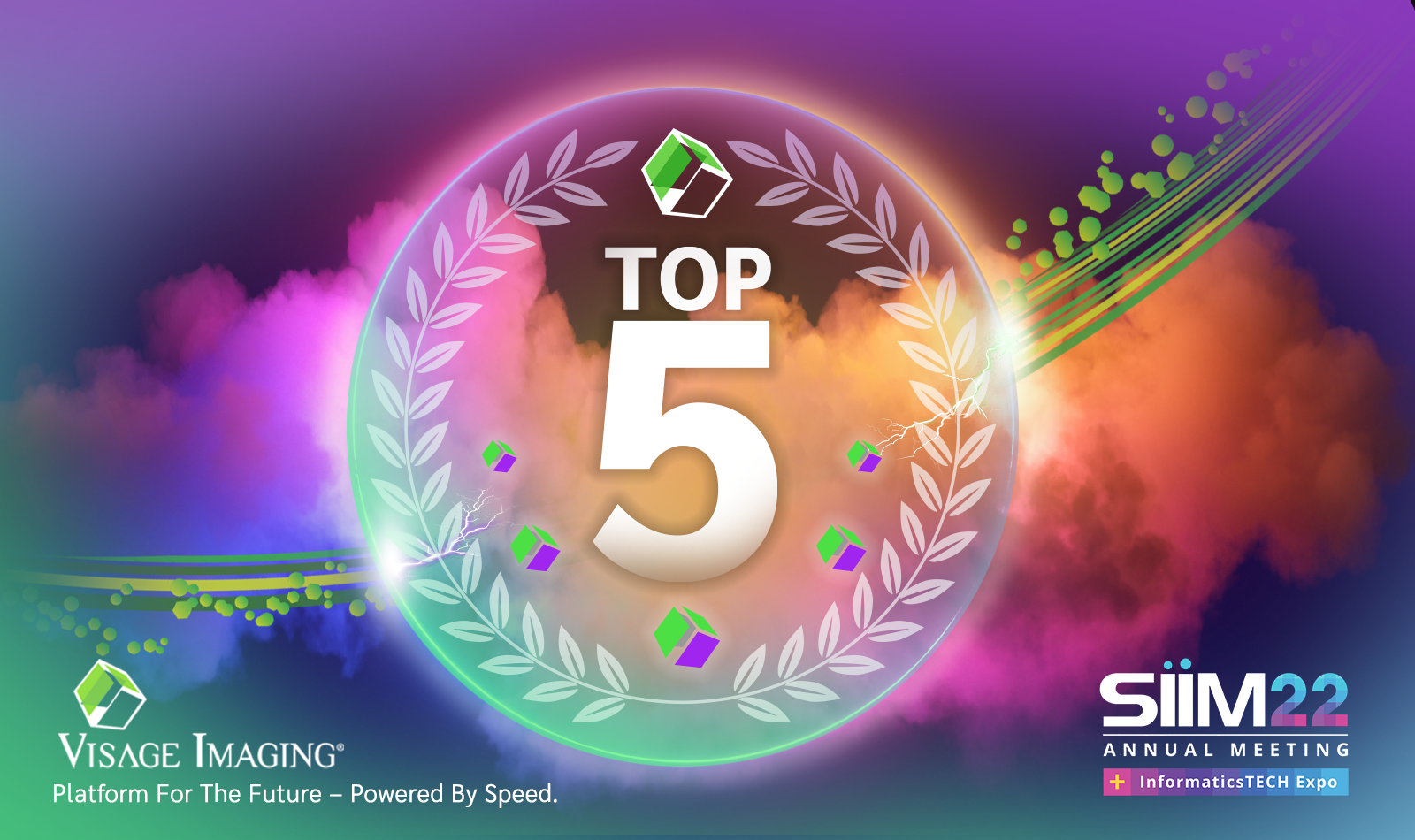 SIIM22 was fantastic. It was our first in-person SIIM conference since 2019 and it did not disappoint. The sold-out exhibit hall and crowds of imaging informatics experts convened on SIIM22 to learn about the latest in Enterprise Imaging, and most of all, share their experiences in a way that is unmistakably SIIM.
If you were able to participate in SIIM22, we hope our insights resonate with your experience, and if you were unable to attend in person or virtually, we hope you find our top five helpful. Now, on with Visage's Top Five!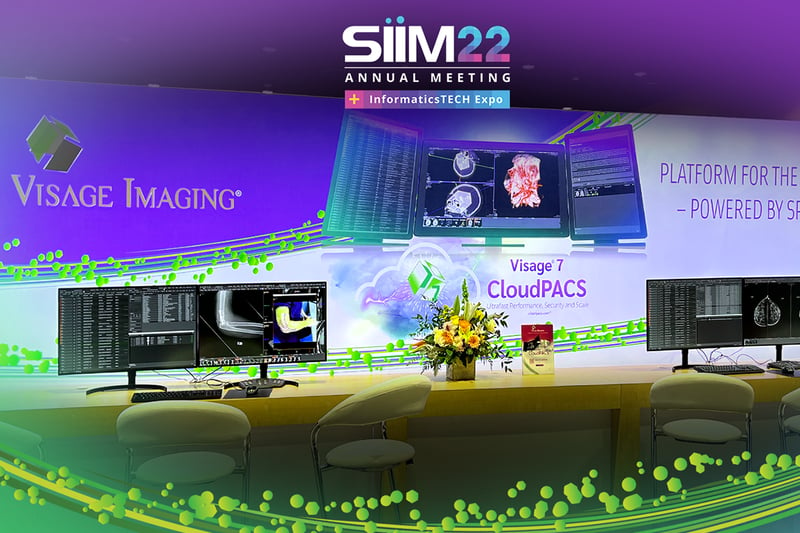 1 – SIIM In-person Returns
SIIM22 was a great experience for all who attended. It had been far too long since SIIM met in person, and the Gaylord proved to be a great venue to reconnect. SIIM invested in new audio technology, which allowed attendees to perfectly hear the multiple presentations and panel discussions concurrently held in the exhibit hall. Big thanks and congrats to Christopher Roth, MD, CIIP (and one of the newest inductees to the College of SIIM Fellows) for his steadfast leadership of the SIIM Annual Meeting Program Committee, as well as thank you(s) to SIIM volunteers and staff.
SIIM continues to innovate with technology and programming that enables information sharing and education in novel ways. Panel discussions, roundtables, digital posters, whiteboards, meet ups, summits, general sessions, speed networking, AskIndustry, Learning Lab, Tech Talks and much more. It's not too late to catch up on the excellent SIIM 22 Recap from The Imaging Wire's Jake Fishman. Additionally, the online SIIM22 content is still available for access until August 10, 2022, so don't miss out on this incredible learning opportunity and to capture as many education credits as you can.
2 – CloudPACS Keeps Rising
Discussions about the transition to the cloud continued in a big way at SIIM22. Lots of demos and conversations in the Visage booth, in the halls of SIIM22 during sidebar chats, as well as during multiple presentations in the exhibit hall. Amazon Web Services (AWS) held an Industry Connect panel discussion, Medical Imaging Trends and How Academic Medical Centers Innovate and Modernize for the Future [Video], moderated by AWS's Lyndsey Burton, MD and included distinguished speakers from Duke Health (Walter Wiggins, MD), UC San Diego Health (Amy Radonich) and UCSF (John Mongan, MD, PhD). All three institutions use Visage 7, and both UC San Diego Health and UCSF are completely live in the cloud with Visage 7 on AWS.
Additionally, Visage's Bobby Roe, Director, Solutions Architecture and Cloud Computing, participated in a standing-room-only AskIndustry Panel Discussion, It's On: Imaging IT's Transformation to the Cloud [Video]. This was the largest AskIndustry panel discussion ever moderated by SIIM, and reflected a diversity of cloud initiatives from multiple vendors.
Some vendors seemed to be fixated on cloud terminology and jargon, which can be confusing for imaging professionals who are new to cloud. After multiple years of discussion, most imaging IT professionals are still confused by the half-baked, one-size-fits-all messaging coming from the vendor community. Other vendors focused on generalities and continued to project 'what could be done' in the cloud, rather than 'what is being done' in the cloud. That's a huge difference and reflected more talk than action, more buzz than clinical use. This capability and messaging gap led some of the vendors to discuss so-called hybrid cloud solutions, which were presented as a starting point for institutions. More often, discussion about hybrid cloud solutions reflected performance concerns, as well as product and implementation limitations. Legacy products that are being forced to fit into the cloud, rather than modern solutions designed purposely for the cloud.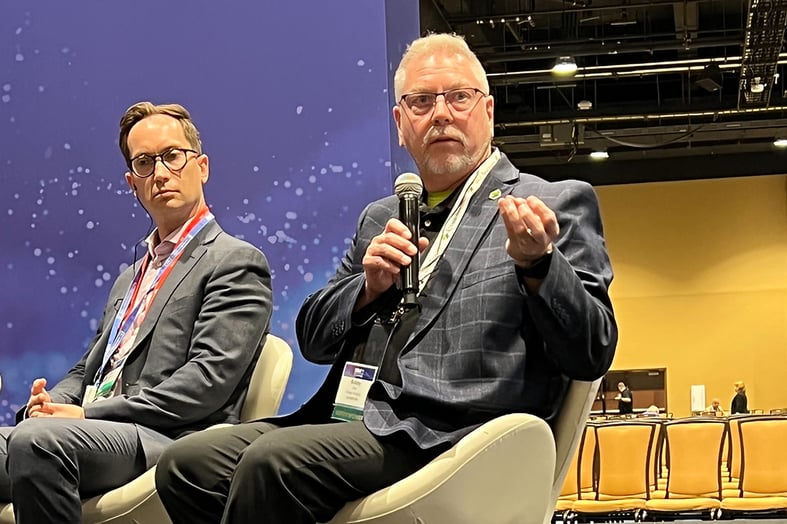 Visage's Bobby Roe | Director, Solutions Architecture and Cloud Computing [Video]
In contrast, Bobby discussed Visage's CloudPACS experience in a very straightforward, down-to-earth way. The Visage 7 Enterprise Imaging Platform has been cloud engineered to be completely implemented in the cloud, on all of the major cloud platforms from AWS, GCP and Microsoft Azure. In fact, Visage 7, already known for being the fastest enterprise imaging platform, is even faster when implemented in the cloud due to object-based cloud storage for ultrafast performance at an affordable cost. With cloud-native storage, performance is approximately 2-3X faster in the cloud as compared to legacy PACS.
In just the last few months, Visage announced the signing of two new customers who are implementing Visage 7 in the cloud: Inova Health (April 2022), and Allina Health (June 2022). And shortly after SIIM22, Visage announced that Visage Joins the AWS Partner Network as an Advanced Technology Partner. Click here to learn more about Visage 7 on AWS. One last update related to cloud -- This week Visage announced a major release (v2.0.5) of Visage Ease Pro, our FDA-cleared diagnostic mobile native iOS application, that includes multiple viewers/layouts, advanced gestures, video+audio, and much more, implemented via the cloud.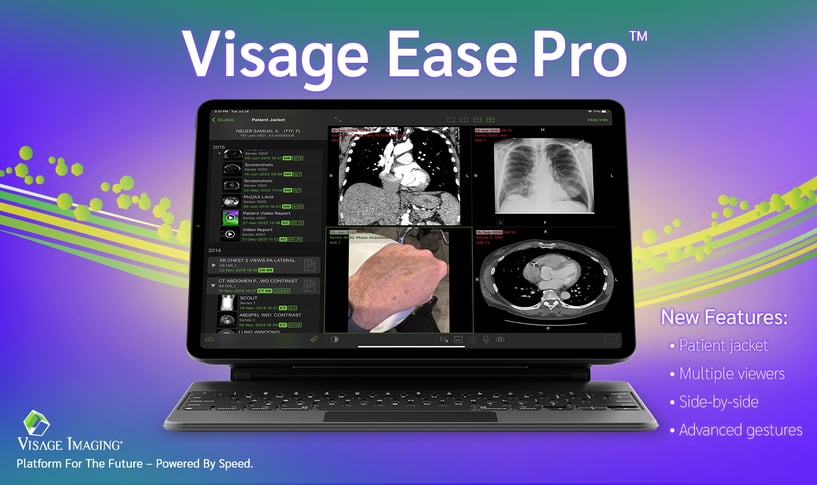 3 – Compelling Visage Customer ROI
Visage not only received great customer feedback about our booth and technology, but we also got accolades for our contributions at SIIM and the passion of our team. After listening to numerous non-Visage customers that are in the market for PACS replacement and enterprise imaging, it's clear that performance is still a huge issue (in particular for remote reading and breast imaging), and even the basics of having timely access to priors remains a big and widespread problem (See recent AuntMinnieEurope.com article: 5 Things That Only a Radiologist Will Know and Understand - "#3 - Availability of previous studies is absolutely critical" ).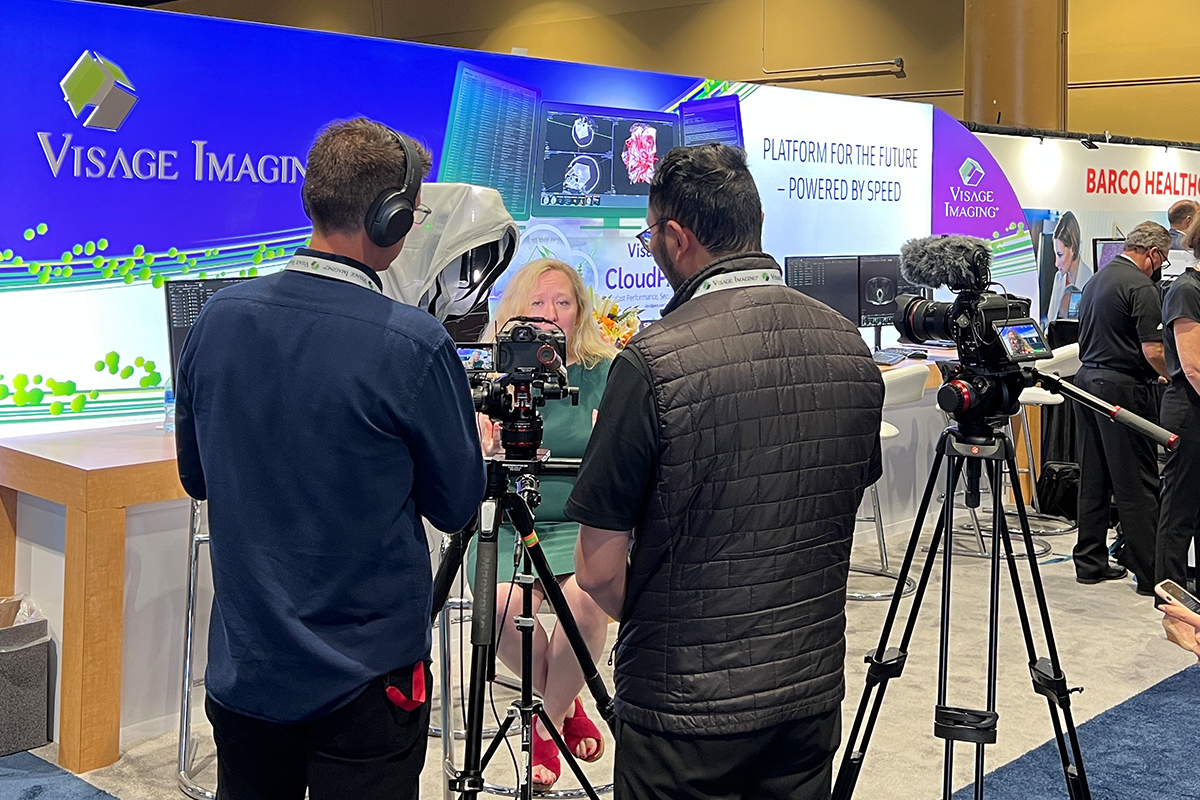 That's why we were so excited to not only chat with Visage customers in our booth, but also to record their unscripted feedback with video. In their own words, they touched on cloud, AI, enterprise imaging, implementation, workflow, interoperability, professional services, you name it. We're busy working to share the produced videos with you later this year, but until then, we wanted to leave you with a few of the absolutely special comments we heard:
"But the experience for the radiologist [moving to Visage] once they made the transition after a few weeks was... I liken it to... I'm one of those people who won't stop telling you about the electric car that they drive, and what a terrific experience it is to be in this new car that feels very different from old cars that, is so responsive. And that is designed around this really awesome technology. And you get that same feeling in transitioning from an old generation PACS to this new generation tool that feels like it just really is a fundamentally different thing. And just a pleasure to use whenever I sit down to begin one of my shifts in the emergency department."


"...the performance of the tool [Visage 7] is really excellent. And there aren't these little, almost hiccup-like things that come in impede on your work as you're trying to do it. So everything is just very, very brisk, very fast."


"And in fact for us, from my point of view, one of the ways in which I've talked about justifying the investment we've made in working with Visage has been that it's an anti-radiologist burnout tool, almost. Just radiologists really enjoy using the tool, enjoy all of the integrations it has."


"Visage has fundamentally changed the way I, as a neuroradiologist, consume the diagnostic imaging that I do. And it has been a game changer because all the little things that were annoying about the viewer system that we had before are solved and solved in such a way that makes sense to people doing the diagnostic imaging today. So if I need MPRs, they're there. If I need volume renderings, they're there. All of those things are very easy to use."


"We're substantially more efficient with Visage than we were without Visage. Day 1 and day 2 of Go Live, we were just as fast using Visage than we were on the system that we had used 15 years before that."


"I sleep really well because of the system we have."


"I feel like a more powerful radiologist. I'm self-empowered. When I have the data in front of me, thin slice data, I can view it however I want, thick, thin, directions and planes and different volumes and different volume rendering capabilities. It kind of puts me in control."


"One of my favorite things is to automate the worklist to read plain films. They're low value, but if plain films display slowly, then I have to experience that over and over and over and over again, but automating the worklist and just reading it [in Visage 7] and signing it, and the next one comes up, it sparks joy every time it happens almost instantly."


"I don't get complaints about performance from angry radiologists and actually much the opposite. People spontaneously months after our implementation come and compliment me on how excited they are about the solution. And that really is the partnership between our execution and the product. We're satisfied customers, extra satisfied customers."


"But then I discovered the lesion tracking tool, which is available right now in Visage for any user to use. And that has been a game changer in how I look at brain metastases...Sometimes it can be more than 10 metastases and sometimes it can be more than 20 metastases, and they're treated at different time points, which makes it sometimes very difficult to follow...I will usually pull up the graph of treatment response curves, and for the oncologist, they're very excited to see this because they're saying, okay, this lesion's getting bigger over time, over the past four studies. These lesions are stable over the past four studies. We should just target this lesion."


"It [Visage 7 in the cloud] worked, we had no downtimes, and it was one of the best, as the university called it, one of the best go-live experiences."
4 – Interoperability and Workflow Reigns for AI
The drumbeat of AI continued at SIIM22, with numerous independents, startups, platforms and consultants walking the exhibit hall. While in recent years all the buzz was about algorithms and what they were diagnosing, at SIIM22 the discussions revolved around how tightly AI was integrated into PACS and workflow, as well as to least disrupt, but adequately inform the reading radiologist. The AI vendors and attendees were interested in Visage 7's support of standards (Answer: Extensive with native Visage 7 integration) and whether AI inference results could inform and influence workflow status (Answer: Yes, it can with Visage 7).
Integrating the Healthcare Enterprise (IHE) continues to lead in this area, and Visage is a proud member of the IHE Radiology Technical Committee working on the new profiles for AI Results (AIR) and AI Workflow for Imaging. Visage's Andrei Leontiev, Senior Solutions Architect, published a blog post about these topics a few years ago. Furthermore, Visage is a proud multi-year participant in the Imaging AI in Practice Demonstration (IAIP) at RSNA. Later this year at RSNA 2022, this will be our third consecutive year participating in the IAIP.
Also presented at SIIM22, a pertinent example of natively embedding self-developed algorithms, with purpose-based workflow and cutting-edge tools, was highlighted by AuntMinnie.com - Machine learning, radiomics differentiates glioma. Sara Merkaj, a post-graduate Research Fellow at the Yale School of Medicine, working under the leadership of Mariam Aboian, MD, PhD, Associate Professor, Radiology & Biomedical Imaging, Yale School of Medicine, and the Yale Brain Tumor Research Group, have leveraged the Visage AI Accelerator platform to embed their algorithm into Visage 7, along with embedded PyRadiomics software, to extract radiomics features from the image segmentations.
5 – Visage Customers Make a Huge Impact at SIIM
We could tell that Visage customers were just as excited to be at SIIM as we were. We counted 70+ individual attendees, from several dozen Visage customer sites. They were not just active individual participants in the presentations and meeting activities. They included the Past Chair of the SIIM Board of Directors, leaders and members of SIIM Committees, as well as numerous presenters of presentations and poster sessions.
Visage customers represent some of the most cutting-edge implementations of enterprise imaging, spanning inpatient, outpatient, government, academic and integrated delivery networks. Visage customers are not only doing differentiated work in so many areas, they shared their experiences and lessons learned at SIIM on topics such as remote reading, virtual radiology, CloudPACS, and AI.
Here's additional links to some of the exciting content (e.g., videos, abstracts, posters) coming from Visage and Visage customers at SIIM22:
The RFP Conundrum [Video] - Brad Levin, General Manager, North America, Visage Imaging
Fast and Frictionless: A Novel Approach to Radiology Scheduling [Video] - Ankur Doshi, MD, Associate Professor, NYU Langone Health
Building CDEs and Report Templates into Products [Video] - Marc Kohli, MD, Associate Chair of Clinical Informatics, UCSF
AI Interoperability from (A)nnotation to (Z)oos: Making Imaging AI Ubiquitous with Interoperability and Standards [Video] - Christopher Roth, MD, MMCI, CIIP, FSIIM, Duke Health
PACS Go-Live Training and Support During a Pandemic – Opportunities for the New Normal - Ankur Doshi, MD, Associate Professor, NYU Langone Health
A Journey Towards A Complete Digital Patient Experience in Radiology (See below) - Ankur Doshi, MD, Associate Professor, NYU Langone Health, et al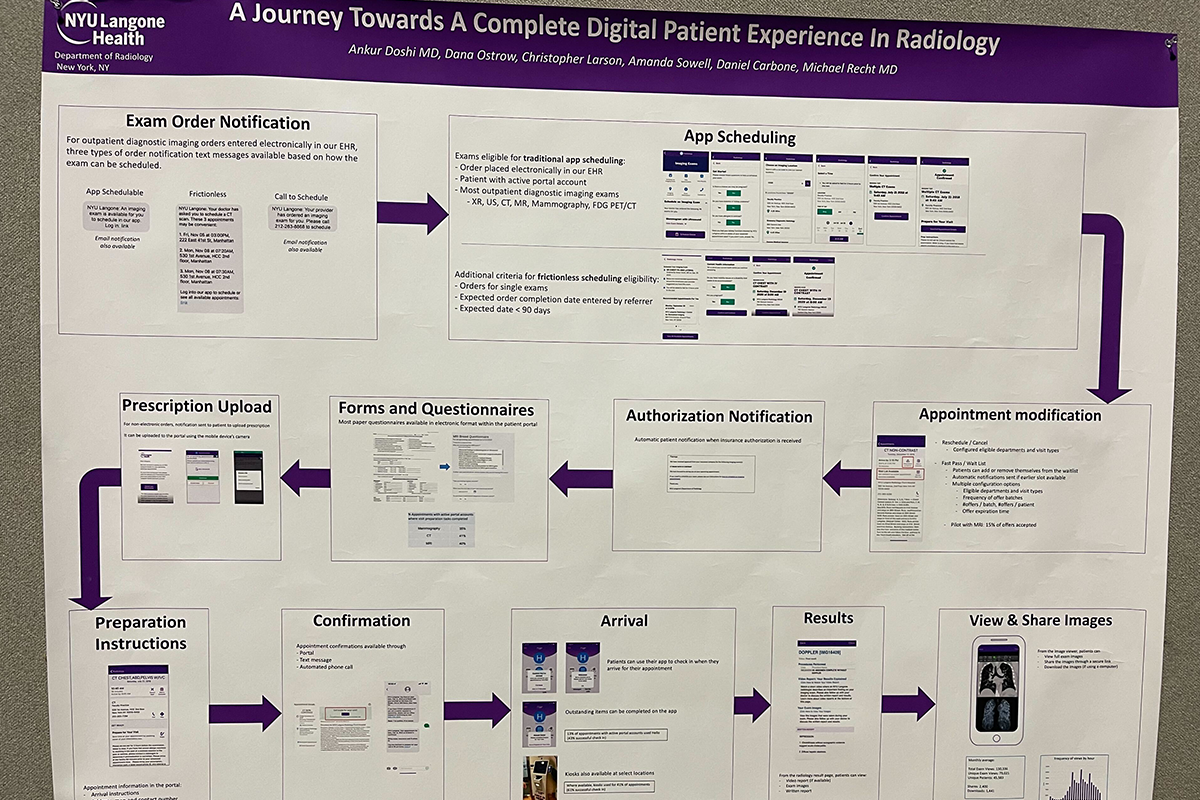 Tripod analysis of machine learning studies in glioma segmentation (See below) - Numerous, Visage Imaging and Brain Tumor Research Group, Yale School of Medicine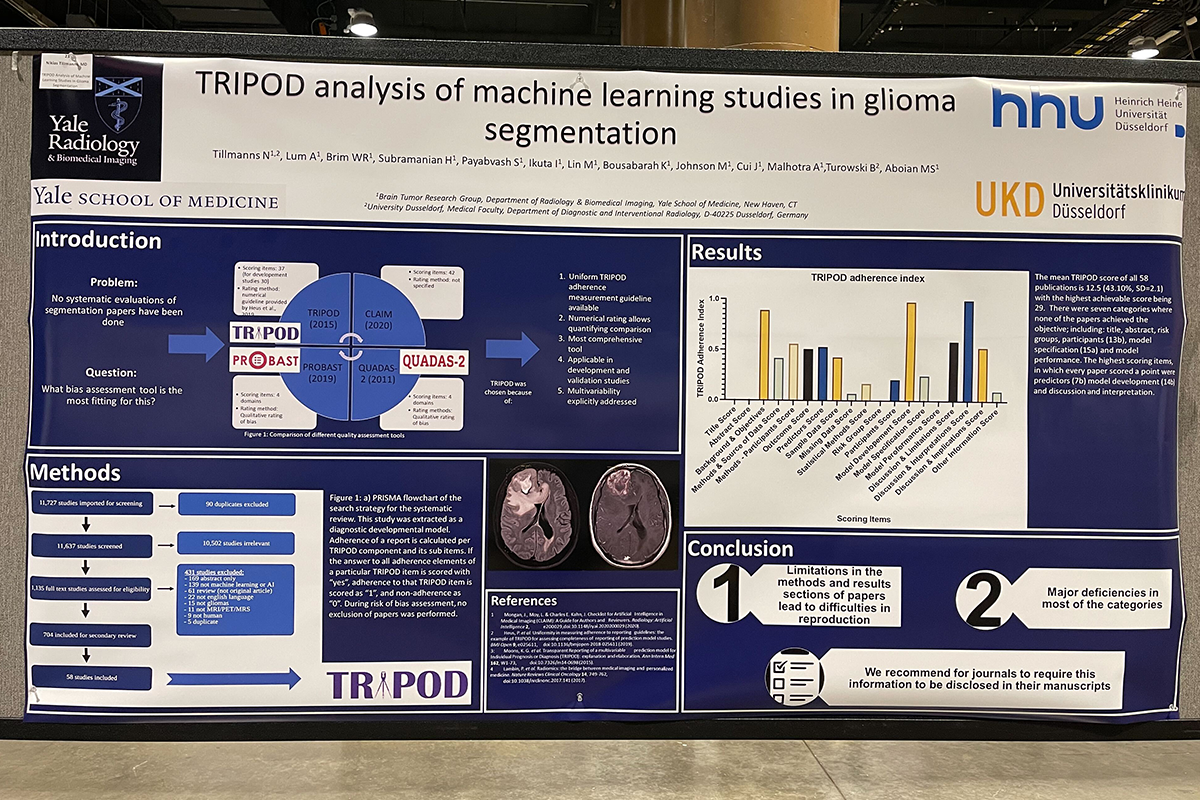 That's a wrap for SIIM22! From all of us at Visage, we hope you enjoyed Visage's Top Five from SIIM22. We hope you are enjoying your summer and we hope to see you at an upcoming industry meeting later this year.