RSNA 2016 | Visage's Top Five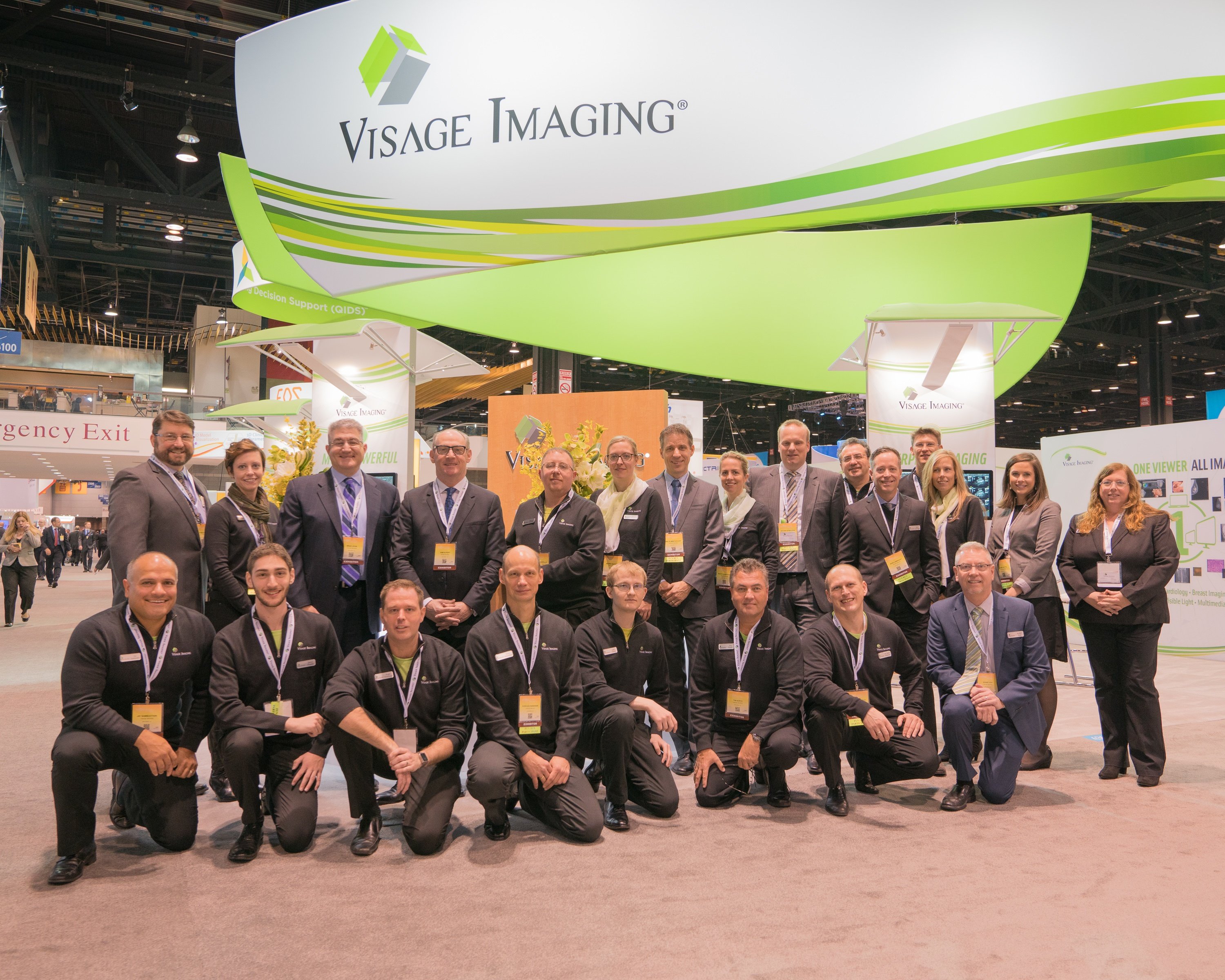 For all who attended, thank you for making RSNA 2016 such a success for Visage Imaging! As we close the book on another exciting RSNA, Visage is proud to share with you our 6th annual "Visage's Top Five"! To learn more about Visage's comprehensive activities at RSNA 2016, please click here.
A Drone's Eye View of the Visage Imaging Booth at RSNA 2016

1 - The New Imaging Modalities: Machine Intelligence and 3D Printing
The hype curve is rapidly being traversed by both machine intelligence and 3D printing in medical imaging, moving from market buzz, to dozens of startups, with tangible products for demonstration, evaluation and in limited cases, clinical use. The conversation started with the excellent keynote, When Machines Think: Radiology's Next Frontier, by Keith J. Dreyer, DO, PhD, continued to the packed "laying-room only" hands-on workshop, Man vs Machines: How to Use Machine Learning and Medical Imaging, by Drs. Erickson, Kline, Korfiatis and Akkus, and concluded with imaging's version of a friendly smackdown between Eliot L. Siegel, MD and Bradley J. Erickson, MD, PhD, Controversy Session: Elementary, My Dear Watson: Will Machines Replace Radiologists? It was tough to get a seat at all of these events. While 3D printing is a reality at today's largest institutions, the reach of 3D printing is beginning to extend to a 3D lab near you for patient consultation, training, pre-surgical planning, as well as prosthetics. The fever pitch of apprehension, interest and excitement about machine intelligence is also expanding. Visage had excellent discussions with customers and startups about the potential of machine intelligence. A testament to the vision of our founders, Visage 7 has always used NVIDIA GPUs, the central catalyst behind machine intelligence/machine learning/automated intelligence.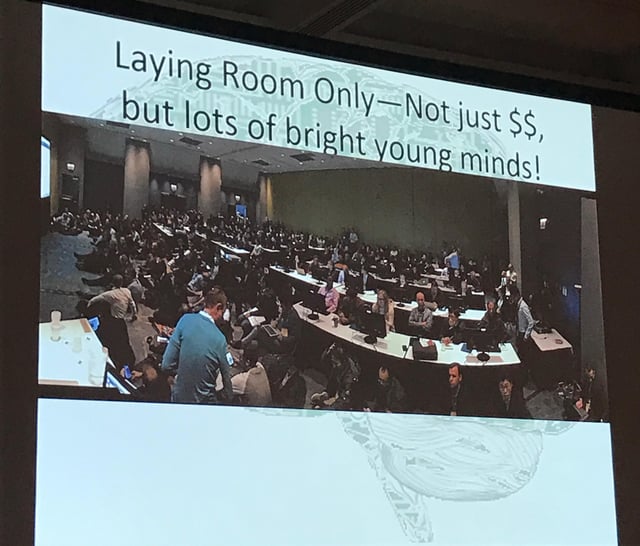 2 -Deconstructed PACS Powers Ahead
It seems like yesterday, but it has been 2.5 years since I wrote, "The time is now for Deconstructed PACS." We've come a long way as an industry articulating the strategy of Deconstructed (or best-of-breed) PACS as an attractive alternative to legacy PACS for many institutions. Reinforcing this perspective, industry expert Herman Oosterwijk of OTech proclaimed in his recent RSNA 2016, What's New summary, "Deconstructed PACS is here to stay." Most of the groups we spoke with were familiar with the strategy and have taken advantage of best practices and lessons learned from early adopters. Many have come out of their EHR implementations with renewed energy, enthusiastic to bring state-of-the-art capabilities to their enterprises. That said, we encountered a few institutions in early learning mode who have not made recent imaging IT investments and have only recently begun to investigate replacement system(s). For those groups, Deconstructed PACS was a new and fresh perspective. A common discussion point with nearly every group was around governance, acknowledging that any go-forward initiative would require enterprise-level commitment, change, vision and leadership. In contrast to the early days of Deconstructed PACS, today's organizations have the benefit of Enterprise Imaging open access content available from SIIM's Enterprise Imaging whitepaper and webinar initiatives. Speaking of governance, Christopher Roth, MD's session, Want to Learn More About Imaging Informatics? Education, Resources and Certifications, was outstanding. Mark Kohli, MD and Tessa Cook, MD presented the below excellent slide that speaks to one of the most pragmatic definitions of governance I have seen to date.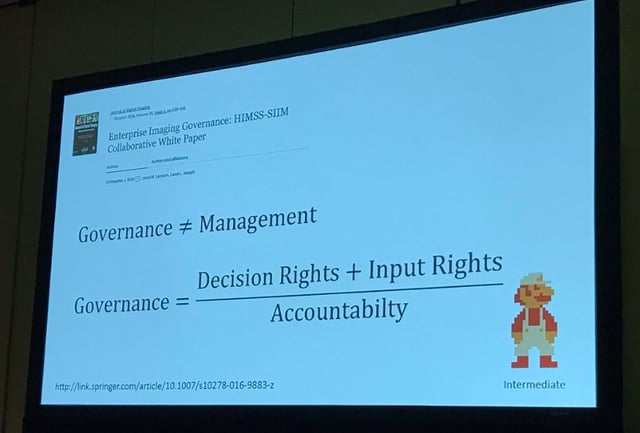 3 - Over Promises of Legacy Solutions and Viewers
Repeatedly at RSNA 2016 we heard from academic, inpatient, and outpatient institutions a common refrain that they had tried to make their legacy PACS systems work for their organizations, but for a variety of reasons they failed to meet expectations. Some of the feedback had to do with legacy failures and missed opportunities, while several had attempted to use legacy PACS within a Deconstructed PACS strategy and the same storyline of frustration persisted. Here's feedback we heard from those seeking help:
A large distributed system explained that they had attempted to partner with an advanced visualization company promoting the ability to use their viewer as the front-end for their deconstructed PACS strategy. The single "viewer" turned into the need to actually use 5 different viewers (1 - diagnostic, 2 - advanced viz, 3 - zero-footprint, 4 – clinical and 5- a third party viewer for QA). Interoperability was a mess, the workflow gaps persisted and the attempt ultimately failed.
One health system attempted to integrate legacy PACS (fat client) diagnostic workstations in a Deconstructed PACS strategy, and despite vendor assurances, they quickly discovered the workstations could not be separated from the underlying PACS. The entire PACS needed to be implemented instead of just the diagnostic workstations leading to a cascade of inefficiencies, delays, etc. An army of professional services were required for the implementation, and the incremental costs continued to add up. 18 months into the implementation, the anticipated savings of choosing a (less expensive) legacy PACS vendor for their deconstructed PACS viewer evaporated, leaving escalating costs and an undertone of failure. They have not gone live.
Another institution voiced frustration about their viewer vendor who had three versions of the same viewer (fat client, thin-client, and zero-footprint client), intending to provide the viewer component for their deconstructed PACS. Each instance of the viewer had different features/functions, different interoperability capabilities, different IT management and ultimately, different sets of end user and support challenges. The vendor did not support a high-availability implementation, and was frequently experiencing system unavailability due to repeated urgent system patches and unplanned downtime. Due to these failures, this large health system has not been able to stop using the diagnostic workstations from their multiple legacy PACS vendors.
Multiple institutions expressed frustration and fear regarding one large industry vendor. They shared that the next-generation viewers from this vendor have significant performance and functionality limitations, with significant patient safety issues. They were ready to move on and not look back.
We learned that multiple traditional PACS vendors have been aggressively discounting their legacy solutions to try to remain relevant in a market gravitating toward deconstructed PACS. One organization expressed regret that 'affordability' had nothing to do with 'ability'. Similarly, another organization said that while they were initially forced to choose a cheaper solution, it proved extremely costly in the end, because it did not work and they were now back to square one seeking a proven solution.
Consultants and analysts gravitated to the Visage RSNA 2016 booth explaining that many vendors were over promising. While the use of server-side technologies is the new buzz for some legacy vendors, they are actually putting customers in the middle—their 'new' products are immature and their 'legacy' products are burning platforms that can't support customer needs either. This places the customer in the stalemate of not being able to move forward with the new product or the old product, putting implementations on indefinite hold. Considering how fast enterprise imaging is moving, this is a predicament institutions can ill afford. Ferris Bueller said it best, "Life moves pretty fast. If you don't stop and look around once in a while, you could miss it." In the world of PACS, don't spend too much time looking around or waiting indefinitely for your current vendor to deliver, while the imaging universe is moving fast around you.
4 - Elimination and Cost Avoidance of Dedicated, Modality-Specific Workstations
Most organizations that embark on Deconstructed PACS have stated goals to not only replace their prior PACS (as with historical waves of replacement PACS), but to implement an enterprise imaging platform that eliminates duplicate viewers, minimizes the purchase of viewer software licenses, and avoids the purchase of isolated workstations and archives. These were frequent discussion points in the Visage RSNA 2016 booth and institutions are able to have these discussions with Visage 7's philosophy of One Viewer. Dedicated breast imaging workstations and archives can be rapidly eliminated through the use of Visage 7. This delivers liberating productivity gains and improved physician satisfaction due to the elimination of physically pivoting between one workstation (4-headed set of displays) for just breast imaging, and another workstation (4-headed set of displays) for all other imaging studies. In addition to those benefits, the physical environment improves due to the immediate space gain and elimination of the heat island effect caused by the extra workstation and displays. Technologists and IT personnel will benefit from the lack of a separate breast imaging acquisition/reading workflow, as well as day to day activities such as system maintenance, support and training. One of Visage's largest enterprise imaging customers estimates that the elimination of a single dedicated breast imaging workstation saves their institution $250,000 over the lifecycle of the workstation. With dozens of breast imaging workstations (needed) across their enterprise, that's a multi-million-dollar savings based on just the hard savings alone. Due to the powerful clinical features supported in Visage 7, savings can also be extended by at least minimizing the use of advanced visualization/3D software, or at best eliminating them and any special workstations required for their use.
5 - Barcodes and Enterprise Imaging
Enterprise Imaging continues to generate considerable interest and that trend continued at RSNA 2016. On Monday afternoon, there was a well attended HIMSS-SIIM Enterprise Imaging Workgroup Meetup on the show floor where discussion centered on the latest topical information and updates on the near term activities of the workgroup. One of the topics discussed was the need to incorporate visible light photos and video into enterprise imaging strategies.
Visage continues to be a leader in Enterprise Imaging, innovating and adding value to imaging services. Here's one creative way Visage is adding value, enabling imaging results access at the point of care, as well as uploading images and video at the point of care, all with the convenience and patient identity assurance using the patient wristband. At RSNA 2016, Visage demonstrated Visage Ease mobile barcode and Q/R code scanning as work-in-progress enhancements, enabling the rapid attachment of photos and video (e.g., scan-photo/video-attach) to Visage 7, even if the patient does not have prior imaging studies. These are significant enhancements that enable the user to select and add a Study Description to the new multimedia content from an institutionally created picklist, and the multimedia content does not persist on the mobile device. Earlier in June 2016, Visage released mobile barcode and Q/R code scanning of wristband or other digital or paper patient documentation, to query for and conveniently display all of a patient's imaging studies via a rapid 3-step process (e.g., scan-click-view).
Happy Holidays, and we hope you enjoyed Visage's top takeaways from RSNA 2016! To learn more about Visage's activities at RSNA 2016, please click here.