RSNA 2019 | Visage's Top Five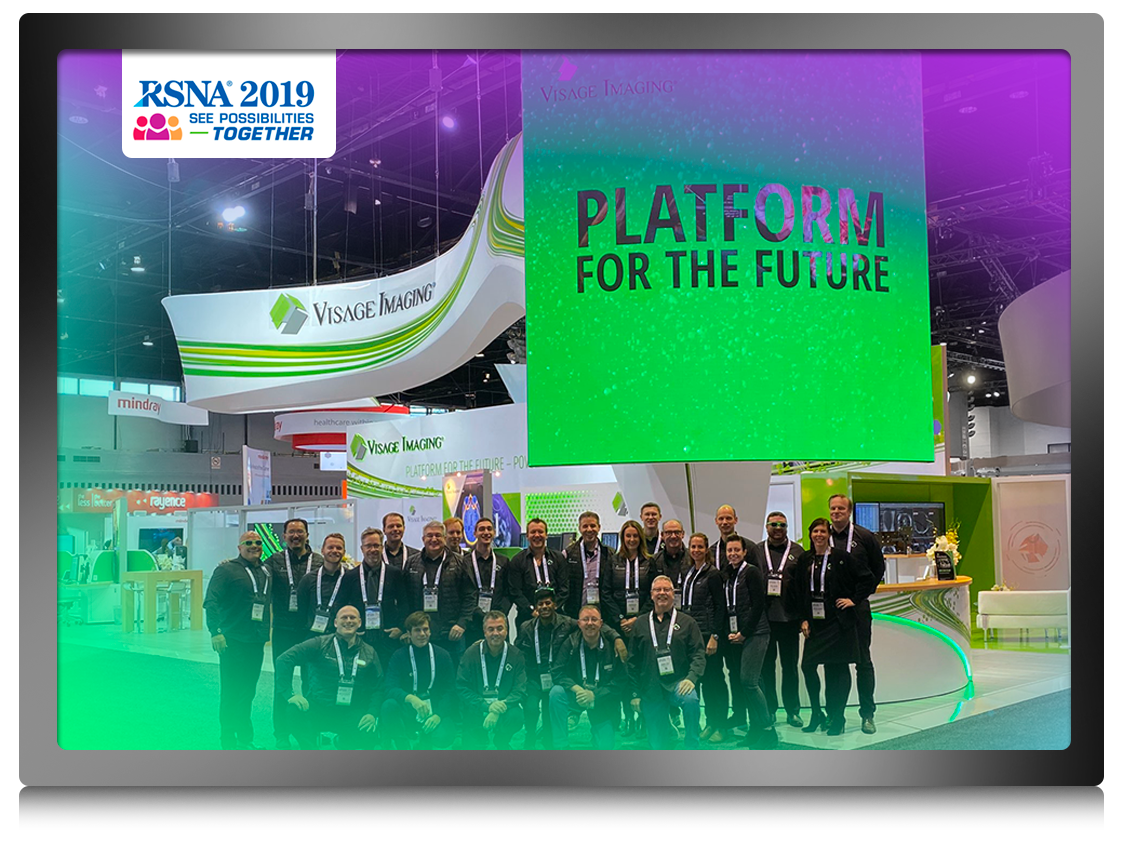 With the recent conclusion of RSNA 2019, it's once again time to share our 9th Annual Visage's Top Five. Thank you for making RSNA 2019 another record-breaking meeting for Visage! Excitement was in the air as we had much to share, discuss and demonstrate about "Platform for the Future — Powered by Speed". It's always great to see so many of you at RSNA, but of course, not everyone can attend the meeting. If you haven't read Visage's RSNA 2019 announcements, I encourage you to review our two pre-show press releases, "Visage 7: Platform for the Future—Powered by Speed" and "Visage Introduces Semantic Annotations for Visage 7. Now, on with Visage's Top Five!
Visage Imaging | RSNA 2019
1 - Have it Your Way
Visage 7 now offers integrated, native workflow enabling customers to unify and manage reading worklists. Customers have the choice of driving their reading workflow from independent workflow platforms, EHR-driven workflow, or natively with Visage 7. Visage can provide viewer, workflow and archive all natively with the Visage 7 Enterprise Imaging Platform.
Visage has always provided on-premise implementations, with many of those implementations affectionately described by customers as the "private cloud". At RSNA 2019, Visage announced Visage 7 availability as the industry's first cloud-engineered server-side platform for complete PACS operations. Visage 7 in the public cloud can offer the same ultrafast speed and functionality of on-premise implementations, but with the added security and scale of the cloud.
Visage is proud to enable the strategic goals of our customers in ways that are uniquely empowering. Our customers can choose a Software as a Strategy solution from Visage where we can fit into our customers' short and long term strategic goals. It's your choice. And for implementation, Visage 7 can be implemented on-premise, in the cloud, or in a hybrid implementation. It's your choice.
Visage 7 will work optimally to support your goals, helping to pave the way, while not getting in your way.
2 - AI Moves from Hype to Clear Differentiation
The hype of AI was in the hallways of RSNA 2019, but unlike recent years, this year there was more separation between the various offered solutions. The RSNA AI Showcase included 123 vendors, the vast majority offered some flavor of algorithms, marketplaces, and/or separate third-party viewers to display AI inference results.
Visage announced the differentiated Visage AI Accelerator, a new end-to-end solution that dramatically reduces the time "from code to bedside". That's a phrase brilliantly coined by Yale University School of Medicine's Julius Chapiro, MD, PhD and speaks to the central challenge and desire of academic research organizations to break through and embed algorithms and tools into diagnostic workflow for the betterment of patient care. The vast majority of researchers have 'home grown' open-source informatics environments cobbled together for the purpose of data science initiatives. Assembling and curating data is incredibly difficult and time consuming using those inadequate tools. Researchers hope to publish the results of their data science initiatives in peer-reviewed journals, but that's not their goal. Their ultimate goal is to get algorithms into diagnostic use, but with most systems that has been a near impossibility, until now.
Visage AI Accelerator includes joint development and commercialization opportunities with academic customers and third-parties; the Visage 7 AI research server that streamlines AI algorithm development with an open API and unifies research and diagnostic imaging in a singular platform (works-in-progress); and an AI ecosystem of third-party and Visage-developed algorithms.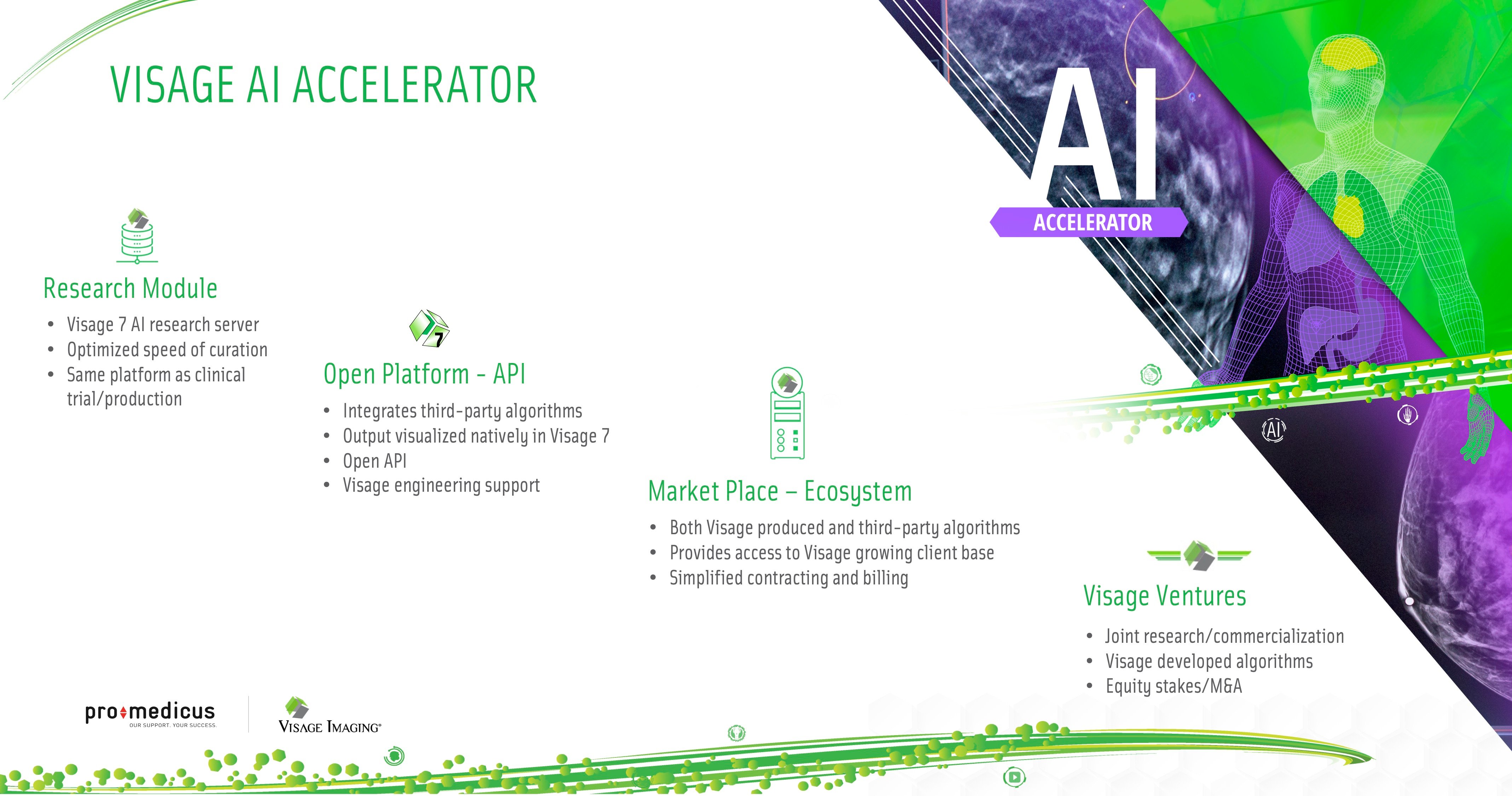 At RSNA 2019, Visage demonstrated a number of solutions: a self-developed breast density classification algorithm based on ~8 months of work (from concept to anonymization to curation to model development to Visage 7 integration) with the breast imaging team at Yale; the pneumothorax segmentation algorithm from the recent SIIM-ACR challenge; and many third-party AI solutions. All of these solutions were demonstrated directly within the reading workflow of Visage 7.
Additionally, Visage also introduced and demonstrated semantic annotations to increase the value of the data that radiologists produce as part of their reading workflow where they interpret and annotate imaging studies. This value can only be fully realized if the resulting data is mineable and its semantic meaning is computer accessible. Visage is working with the American College of Radiology (ACR) Data Science InstituteTM to integrate Visage 7 semantic annotations with the ACR AI-LABTM. A pilot implementation of Visage 7 semantic annotations is ongoing at Partners HealthCare Massachusetts General Hospital (MGH) and Brigham and Women's Hospital (BWH) Center for Clinical Data Science, where the framework is being defined and tested in the radiology workflow.
3 - Enterprise Imaging Takes Hold - One Viewer
Visage has a unique One Viewer philosophy that enables customers to use Visage 7 for multiple diagnostic and clinical workflows, all with exactly the same viewer. While Visage 7 has supported clinical documents, visible light photos, video and Encounter-based Imaging Workflow for some time, enterprise imaging has proven to be a challenge for many organizations not knowing quite where to start beyond radiology and cardiology imaging.
Ophthalmology
Perhaps that is starting to change as many customers at RSNA were excited to see Visage 7's support of ophthalmology enabling the elimination of dedicated ophthalmology PACS. Many expressed concerns over the looming end-of-life of their legacy ophthalmology PACS; however, the solution was clear as Visage 7 can support ophthalmology imaging needs all with One Viewer. With Visage 7, the silo of ophthalmology no longer needs to be an island of imaging, and instead can be supported as just another imaging modality.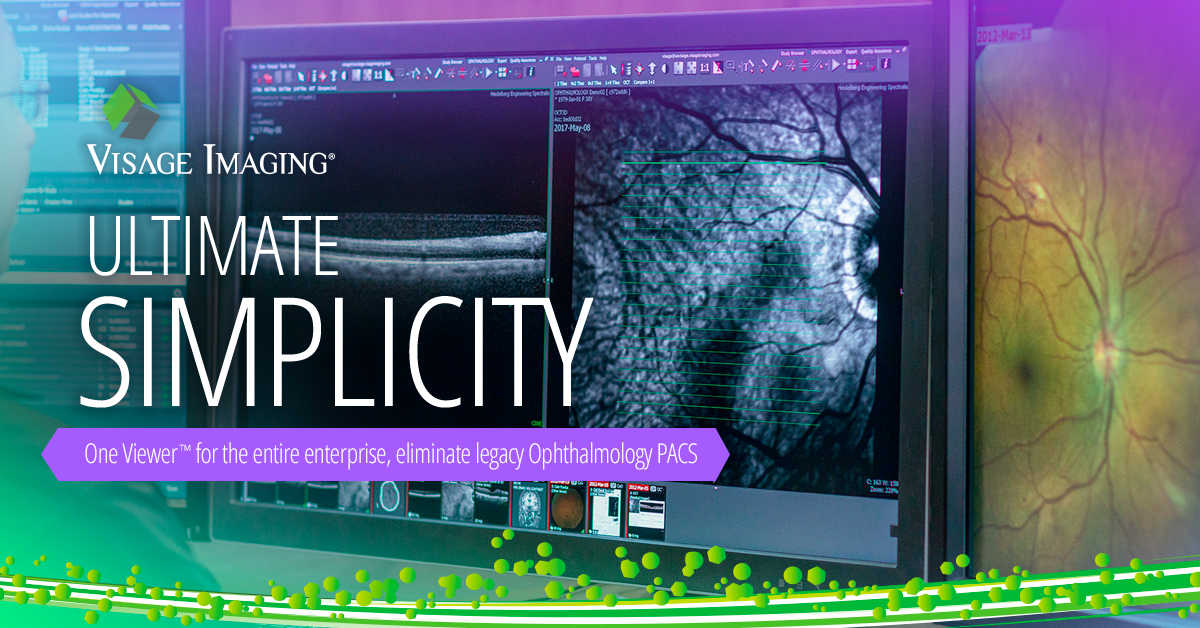 Visage 7 | Ophthalmology
Breast MR Multiparametric Color Maps
Visage also showed a preview of capabilities projected for Visage 7.1.15, including Breast MR multiparametric color maps for diffusion-weighted imaging as a works-in-progress (WIP). Visage 7 was demonstrated with native, specialized toolsets for calculation and color mapped visualization of kinetic information in Breast MR images with elastic registration.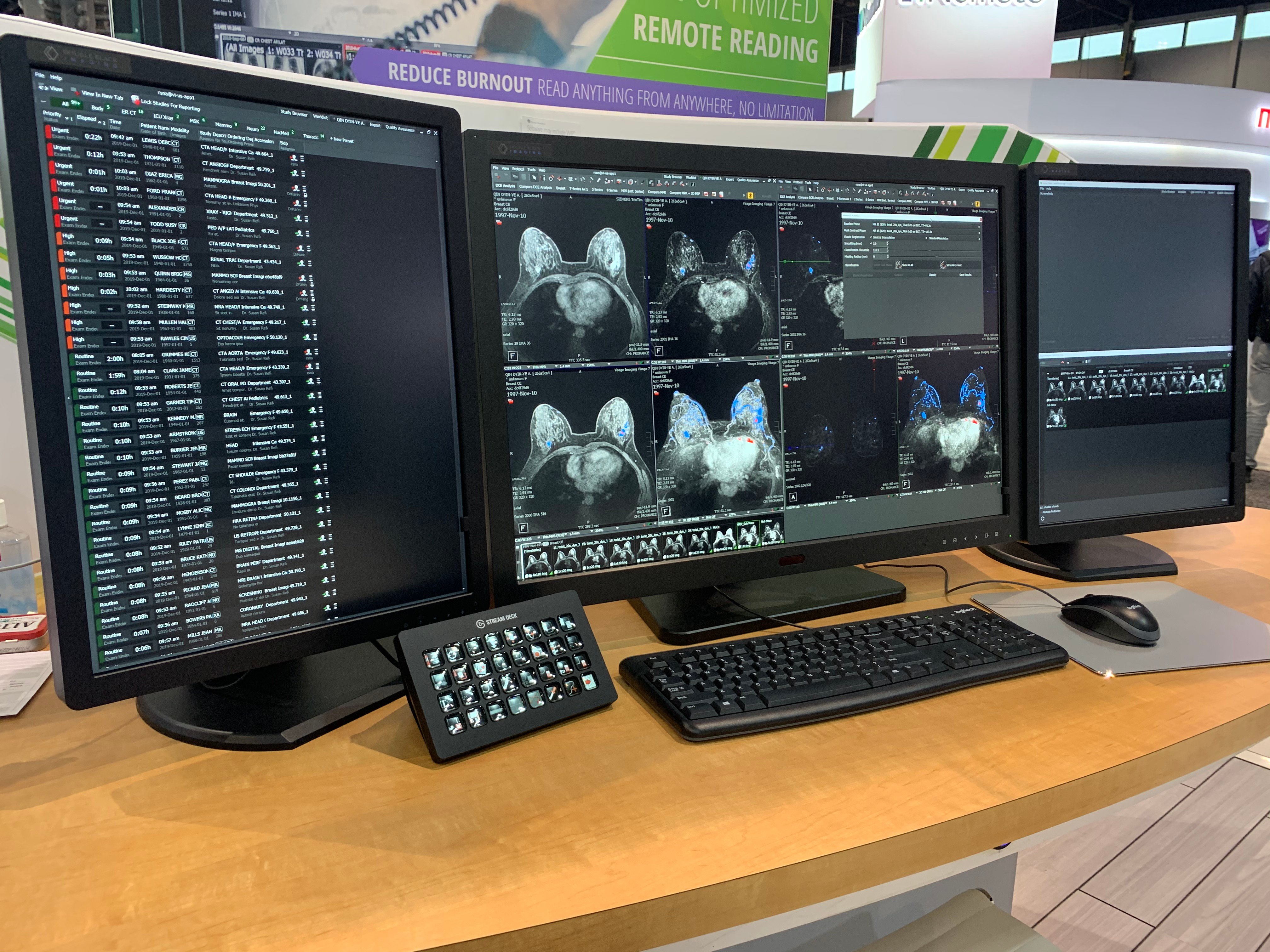 Breast MR Multiparametric Color Maps (Works-in-Progress) and Visage 7 Workflow
Visage Ease
For mobile access to imaging, Visage also demonstrated exciting works-in-progress Visage Ease enhancements. Visage Ease was shown with In-viewer Workflow improvements for easy chronological access to all patient imaging. Additionally, Visage Ease was demonstrated with new multiple viewer support for dedicated layouts, supporting multiplanar reformatting of volumetric datasets, and side-by-side comparisons of current and prior imaging.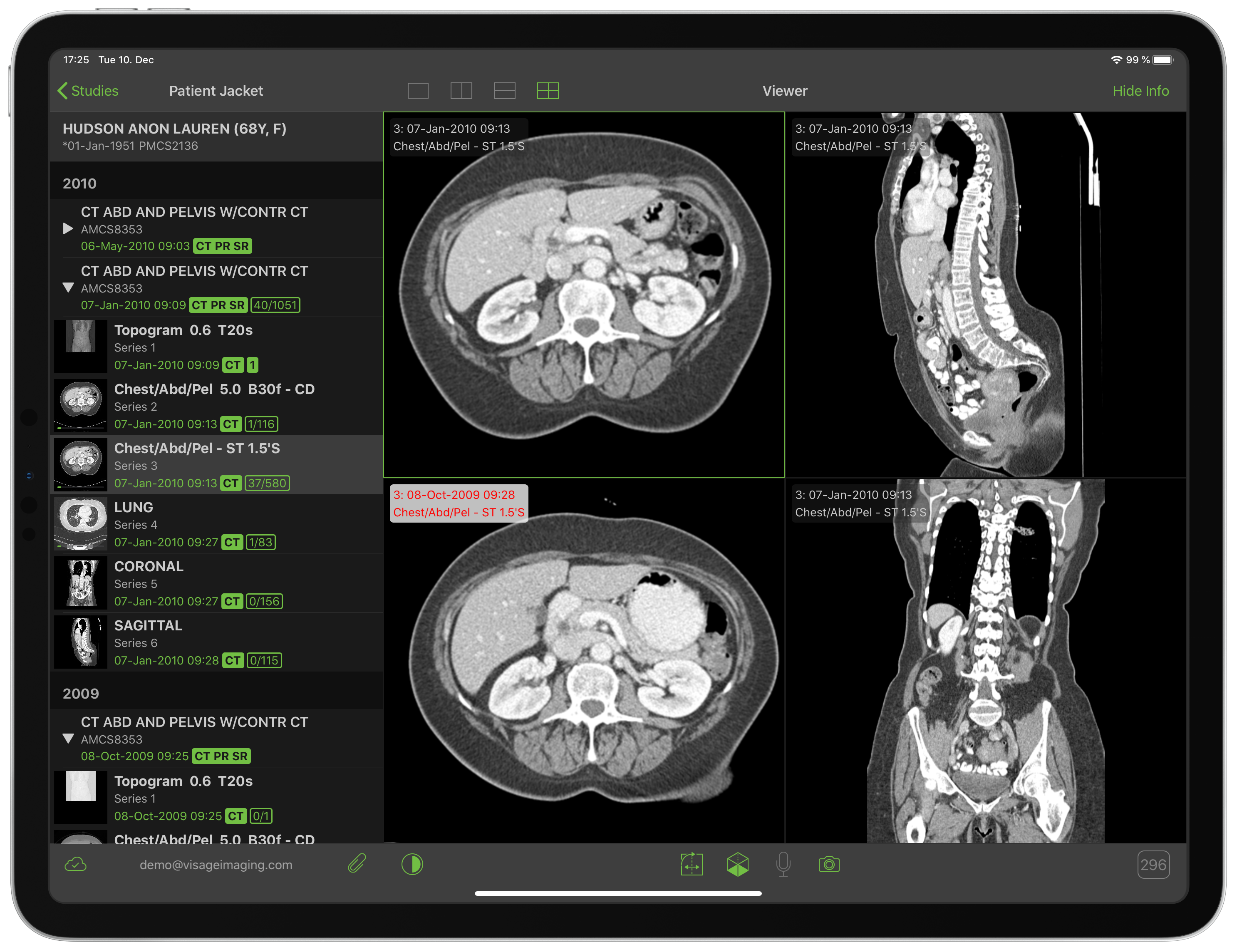 Visage Ease (Works-in-Progress)
4 - FHIRcast Integration Turns Heads
It's always a pleasure to hear from radiologists who tell us that Visage "has fundamentally changed how I read" and "I can't imagine how I practiced prior to using Visage". I not only heard those statements directly from multiple customers throughout RSNA, but I also heard those humbling comments independently from other vendors at RSNA that had heard similar comments from our customers on the show floor.
Additionally, one of radiology's foremost imaging informatics experts told me, "The FHIRcast integration between Visage and Nuance was the single most impressive thing I saw at RSNA." When I heard that comment, it was obvious to me that FHIRcast integration would make Visage's Top Five.
While FHIRcast is an emerging, proposed HL7 standard, Visage's FHIRcast efforts at RSNA 2019 are a demonstration of the flexibility and power of Visage 7, as well as our cutting-edge integration expertise. [You may also recall FHIRcast made Visage's Top Five in 2018 with FHIRcast a Spell: Coming to Imaging Near You]
As integrated as a works-in-progress to Nuance's PowerScribe One, Visage 7 was demonstrated with the following capabilities:
FHIRcast can be used to convey voice commands (e.g., 'Hey PowerScribe') between applications such as 'Play Cine', 'Zoom Image', etc. to initiate control of the active image viewer in Visage 7.
General use of FHIRcast events to open and close imaging studies and diagnostic reports bi-directionally across a number of applications in parallel.

Transfer of comparison study information to the diagnostic report (encoded in FHIR ImagingStudy resources), which eliminates the need for the tedious dictation of prior study information.
Transfer of breast density analysis AI results to the diagnostic report encoded in a FHIR Observation resource.
Given the scope of Visage 7's FHIRcast WIP capabilities, there is significant promise of what the future holds.
5 - New Keypads Enable Optimal Usability
Visage recognizes that in addition to software, there are hardware tools that customers use to enhance the usability of Visage 7. Many users have chosen to use customizable gaming mice, while other Visage customers choose to use existing keypads to drive breast imaging workflow.
Visage Breast Imaging Keypad
At RSNA 2019, Visage demonstrated as a works-in-progress a new Visage Breast Imaging Keypad exclusively for use with Visage 7. Customer feedback was outstanding, with users commenting on the keypad's modern, sleek look and feel. Users also appreciated the free-flowing scroll bar and tight integration with Visage 7's numerous In-Viewer Workflow tools.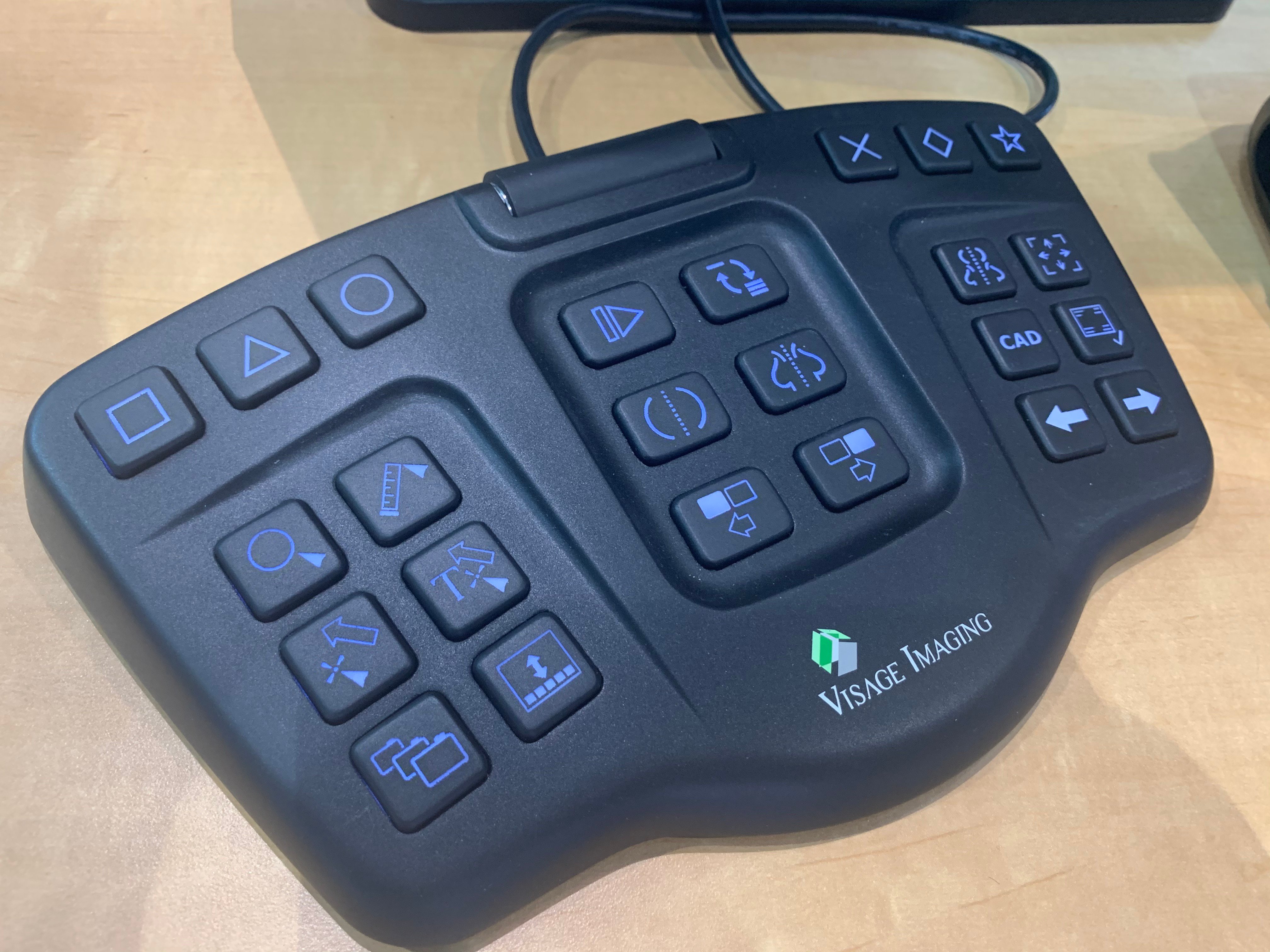 Visage Breast Imaging Keypad (Works-in-Progress)
Elgato Stream Deck
In addition, Visage also demonstrated slick integration to Elgato's Stream Deck, which displays Visage 7 tools via dynamic backlit LCD keys. Users have simple, high visibility access to the most frequently accessible tools for diagnostic interpretation, as well as for repetitive workflows. A pertinent example for the use of the Stream Deck is for ground truth and AI dataset curation using Visage 7, where rapid access to tools such as annotations, labeling and segmentation are optimal for workflow.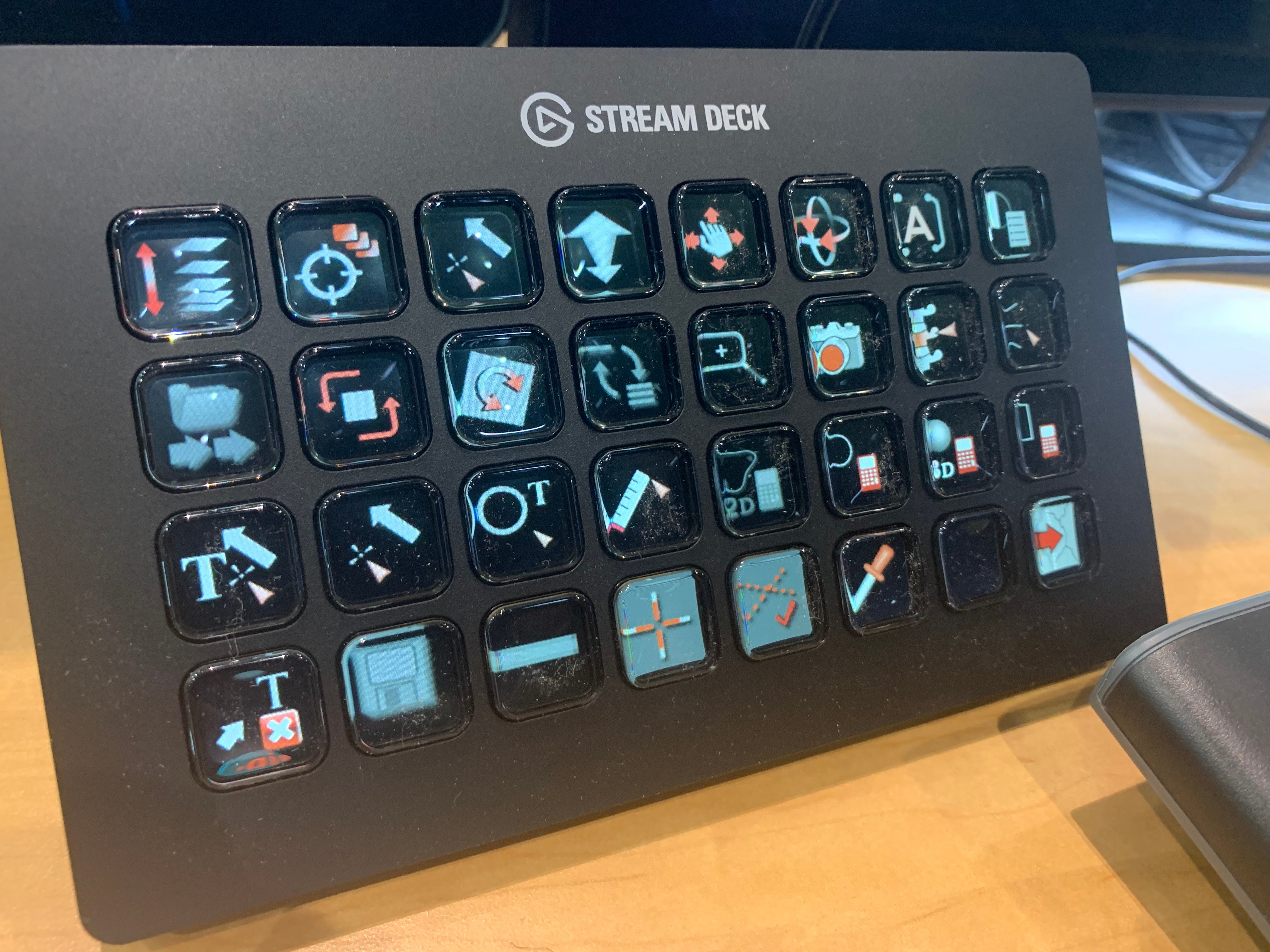 Alternate Visage 7 Input Device | Elgato Stream Deck
That's a wrap and thank you for an outstanding RSNA 2019!
Next year for RSNA 2020, Visage will be moving to an even larger booth (Visage Booth #4704), this time we're back in the South Building, McCormick Place.
Happy Holidays, and we hope you enjoyed Visage's Top Five from RSNA 2019.